Mortgage Templates
9+ Conventional Mortgage Templates in PDF | DOC
You might need a mortgage loan, and you can either get sourced from a government agency or not. If your mortgage comes from the Federal Housing Administration or FHA loan, U.S. Department of Veteran Affairs or VA, or maybe Agriculture with USDA loan, then you are part of a non-conventional mortgage. You can take from a private lender via a conventional mortgage in case you get funded by mortgage businesses or banks. In deciding which option to get, you will turn interested with a low down payment from the conventional loan as long as you qualify. A loan application would not be complete without the contract, and you can create that with conventional mortgage templates.
Table of Content
What Is Conventional Mortgage?
A conventional loan refers to a house loan that is not backed by government entities. Expect to get help from mortgage/credit companies and banks from the conventional mortgage. While there are plenty of benefits in this mortgage like a reasonable amount for the down payment and other benefits, the challenge lies in qualifying here. A borrower needs a good credit score because standards are set here, unlike the non-conventional option, which is for individuals having a poor credit history or those that need to refinance.
Conventional Advantages
It is known for loans in allowing both fixed and adjustable rates as long as it's stated on the quotation. With high minimum score required, it is still advantageous for engaging you in ensuring your scores remain high to qualify continuously. To repay the loan quickly is made possible here too as long as you keep up with the payments religiously wherein no late payments happen. Moreover, you can be granted with high loan limit instead of only getting few portions in loaning. Borrowers can also avoid costly mortgage insurance usually by committig to at least 20% on the down payment. Expect the result to be very advantageous when you are responsible with your finances.
9+ Conventional Mortgage Templates
1. Conventional Mortgage Loan Template
ok.gov
2. Conventional Mortgage Program Example
huronvalleyfinancial.com
3. Conventional Mortgage Loan Sample
nefcu.com
4. Conventional Loan Mortgage Insurance Template
michigan.gov
5. Conventional Mortgage Loan Program Example
calhfa.ca.gov
6. Real Estate Conventional Loan Mortgage
ok.gov
7. Conventional Mortgage in DOC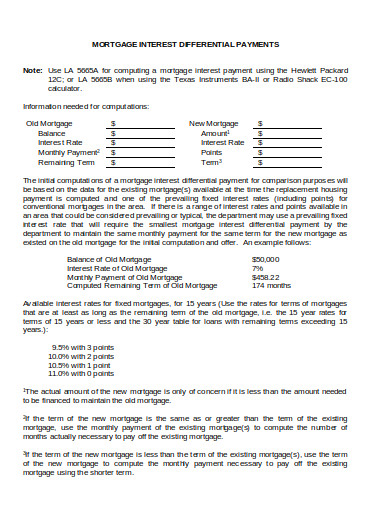 idot.illinois.gov
8. Financing Conventional Mortgage Template
my.mnbar.org
9. Real Estate Financing Conventional Mortgage
apps.carolinarealtors.com
10. Private Conventional Mortgage Insurance Template
urban.org
5 Steps in Making Conventional Mortgage Contract
A contract serves as official document and such a document is required for processing conventional mortgage. That contract also mentions an agreement between lenders and borrowers, and that agreement is finalized after placing all required signatures. In making the document, it doesn't have to be difficult once you receive guidance and tips for creating that. It helps to observe standards in making contracts to leave great reputation instead of making something that doesn't look believable or professional at all. Lenders are expected to make the contract for the mortgagors to sign on.
Step 1: State Rules Clearly
Rules must be stated on the agreements so that borrowers will be sure at what's allowed or prohibited. You can always draft a plan first in making the regulations until you slowly perfect the details after editing it. In making the rules, strictness is typical, so borrowers respect the lenders. However, it doesn't mean the whole regulations have to turn over the top because it must at least be doable. In clarifying the details, there would be no issue. Give additional info on some terms that require explanation.
Step 2: Give Emphasis at Major Details
Some phrases and data are more important than the rest, and those should get emphasized. Bolding the significant words and numbers will help grab attention immediately to whoever reads the contract. For example, a borrower might have a hard time searching for mortgage rates. The highlight or emphasis will guide that mortgagor conveniently since such details stand out from the rest. Other examples that need focus are the deadlines and essential rules, so readers will never miss those.
Step 3: Know the Borrower
Stating the name and details about the mortgagor is expected, and the mortgage lenders can base such information on the mortgage application. Not knowing the full information on borrowers will be bad in case lenders might end up writing the wrong names or information about who should be getting the contract. To avoid mistakes here, you can interview the borrowers themselves first and ask for their details. You write down the essential info to the document.
Step 4: Summarize in Bullet Forms
As you make the contract, there is no need to come up with complete sentences and long paragraphs all the time. Writing in bullet form is allowed to summarize details, particularly in writing the qualifications, requirements, and rules. This idea gets rid of putting unnecessary words. Most importantly, the info presented goes directly to the point, so readers quickly get the message. In simpler terms, you make it like a list.
Step 5: Observe Accuracy on Quotes
In conventional or any mortgage, accurate numbers should be present on the quotation. Otherwise, there could be complaints afterward because the amount stated on the contract is different from the actual payment. Things need to stay precise as numbers can change based on the interest rate, principal, and more. Confirm from a trusted source while putting the quotes to avoid writing mistakes there. It will be easy to put fixed rates, but there are changes to adjust for an adjustable loan.
Whether you go for the conventional or non-conventional loan, the point is there are pros and cons for every option. You carefully compare each and ensure that you can commit to its rules and payment amount always to avoid getting loan rejections. Lenders understandably require individuals with good credit scores, so they never have to be worried that much regarding defaults. With a good contract prepared, there is a high assurance for the mortgage process to go well.
More in Mortgage Templates