Many people use it for different Google Chrome from merely browsing websites to generating leads through various marketing strategies. With the help of Chrome extensions, digital marketing can be done effortlessly and efficiently.
So, what are extensions are extremely useful for marketers? Below is a list of must-have Chrome extensions that every e-commerce and company websites must have. With these extensions, you will be able to step up your content, social media, email, and other digital marketing strategies.
Mozbar
One of the most popular Chrome extension and SEO toolbar for research in Chrome, Mozbar is an extension that allows you to view a web page's metrics on the go. These metrics include Page Authority and Domain Authority. With these capabilities, it also lets you assess and compare link metrics across pages.
Not only that, Mozbar is also a powerful tool that enables you to expose page elements, general attributes, markups, and HTML status of a page to help you optimize your pages.
SEO Quake
Another SEO analysis tool is SEOquake. This Chrome plugin or extension gives you a number of key SEO metrics powerful enough to shake your SEO strategies in a good way. Among these useful tools are the SEO audit tool, keyword density report, internal and external link analysis and social media metrics. SEOquake may have the same functionalities as that of Mozbar; but if you're keen on keyword density, shared links on the page, and social media shares, then, this is the right extension for you.
Page Analytics
The Page Analytics tool by Google enables you to see and analyze how users interact with your website. Using the bar that appears on top of your web page once this extension is installed, you can view what elements on your web page your visitors click and what they don't. This also includes the total and unique page views, bounce rate, time on a page, etc. Strategize on how to optimize your page layout, improve your website's user experience and increase lead conversions through Page Analytics.
Visual Ping
Page Speed Insight
PageSpeed Insight is a Chrome extension that does not just help you check your website's speed but also analyzes and gets suggestions on how to optimize your web pages. It monitors your server's response time to a page and measures how to improve it based on the above-the-fold load time and full page load time.
It also checks if your page has incorporated the common best practices for performance through scores. PageSpeed Insights is continually being improved, so we can expect more features in the future.
Riteforge
Choosing the right image for your social media accounts and creating hashtags for that image can be a daunting task. But with RiteForge, all these activities are done automatically, thus, saving you lots of time and effort.
Its automated image generation, auto-hashtagging, and automatic link shortening with Call-to-Action features are among the top tools this plugin have for you. RiteForge undoubtedly lets you manage your social media strategies by creating posts that maximize discoverability and engagement.
What Font
Have you ever come across a website with beautiful but unfamiliar fonts? Surely, these fonts spark your interest and make you want to use them in your own web pages. But, what do you do when there a gazillion of fonts available in the world of the Internet? Enter What Font, a Chrome extension that lets you determine a font name just by hovering over it on the web page. Designers and developers have a different way to do this but for non-developers, What Font can be pretty useful.
WebRank SEO
Perhaps the best Google Chrome SEO extension there is, WebRank SEO provides you with different website ranks, namely: Alexa Rank, Compete Rank, and Quantcast Rank. Apart from that, it also gives you traffic graphs, social statistics, pages indexed and backlinks in various search engines.
WebRank SEO is an SEO tool that lets you analyze and compare your website with those of competitors, monitor an application's performance, as well as check your website's growth.
Awesome Screenshot
What if something interesting pops up on screen and you want to capture it. Awesome Screenshot is a popular screen capture and image annotation tool in Chrome.
With free premium features, it lets you screencast, record screen as video, capture full page, blur sensitive info, and share uploads in one click. This extension is crucial for business websites that offer online courses or tutorials. Through Awesome Screenshot, you will be able to share your screen with students in real-time to facilitate live coaching.
Yesware
Rapportive
Active Campaign
ActiveCampaign is an email marketing tool in Chrome that features an automated sales CRM to let you seamlessly manage your marketing and sales processes through your Gmail inbox. With this powerful attribute, you'll be able to organize and update a deal from its qualifying process and through all the stages of the pipeline. Without switching tabs or leaving Gmail, you can access all of your contacts' information as well as trigger sequences of automated actions according to a targeted content.
1Password
One Tab
Opening too many tabs is not a rare occurrence for anyone who spends most of their time in front of the computer. And most of the time, you get overwhelmed with the amount of information you have to tackle that you end up ending the day unproductively.
To reduce this kind of clutter and organize your tasks, OneTab is the Chrome plugin that you need. It converts all your tabs in a list so it's hidden and less distracting. It saves up to 95% of memory as it reduces the CPU load so, it improves your browser speed.
PicMonkey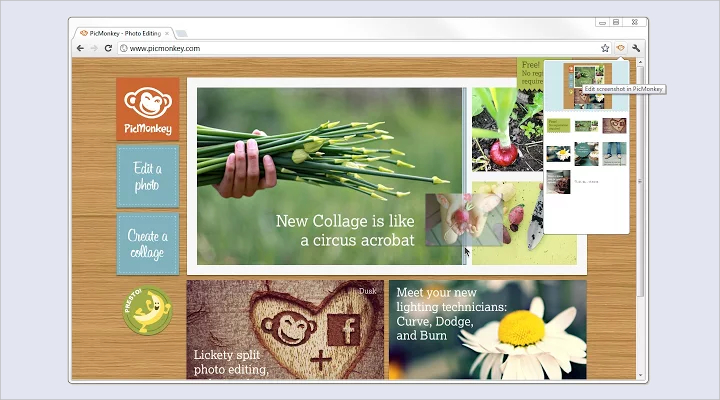 Ever wonder how interesting images for blogs or web pages are created? Even without Photoshop skills, you can present one-of-a-kind images through PicMonkey. It's an online photo editor and a Chrome extension that lets you grab images from any source and edits them to whatever your heart desires. Whether it's a collage or an image enhancement, PicMonkey has all the right tools for you, from effects, overlays, textures, to touch up tools so you can create gorgeous images easily.
With thousands of Chrome extensions and plugins available in the digital world, it would be hard to choose which are the ones you need. So, we hope that this list made it easy for you and you were able to accelerate your processes and maximize your time for other things that matter more.