Real Estate Templates
9+ Real Estate Billboard Templates in AI | PSD
A real estate billboard is a form of outdoor advertising that showcases the property for rent or sale on a large, eye-catching signboard. Real estate is a highly competitive business and hence strategic advertising is required to attract prospective buyers. Billboards and signboards are large in size and visually appealing, and can thus draw the attention of customers and encourage them to make further inquiries. That's precisely why you need the best real estate billboard templates to showcase your new projects. Here you find your ideal banner template.
Table of Content
5 Steps to Create a Real Estate Billboard
Step 1: Plan Your Billboard Layout
The first step is to plan the overall look and feel of your billboard. Decide how much space will be taken up by images in proportion to text, how much blank space there should be and how wide or narrow the borders should be. This is one of the most important design decisions you can make.
Step 2: Choose High-Quality Images
Your billboard must showcase your real estate property in the best possible light so that passers-by have a reason to ask further about it. Choose high-quality photos of the interiors and exteriors, or use a high-quality mock-up image if your property is still under construction.
Step 3: Write a Catchy Text
Billboards should not be text-heavy, but it should include all salient points about the property, the features and fixtures on offer and why passers-by should look into it. Use bullet points to summarise attractive features of the property and highlight any special deals going on.
Step 4: Highlight Contact Information
Contact information should be highlighted prominently on the billboard as passers-by will choose to make inquiries based on the information that they see on the billboard. Include a phone number as well as an email address, and mention whether you are open throughout the week or on select days.
Step 5: Ensure That Your Design is Editable
Depending on space constraints, you may need smaller or larger billboards in different parts of the city – their appearance, however, must remain equally attractive. Make sure that your design can be easily accommodated to suit different lengths and widths without distorting the overall look.
9+ Real Estate Billboard Templates
1. Minimalist Real Estate Billboard Template
This banner template comes in PSD and uses a clean, modern design in white and pale blue to create a professional, ready-to-use billboard. The graphics are all royalty-free and are built on scalable vectors to enable easy editing. It can be downloaded after paying a fee and edited using Adobe Photoshop or InDesign. Go for this classy new billboard design for all your premium real estate projects.
2. Creative Real Estate Billboard Template
This colorful billboard template comes in InDesign and it includes an instruction guide to help you edit the template as you need. It can be downloaded in TIFF, JPG and PSD file formats after paying a small fee. You can edit it using Photoshop CS or any graphics software. This template strikes the perfect balance between strong visuals and sufficient content elements.
3. Professional Real Estate Billboard Template

This banner template comes in publisher and it is designed in white and yellow to create a professional-looking billboard with adequate space to describe and show pictures of the property. It can be edited with Photoshop, InDesign or Illustrator. You can download it in PDF, INDD and AI formats after paying a fee online.
4. Contemporary Real Estate Billboard Template
This real estate advertising banner template allows you to showcase your property and also highlight the services you offer as a real estate firm. It uses an orange and navy-blue theme on a white backdrop for an eye-catching effect. You can customize it as needed after paying online and downloading the file.
5. Modern Real Estate Billboard Template
This real estate outdoor signage template is ideal for showcasing real estate property for sale or on rent. Both text and images are fully editable and free fonts are included. You can customize the template to your liking using Adobe Photoshop, Illustrator or InDesign.
6. Professional Real Estate Billboard Template
This brilliant advertising template uses a green theme to highlight the images of the property and also showcase the services offered by the real estate firm. It is a ready-to-print design with free fonts included and can be customized in Illustrator, InDesign and Photoshop. Available file formats are PSD, INDD and PDF.
7. Stylish Real Estate Billboard Template
This sleek billboard template makes use of a white-and-blue design to highlight the key features of a real estate property. The fully editable files come with existing content and a basic logo designed in Illustrator. The template can be downloaded in OTF, AI and PSD formats after paying online.
8. Sleek Real Estate Banner Template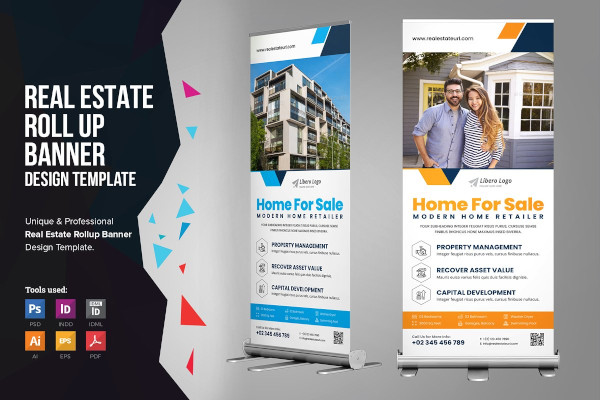 This sleek, contemporary sample roll-up banner template uses orange and blue for a clean format with adequate space for both text and images. The template comes with fonts and fully editable colors. It can be downloaded in PSD, INDD and PDF format for editing in Photoshop, Illustrator or InDesign.
9. Attractive Real Estate Roll-up Banner Template
This roll-up banner template uses an image-heavy design for an attractive way to promote your real estate property. Free fonts are included with the template and the design is print-ready. You can customize it in Photoshop after downloading the file in PSD format.
10. Modern real estate roll-up banner template
This advertising billboard mockup template uses an orange and dark grey design for a highly professional-looking template that allows you to showcase your property. You can download the file in PSD format and edit it in Adobe Photoshop. Free fonts are included with the template.
Conclusion
Real estate billboard templates are tough to find and even harder to shortlist, because what you need is something unique, with adequate visual aplomb to attract eyeballs, along with sufficient space to include the most important content elements. That's where our collection of billboard templates for real estate will help. Go for one of these awesome templates and set your real estate marketing plan in motion.
More in Real Estate Templates