Restaurant Templates
Restaurant Menu
In food service industries, the restaurant should always have something that the customers can use when ordering their food or drink. This is referred to as a menu, which lists down the dishes and beverages being offered by the establishment. Here, we've got menu templates that you can use to help you make one for your restaurant. You can also use these Restaurant Menu Templates to create beautiful menu in minutes.
Table of Content
1. Creative Restaurant Menu Template
2. Fine Restaurant Dining Menu Template
3. Creative Dinner Menu Template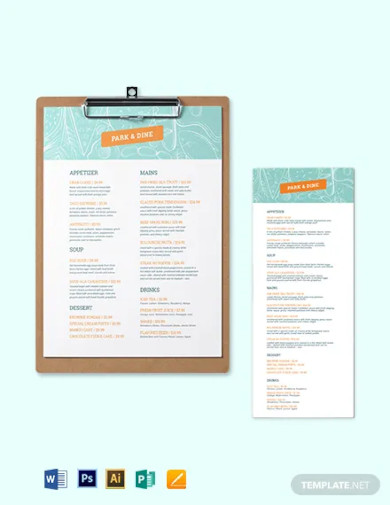 4. Mexican Restaurant Menu Template
5. Blank Restaurant Menu Template
6. Classy Restaurant Takeaway Menu Template
How to Make a Restaurant Menu (5 Steps)
Step 1: Choose a type of food menu

There are various types of food menus to choose from, and these include but are not limited to the a la carte, du jour, table d'hote, and the prix fixe. Before you start to make your restaurant menu, be sure to familiarize yourself with these types, doing so can help you choose a menu type very easily.

Step 2: Make an initial list of the menu items and the corresponding prices

After deciding on a menu type, you can now start writing an initial list of the dishes and drinks that you want to include on the menu. Aside from the menu items, also include the prices of each item. When preparing this list, always take into consideration the layout or presentation of the menu type.

Step 3: Download a restaurant menu template

Now you can start downloading a restaurant menu template from the collection below. We've gathered over ten menu templates from multiple sources, saving you the stress in having to look for them yourselves These templates are some of the best on the internet, and they are very easy to download.

Step 4: Add the menu items, price list, and the other relevant content

Aside from being easy to download, these templates are also easy to edit as long as your editing tool is compatible with the template's file format. An example of this is using Microsoft Word for editing templates in Word. This way, you'll be able to easily add the content such as the menu items and price lists.

Step 5: Print your restaurant menu

After adding the content of your restaurant menu, you can now start printing it. However, since printing high-quality food menus will require you to use a specific type of printer, it might be best to let professional printing businesses do it instead. This way, you won't have to worry about any formatting issues.
7. Italian Restaurant Menu Card Template
If you're ever a fan of the Italian cuisine, then you better share that passion with others by using this Italian restaurant menu template. This template comes in five file formats and three printing sizes, providing you with enough options for making your food menus. Grab this opportunity and start making some high-quality menus for your establishment.
8. Rustic Style Restaurant Menu Sample
If you're planning to pull off a countryside theme for your food menus, then this template might help you with that. This rustic-themed restaurant menu template is minimal yet visually pleasing, making it an effective menu for drawing in new customers. Editing this template will be easy considering the layout elements are arranged accordingly.
9. Birthday Party Restaurant Menu Format
If your restaurant has been chosen as the venue for a birthday party, it would be best to make a special menu just for the occasion. We've got the perfect birthday menu template for that, all you need to do is ask the client about the dishes that they want to be included on the menu.
10. Chalkboard Asian Restaurant Menu Example
One of the types of food menus is the du jour type, and these are traditionally written on a chalkboard to easily change the content. For this template, it is designed specifically to resemble the du jour menus, and this one is intended for Asian restaurants. Impress your customers by using this to make your restaurant menus.
11. Holiday Special Restaurant Menu Layout
It's a common strategy for restaurants to change up the items on their menus during occasions, but you can also change the theme as well. Here's a template that will allow you to incorporate a holiday theme to your restaurant menu. With six file formats available, you can download this template in InDesign, AI, Word, PSD, Pages, and Publisher.
12. Chalkboard Theme Restaurant Menu Format
Check out this minimal barbecue menu template that will allow you to add a rustic and chalkboard theme to it. With its different sections divided into text boxes, you can easily organize your menu items according to their order in a meal. This template would be perfect for countryside cafes and barbecue restaurants.
13. Western Grill Restaurant Menu Example
Here's a restaurant menu template that'll surely make your customers say "yee-haw". The reason for that is because this template is Western-themed, which is perfect for barbecue or grill restaurants. Simply download this template in PSD, Word, Publisher, AI, or INDD, and then print it on an A4-sized paper.
14. Vertical Sketches Restaurant Menu Sample
Make a great impression on your customers by simply downloading and using this template for making your restaurant menus. This creative menu template is more than enough to attract new customers and retain old ones. Although the design may seem minimal at first glance, the elements will eventually add to the design's level of appeal.
15. Modern Theme Restaurant Menu Template
Make your restaurant menus exciting by keeping up with the trend, and this template will allow you to do just that. This modern-themed restaurant menu template has a black background to help the foreground elements stand out effortlessly. The layout and the graphical elements on this template are not only fully editable but also high-quality.
16. Free Christmas Restaurant Menu Brochure Template
There are times when you need a menu just for certain seasons. This Christmas restaurant menu template, for example, is perfect for any holiday specials you and your restaurant may decide to offer. Available in Microsoft Word, Photoshop, Publisher, and Pages. Download in your preferred file type, edit, and print!
17. Free Thanksgiving Restaurant Party Menu Template
Stylish and thematic, this template is exactly what your restaurant needs for your Thanksgiving specials. Use this restaurant menu template any way you want. It is also very easy to edit. Simply download in one of the available file types such as Microsoft Word, Photoshop, Publisher, and Pages. After downloading, you can then customize to fit your needs.
18. Free Restaurant Christmas Menu Template
This price menu is both professionally made, and also very artistic. The eye-catching design is sure to get your customers looking through your menu and order dish after dish. Take advantage of this restaurant menu template and download now. Downloadable in multiple file types for your ease of editing.
19. Modern Rustic Restaurant Menu Layout
Check out this clean and well-organized menu template that's sure to make your restaurant menu a feast for your customer's eyes. Download this template in PSD and edit it using Adobe Photoshop to easily edit the graphics, text, and color scheme. Additionally, this template also comes in five design variants, so don't forget to check those out.
The best thing about going minimal is that the design looks very clean and is capable of adapting to any theme. Check out this restaurant menu template, you can use it regardless of the theme of your establishment. Aside from that, the minimal design helps to emphasize the menu items more for the convenience of the customer.
More in Restaurant Templates
| | |
| --- | --- |
| 32+ Beautiful Restaurant Menu Designs - PSD, EPS, AI Free ... | 47+ Menu Card Templates - Ai, Psd, Docs, Pages Free & Premium ... |
| 30+ Creative Restaurant Menu Designs | Importance of Menu Card in Food Service |
| 47+ Menu Templates - Free Excel, PDF, Word, PSD Free ... | 23+ Free Menu Templates - PDF, DOC, Excel, PSD Free ... |
| 22+ Tri Fold Menu Templates – Free Sample, Example Format ... | 39+ Chalkboard Menu Designs - PSD, AI |