People often find dining out to be pleasurable yet expensive, which is why restaurant vouchers come in very handy at times when one feels like eating out is a better option than cooking at home. These restaurant vouchers are used by customers to avail of discounts and/or freebies, and we've got templates to help you make one.
663+ Restaurant Templates in PDF, Word, Excel, PSD, Google Docs, PowerPoint, InDesign, Apple Pages, Google Sheets, Publisher, Apple Numbers, Illustrator, Apple Keynote, Google Slides, HTML5 - START DOWNLOADING
5 Steps to Create a Restaurant Voucher
Step 1: Determine what the voucher is for
This is another way of asking yourself the purpose of creating vouchers. Before you start to actually create your restaurant vouchers, it would be a very good idea to determine what it's for, how customers can use it, and what they can get from it.
Step 2: Identify the details to be included
Once you have determined the voucher's purpose, you will then need to identify the details that you wish to include on it. These details include but are not limited to the name and logo of the restaurant, the perks that customers can avail, and the list of terms and conditions.
Step 3: Customize a restaurant voucher template
We've got an entire collection of restaurant voucher templates below for you, take advantage of them so you won't have to start from scratch. Choose from over ten high-quality and fully editable templates, open them on a suitable editing tool, and customize the design and add the necessary content.
Step 4: Proofread, evaluate, and finalize
After doing all the necessary customizations, it is very important to proofread the content for any grammatical or spelling error. Also, you should evaluate the design to see if it's presentable, decent, and eye-catching. After which, you can then start making the final touches to the design and content.
Step 5: Print your restaurant vouchers
Printing your vouchers is, of course, the final step in the process of creating them, and you can choose to do it yourself or by printing companies. Doing it yourself will require you to use high-quality materials to make your vouchers durable. But to save you the effort, you can let professionals take care of it instead.
12+ Restaurant Voucher Templates
Elegant Restaurant Discount Voucher Sample
This simple yet elegant discount voucher is perfect for restaurants that serve fine food such as steak, pasta, and ribs. The texts are big and eye-catching and will surely ignite the interest of diners. The terms and conditions section is fully customizable and contains everything that a restaurant should convey to its diners.
Printable Restaurant Wine Voucher Example
Here's a wine voucher template that's perfect for wineries, bars, and upscale restaurants. This template is fully customizable and contains all the details that a customer needs to know about the establishment. You may use this template to promote the continued patronage of loyal guests, and you can choose from among the five file formats available.
Restaurant Gift Voucher Card Format
This voucher template is best for restaurants or food service establishments that are trying to promote certain dishes or beverages on its menu. This fully customizable template is designed to direct the attention of the diners to the food featured on the design. You can download this template in Illustrator or in any of the other four file formats.
Restaurant Voucher Book Template
Restaurant Gift Voucher Template
Modern Restaurant Anniversary Voucher Layout
What's the best way to celebrate an anniversary? Well, the answer to that question is by availing of a celebratory discount! Here's a fully editable voucher template that's ideal for restaurants and food establishments celebrating their anniversary. Use the front side of the voucher for indicating the discount percentage and the back for the list of terms and conditions.
Restaurant Afternoon Tea Voucher Design
There is always a certain type of tea for each person, and this voucher template will allow them to enjoy their tea for a discounted price. This template is perfect for restaurants and cafes seeking to promote foot traffic during hazy afternoons. With the abundant space on this template, you'll be able to write as much information as necessary.
Restaurant Sweet Dessert Voucher Template
Here's a food voucher template that's perfect for restaurants seeking to promote either their new or their best-selling dessert items. This fully editable voucher template will surely include all the details that diners would like to know about the restaurant's sweet treats. This template is available in five formats including Adobe Illustrator, Microsoft Word, and Apple Pages.
Restaurant Drink Voucher Card Sample
People like to complement their meals with the perfect drink, some may even choose a specific type of liquor for certain dishes. With this voucher template, you'll not only drive in more foot traffic, but you'll also be able to encourage people to test out some of your best drinks and match them with your dishes.
Simple Restaurant Gift Voucher Format
This simple food voucher template is perfect for fast food chains that seek to promote customer loyalty and foot traffic during peak hours. Whether they decide to utilize this during holidays or certain seasons, this will surely grab the attention of potential customers as well. This editable template has everything that customers need to know about the restaurant.
Fast Food Restaurant Voucher Example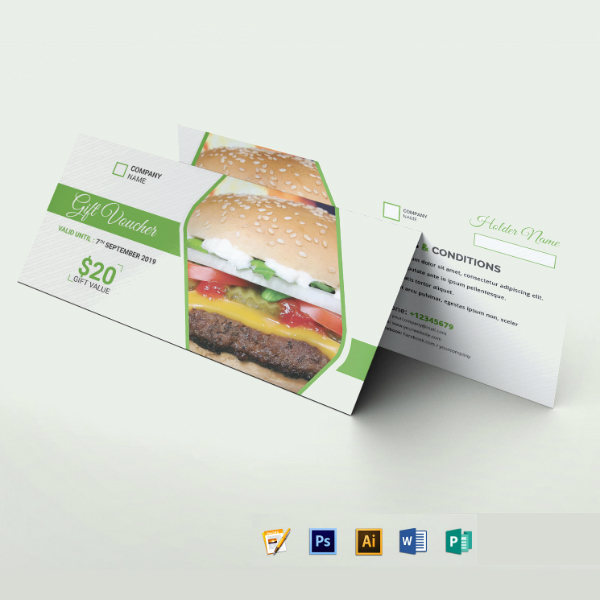 Here is another variation of a voucher template that's intended for fast food establishments, but this one is noted for its minimalism. This is an ideal template for fast food chains who wish to promote certain meals on its menu. You can get this template in Apple Pages if you are using this certain tool as your document processor.
Editable Seafood Restaurant Voucher Template
Download
To those who prefer seafood over meat or any other type of food, they will surely enjoy dining in your restaurant. To help promote your seafood restaurant, you may want to use this voucher template along with this restaurant flyer. Also, the simple design of this voucher template will encourage interested people to take advantage of your hotline number.
Multipurpose Restaurant Voucher Card Layout
Download
Check out this multipurpose voucher template, it is definitely a good fit for various cafes and restaurants who want to promote their business, their products, and to drive more foot traffic to their establishment. You can get this voucher template in PSD and PDF, both of which in very exceptional quality.