Ticket Templates
18+ Best Ticket Invitation Templates
An event will almost always require the use of either a ticket or an invitation card, so why not combine both? We've gathered over fifteen of the best ticket invitation templates from all over the internet, and we aren't kidding when we say that these are indeed the best. Don't believe us? See for yourself.
Table of Content
18+ Ticket Invitation Templates
1. Vintage Expo Ticket Invitation Template
Going for a more outdated look? This vintage ticket template may be what you're looking for since its theme can easily appeal to audiences. This ticket invitation template would be perfect for events that pay tribute to vintage cultures, although you may also be allowed to use this template for any event, vintage or not.
2. Movie Event Ticket Invitation Sample
Let's say you're putting together a party involving movie screening or movie themes, you'd probably want to use this template to make your ticket invitation cards. This layered template has a very minimal design—putting more emphasis on the text—and it comes in two file sizes. If the party is about movies, this is the right template for you.
3. Baby Shower Ticket Invitation Example
Baby showers usually occur either weeks or months before the mother goes into labor, and this is usually organized by any of the pregnant woman's family members or closest friends. If you're either of the two, you may want to invite people by way of invitation tickets, and here're a template to let you make one.
4. Simple Event Ticket Invitation Format
As long as the needed information is added and the design is impressive enough to attract an audience, you don't have to do a lot for your template. By using the ticket invitation template above, you can draw in a crowd in spite of the design's simplicity, and this is entirely due to the elements used.
5. Circus Ticket Invitation Card Layout
The circus is one of the most common attractions that require tickets in order for people to be permitted entry. Here's a circus invitation template that you can use whether you're throwing a circus-themed party or you're actually inviting people to a traveling circus. Come one, come all! Get your hands on this template now!
5 Steps to Make a Ticket Invitation
Step 1: Decide whether to make ticket-inspired invitations or the other way around
While it may seem like it won't matter whether you choose one or the other, it actually does. One reason is due to appearance, wherein a ticket invitation is intentionally made to look like a ticket but is actually an invitation card. Another is that with ticket invitations, you're allowed to add as many elements as with regular invitations.
Step 2: Prepare your content by listing them down
The content of ticket invitations is the most important element due to it being the one providing ticket holders the needed information. As mentioned in Step 1, you're allowed to add as many elements as needed in spite of its ticket-like appearance. To guide you during the editing process, it is best to prepare your content beforehand.
Step 3: Choose a ticket invitation template and download it
After this section, you'll find over fifteen templates that we have gathered from multiple reliable websites. These ticket templates are some of the best ones on the internet, some even have their file formats and sizes indicated either beside or below the image. Downloading a template is very easy, it's just a matter of clicking the download button.
Step 4: Write the content and enhance the design
Considering that you've prepared your content beforehand as stated in Step 2, you may now start adding them onto your downloaded template. Afterward, you can then start enhancing the design either by adding, removing, or rearranging the elements that come with the template. As long as you're using a compatible editing tool, you'll be able to do this easily.
Step 5: Finalize your ticket invitations
Finalizing your ticket invitations involves evaluating the design and proofreading the content. When evaluating the design, see to it that the layout is pleasing to look at and not distracting. And in terms of proofreading, check the spelling and grammar of the content and fix errors, if any.
6. Cruise Ship Ticket Invitation Design
Cruise ships are basically hotels floating on water and traveling to various places. While this template will allow you to make mock-ups of actual cruise ship boarding passes, you can also use this to make genuine ones if appropriate. This template comes in five different file formats, be sure to choose the best one.
7. Simple Travel Ticket Invitation Template
Traveling may seem costly but the experiences and memories you gain from it are priceless. This ticket invitation template may be what's needed to fully encourage people to go out and travel, and if you're working in a travel agency, you can also use this template to gain more clients.
8. Pool Party Ticket Invitation Sample
Have you ever wanted to just cool yourself off by dipping in a swimming pool during a hot day? This is entirely common during the summer season. If ever you're planning on doing this together with friends, then why not throw a pool party instead? And for that, we've got the perfect ticket invitation template right here.
9. Blank Ticket Invitation Template
10. Cruise Ticket Invitation Template
11. Soccer Game Ticket Invitation Template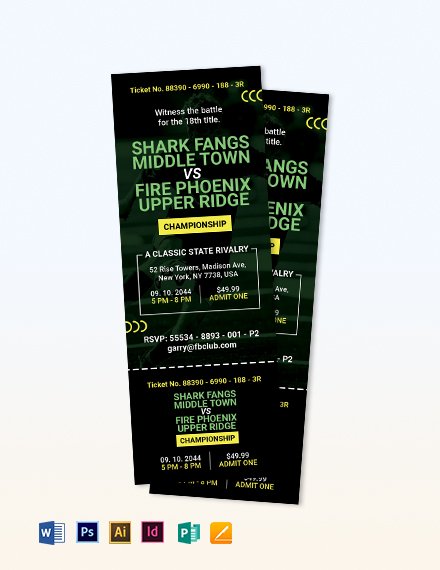 12. Colorful Carnival Ticket Invitation Format
The carnival, where kids and those who are young at heart get to experience things from their wildest dreams. You may probably know of someone whose dream is to ride the Ferris wheel or eat caramelized apples. Using this template to make ticket invitations can make those dreams come true.
13. Boat Trip Ticket Invitation Example
Traditional couples get married in the church while others hold their weddings at the beach or a garden. Why not make yours or someone else's wedding unique by holding it on a boat? By using this ticket invitation template, you may be able to do that, although you can also use this even in regular weddings.
14. Basketball Sports Ticket Invitation Sample
Have you been tasked in putting together a basketball event? If so, you can use this template to gather sponsors or notable people to attend the game. But if you're planning on selling tickets to regular audiences, you can also check out our admission tickets for basketball or any sports event.
15. Wedding Ceremony Ticket Invitation Template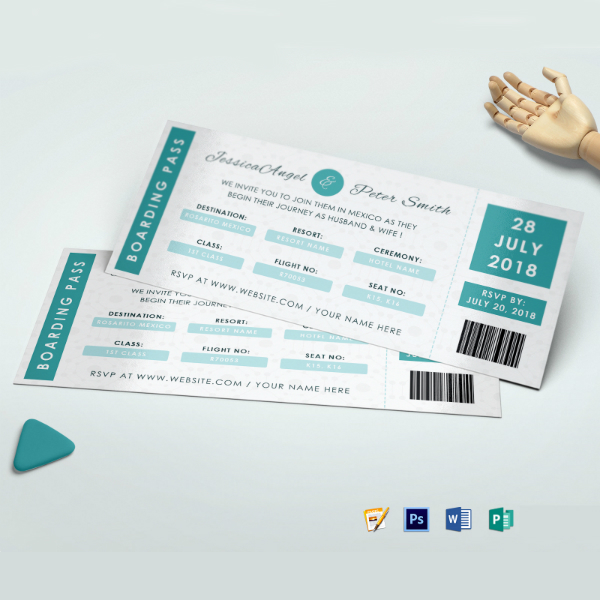 A wedding invitation card in the form of boarding passes? Why not? As long as the purpose is still for inviting people to the wedding, there's no reason why you shouldn't make your invitations look like tickets. This template comes in four file formats, you can download this template in PSD, Pages, Publisher, and Microsoft Word.
16. Floral Wedding Ticket Invitation Example
There's no doubt that using floral elements is a perfect way to enhance a wedding invitation design. Check out this creative wedding ticket template, it's beautiful and it perfectly complements the theme. Since this template is intended for formal events, it makes perfect sense to also include an RSVP as one of the elements.
17. Movie Ticket Wedding Invitation Format
Before marriage is a love story that's unique and special, some are so special that the couple would want to share their experiences with others. If you think yours or someone else's love story feels like an Oscarworthy movie, inviting guests using this ticket template would complement the entire movie-theme.
18. Typographic Wedding Ticket Invitation Design
Going typographic with your invitations means less distraction and easy communication of details. Check out the wedding ticket template above as an example, the allotted space is used efficiently to fit in all the necessary details regarding the wedding. Also, the effective use of white space is able to declutter the layout and make each element distinguishable.
19. Rustic Corporate Ticket Invitation Layout
While it's true that corporate gatherings should maintain a formal theme, you can incorporate bits and pieces of humor or informal elements just to keep things interesting. You can pull this off by using the ticket invitation template above for gathering guests to a corporate event, simply change the photo and the text to make it work.
More in Ticket Templates