Fundraising Templates
10+ Fundraising Ticket Templates
The design of a Fundraiser ticket template must be identical to your cause. It must contain all the basic details along with a uniquely printed id to avoid duplication. This article will guide you through the that build the perfect ticket for your Fundraising event. Browse through the list of templates to make a choice.
How to make a Fundraising Ticket?
Table of Content
Step 1: Use Correct Fonts
Every text in your fundraising ticket must have the appropriate font. It signifies professionalism and dedication from your end. The right kind of font for the name of your event will allow your readers to interpret the mood and ambience in your event.
Step 2: Highlight the Event Details
The key points that you want your visitors to remember in the last minute must be added in the fundraising ticket. For example, mentioning the dress code and entrance timings on the ticket could prove beneficial for the success of your event on the main day.
Step 3: Use Correct Colors
Specific colors are psychologically proven to have more impact on a reader's mind. Like for example, the use of black will signify luxury and orange shows awareness. If you make use of the right colors, it will improve the impact of your brand on the visitor's mind.
Step 4: Include Pictures
You already know the importance of this section. The pictures you print on the ticket must be completely relevant to your cause. You can input pictures of your fundraising event venue. This will help people get on the right location without wasting much time in searching.
Step 5: Print Ticket Number
The ticket number will identify the legitimacy of the person with entrée to your event. Keep a track of every number that you print and verify on the entrance. This will prevent the entry of unwanted people into your event and maintain the decorum in the venue.
10+ Fundraising Ticket Templates
1. Fundraising Event Ticket Template
This versatile fundraising ticket template for Publisher is suitable for every type of event that you organize. Just type in the name of your organization and enter the appropriate details. Your ready to print ticket will reduce your work time by less than the half.
2. AIDS Fundraising Event Ticket Template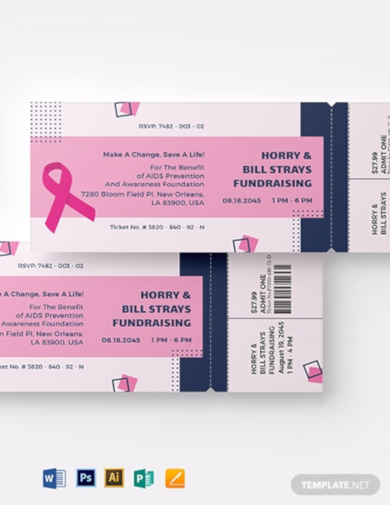 As the name suggests, this fundraising event proposal template is specially designed for AIDS awareness campaigns. The one-click download of this template will give you the choice of downloading in multiple sizes and formats like Adobe Photoshop, MS Word, Microsoft Publisher, Illustrator or Pages.
3. Fundraiser Ticket Template
The design of this ticket speaks of a Cookies Sale campaign, but you can further edit the image to fit your event. The pictures you use in the ticket will be printed in high quality along with the fonts because of the beautifully made event in InDesign template format.
4. Blank Fundraiser Ticket Template
If you are looking for a blank canvas to enter your content in the ticket, look no more and download this premium printable ticket template. It gives you the format to paste images, content and barcode as per requirement, all at a minimum price.
5. Meal Fundraiser Ticket Template
The organizations planning to execute a meal fundraising event can benefit with this pre-designed meal fundraiser dinner ticket template. It can be downloaded in multiple files and formats. You wouldn't have to customize any further than your name and details.
6. Simple Fundraiser Ticket Template
This basic fundraising ticket template in Word comes with a minimal design that speaks of elegance and sophistication. It includes barcode and cost of the ticket printed along with the basic details. You can change the colors and text using Photoshop if need be.
7. Printable Fundraiser Ticket Template
This printable ticket template comes with a complete package of all the required elements in a fundraising ticket. All you need to do is download it on your computer and print it for distribution. You can save it for your future reference in all the available formats.
8. Editable Fundraiser Ticket Template
As you see in the name of this ticket template, you have the complete independence to edit and change the elements of this fundraising ticket. It comes with an easy to download and printable format that makes your work easier by a great value.
9. Numbered Fundraiser Ticket Template
Every ticket that you print using this template will have unique numbers to identify your customers. Every printable ticket template comes with a customizable barcode and cutting points. It is minimal and precise with key points display on the front. Heading suggestions are provided with the template.
10. BBQ Fundraiser Ticket Template
You can never find a better event ticket template for a BBQ Fundraising event. This template comes with a colored ticket format. It creates the required vibe with subtleness and precision. The layout induces excitement for the event in the mind of your customers which is your ultimate goal.
11. Free Fundraising Ticket Template
This free fundraising luncheon ticket template is all you need to build one for your event. It brings key points like date and time under highlight. You get to customize the text and image used in this template to suit your event in the frame.
More in Fundraising Templates