Soccer is not just a game, it is a way of life for many fans who watch it passionately around the world. The excitement that this game carries with it is unreal. So why design boring tickets when you can make awesome ones using these football event ticket designs? Check them out now! You may also look in to our sample ticket templates.
26+ Soccer Ticket Templates
Soccer Event Ticket Template
Soccer Camp Ticket Template
Soccer Field Reserved Event Ticket Template
Soccer Admission Ticket Template
Soccer Birthday Invitation Ticket Template
How to Create a Soccer Ticket in just 5 Steps
Step 1: Select a Theme for your Ticket
Selecting a theme that is unique should be a top priority. There are many themes you can come up with. It's all up to you to decide. You can make use of free ticket templates and this way your options won't be limited and the possibilities will be endless.
Step 2: Select your Ticket Size
As there are no specific dimensions that are mandatory to follow, you can decide the size of the ticket as per your liking. It can be larger or smaller than the basic ones.
Step 3: Insert Graphical Images
Next, add graphical images that go well with the theme of your soccer game ticket. Pick any of your own soccer images or you can download soccer ticket templates that can help make your ticket look amazing and effortlessly beautiful. Don't forget to keep your audience in mind while designing the ticket.
Step 4: Add Content
After deciding the theme for your soccer ticket along with its ticket size, work on the content that you would like to be displayed and highlighted. Note that it should prominently consist of important details such as venue, time and date of the soccer event.
Step 5: Review and Print
It is always better to conduct a review of your ticket just to see if all the elements are in place and arranged in order. Assess and check if it has turned out as you imagined or else make necessary changes. Once it is all arranged, get your soccer ticket printed in good quality. You can also take a look at ready-made printable ticket templates.You may also see Ticket Templates.
Christmas Soccer Gift Ticket Template
Soccer Ticket Invitation Template
Create your own soccer invitation by downloading the above template. Be worry-free as this template comes in various file formats so that you can edit easily using different programs such as Adobe Photoshop and Illustrator on nearly any device that you prefer. Take advantage of this soccer template by personalizing it to suit your needs.
Soccer Party Ticket Template
Soccer Game Ticket Template
Soccer Game Ticket Invitation Template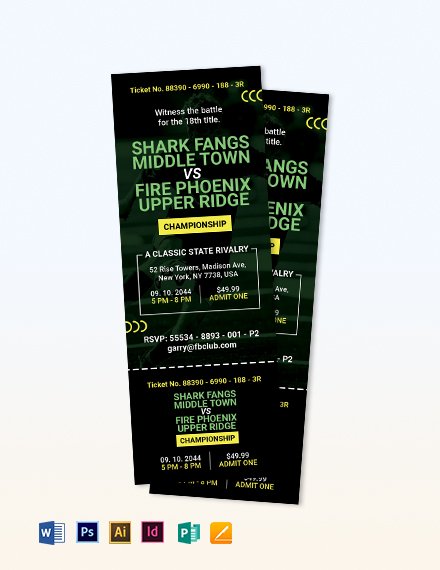 Soccer Raffle Ticket Template
Soccer Schedule Event Ticket Template
It's simple, and it can be downloaded for free! There's more to this Free Sample Football Ticket Template than meets the eye. It offers you a fully editable and customizable layout, along with its high quality graphics and a well-made outline. Excellent, user-friendly, and convenient, that's what this template is.
 Soccer Ticket Design
Download
Download this simple and good looking soccer ticket template to design tickets for the soccer show. It comes with a layout that is designed in white and grey. All details of the soccer games such as date, seating arrangement, and time are mentioned. It also has a VIP and standard section box that can be ticked or marked.
 Soccer Party Ticket in PSD
Download
This soccer party ticket is perfect for football/soccer loving couples. The design possibilities with this one are endless. All elements of this ticket template are totally customizable. The text, colors, fonts, image, etc can be changed to suit your requirements. Download this one of kind template now!
 Soccer Birthday Party Ticket
Download
You can now make birthday events more fun and exciting by downloading this soccer birthday party ticket template. It features a picture of a soccer player with a soccer ball in action. You can make changes to this template by editing the text and you can also change the red color bars to any other color of your liking by selecting another background color.
 Modern Soccer Ticket Template
Download
If you're looking for a modern designed soccer ticket, this template is the one for you. It is themed in cool blue and looks very simplistic in design. It features a ball in the center of the ticket and the heading of this ticket template can be edited with your own texts. Keep things simple yet modern with this ticket design template.
Birthday Gift Soccer Ticket
Download
Make your life easier by downloading this printable ticket that will make for a perfect birthday gift. It is a soccer-themed ticket that has beautiful golden border highlighting the ticket. The template also comes with a set of instructions. You can edit this ticket with your own text and get it printed at your home itself. More such sample ticket invitation templates can also be referred.
 Soccer Birthday Invitation Ticket
Download
You can now make custom invitations and announcements for every birthday occasions using this soccer birthday invitation ticket template. It allows you to add texts and images at both sides of the card. Kick some fun using this ever'green' template now!
 Soccer Invitation Ticket Template
Download
This soccer invitation ticket template is available for instant download. You can personalize this black and blue template at your home and get it printed as many times as possible. Edit the text in this template using Adobe Reader. The fonts are already embedded in the files of this template.
Professional Design Soccer Ticket
Download
The above-shown soccer ticket template is designed by professionals. It is themed in colors of yellow and blue. This ticket design most certainly lives up to the hype of the game with its vibrant outlook. Download it now and keep the excitement of the game alive.
 Creative Soccer Ticket
Download
Download this creative soccer ticket template that looks unique and royal with its gold themed layout. You can include the heading of the game at the very top of the page as shown in the figure. The details of the soccer game including the price, stadium location details and time can all be edited.
 Sports Ticket Birthday Invitation
Download
Invite guests for your child's birthday party with the help of this fun sports ticket invitation. It is designed in such a way that it looks like a ticket for a soccer event. You can type in the text to add information on both sides of the card. Customize it however you want by changing the font and colors to suit your choice.,
Father's Day Soccer Ticket
Download
Nothing can get better than this father's day soccer ticket template if you are running late of gifts in the last minute. It looks great in its black and white format and includes a lot of blank space that can help you save your printer ink. Download this instantly and get it printed from your home!
Simple Soccer Ticket
Download
Keep things simple, fun and unique with this simple soccer ticket template. It can be used for inviting guests for your child's birthday party. With its green and black theme, it comes with event details that are placed at the center of the ticket. Get this template now and make birthday events even more memorable!
Soccer Gender Reveal Invitation Ticket
Download
Get yourself this perfectly designed gender reveal or baby shower party invitation if you happened to be a soccer fan. It is unique in its style and is sure to impress the guests! All texts in the template can be edited with your own party detail except for the main title heading.
 Sports Ticket Gender Reveal Invitation
Download
If you're a hard-core soccer fan who is planning a gender reveal party, then you can do it now in the most fun way possible by designing tickets for the party using the above-shown sports ticket gender reveal invitation template. It is an oversized ticket that can be customized for your favorite team and sport.