It is essential that you keep your Joomla website updated as it is vital to ensure website security. Now this might not be a problem if you're looking to upgrade to a newer release of the same version that you use. However, the procedure involved in shifting from one version can be a slightly more complicated task.
That being said, it is still highly recommended that you do the same! So, here's a step-wise tutorial on how to upgrade Joomla.Before you can begin, it's good to know which version of Joomla you currently run. Joomla has two supported versions at the moment; one being Joomla 2.5, and the other is Joomla 3.
Both versions are still being reworked and debugged and you can get new security updates for them. And if you're either any of the two versions, always check for minor update releases. If you want to upgrade to the latest release of the same version, you can easily do so with a one-click option of the Joomla admin.
Check For Updates
To upgrade your Joomla with a new release of the same version, you'll have to access the admin area on "http://yourdomain.com/administrator". After that's done, Joomla will check for the latest versions of the software, automatically. And if a newer version is available for download, you'll get a notification regarding the same.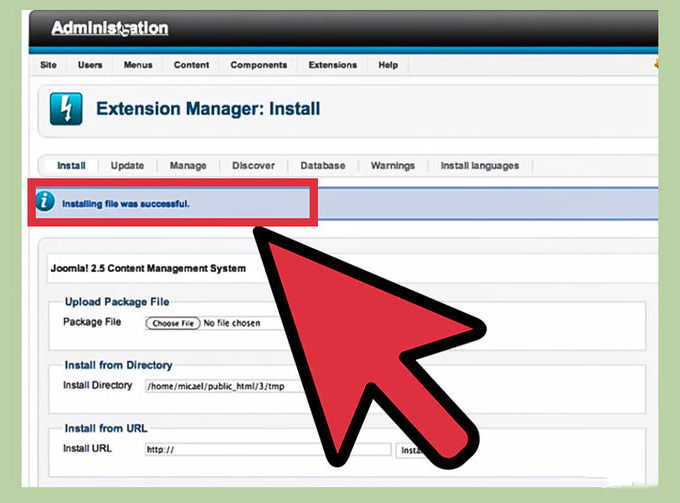 Install Updates
After clicking the link, you'll be automatically redirected to the update page for Joomla. This is where you will get information like your current Joomla version as well as info about the latest version you will upgrade to, the URL for the update, as well as an installation tutorial.
It's best to retain all the default settings and not make any changes to them. Once you've clicked the Install update button, the website will be upgraded to the latest version of Joomla in just a few minutes. You will then be taken a page that confirms your successful update!
Migrate to a Newer Version
A major problem with migrating to the latest version of Joomla is that templates, plugins and extensions you use might be incompatible with the latest version. Basically, it means that you'll have your backed-up content available on the latest version, but will have to delete, alter or update your plugins before your site will be fully functional.
Also, as a long-standing release of the Joomla 3 version doesn't exist yet, you will have no choice but to change to short-term settings on the server. You can complete this process by clicking the "Options" tab, which will provide you with a pop-up that contains the settings, Update Your Joomla Website that you need. The next step is to select a drop-down menu choose Customer Support. Save all your data and close the tab.
After you've shifted to a short-term update server, your software will automatically detect a fresh update. Just hit the Install update button, give Joomla a few minutes to complete the migration, and you'll get a confirmation of migration from the admin area. It is advised to never close your browser while the migration is taking place.