The term media is often used to describe a variety of items. An example is the word media being used to describe the news or information being discussed. Another definition of media is used to describe audio and visual items such as music and videos. The word media is also used to describe viewable content on devices. Regardless of the definition of media, we can all agree that it allows for an easy and efficient means of sharing information.
With this information in mind, we now know that the term media has a role in our everyday lives in one way or another. As such, there are thousands of online sites dedicated to the sharing of information that is related to the type of media we are searching for.
Video Community & Media WordPress Theme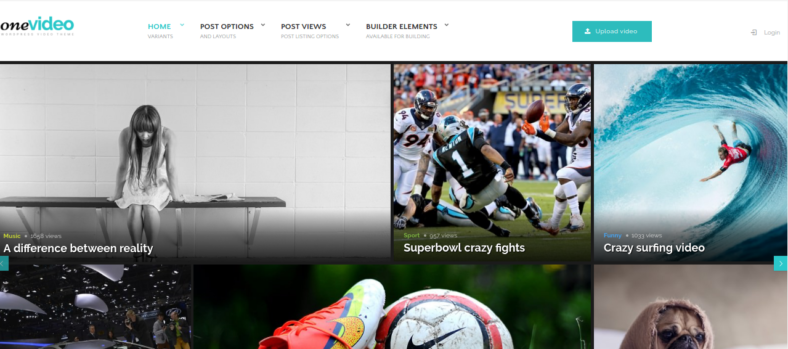 OneVideo is a media best WordPress theme that is made by a well-known theme and plugin creator. OneVideo is a useful tool for whoever wishes to create a website that is dedicated to the sharing of different media formats, especially if the content being shared is in a video format. This is because this WordPress theme has a built-in feature called the trending monitor which is a useful tool in monitoring and rating all of your contents, which can assist you in determining which of your videos are trending and are being viewed more often compared to your other video or media files on the site.
It also consists of a feature called front-end submission which allows users to upload media files via embed URLs (meaning you can upload files from other sites to your site) or you can upload your media files directly from the desktop of your personal computer, making it easier to upload your contents and topics.
It also features a function that allows for the addition of a tool called sticky sidebars which allows you to post content or advertisements on the sidebar. Unlike a normal sidebar, it is capable of following the scroll bar, making it easier for site viewers to track the contents of your site.
Digital Agency WordPress Theme
Thanks to the constant need of improving their systems and methods, the developers of Digitalia created a tool called elementor which is considered to be the next generation drag-and-drop front-end page builder that removes the need for any form of coding experience, making it easier to create the site even for a person who has no prior experience in doing so.
This digital agency WordPress theme also comes with a variety of custom-made headers and footers that will allow you to select and use a professionally made layout without having to make the layouts yourself. The Elementor page builder also has a few plugins called JetElements that are used as a means of further customizing your web page to improve your user's experience on the site.
Trending Media WP Template
Immunity is a multipurpose responsive WordPress theme that is based on the designs of a magazine. It can support the addition of large amounts of content as well as allow the function of streaming other media content on the site.
Immunity is made with a variety of features that almost guarantee the creation of a unique and amazing site in terms of both visual design as well as function. An example of such a feature would be the layout options and post formats that will allow you to easily select and design what could be considered as the skeleton of the site. In addition, Woocommerce integration allows for the creation of an online store or shop where you can market your product or services.
This WordPress theme is considered to be a perfect choice when it comes to the creation of any site. Be it a news site, a video blog site, or even an eCommerce site, Immunity is designed to run them all well.
Personal Blog Theme
Romango is a personal WordPress blog theme that is designed to be the perfect theme template for visual media posts, audio posts, etc. This free WordPress blog theme includes a set of four pre-made homepage layouts that you can choose from to help you create the home page of your site. This theme also contains a few single post styles as well as a few pre-designed formats for every other page you would use for your website.
Romango is made to be a perfect template for the creation of a variety of blogs such as personal blogs, travel blogs, creative blogs, food blogs, lifestyle blogs, fashion blogs, tech blogs, and many others. This is achievable thanks to the advanced theme options that allow for the customizing of the website theme with a simple few clicks of a button, reducing or removing the need of having any prior coding skills whatsoever.
Photography Media WordPress Theme
Nifty Fifty Photography is a minimal WordPress theme that maximizes your overall site performance thanks to its minimal design. The advantage of using the Nifty Fifty Photography WordPress theme template is that you are given the option to change every detail of the website theme to make the site feel or reflect your desire for how the site should be designed.
It has a professional WordPress plugin built into the site itself. This plugin is called Jetpack which helps you display your images and photography contents in specialized galleries that can catch the attention of your viewers.
It also has a smart image rendering feature that would help you adjust the size of your images to make the image fit onto whatever device screen it is being displayed on.
Audio Responsive WordPress Theme
Room 33 is an audio responsive WordPress theme and template that is a fully customizable theme in the sense that the creators of this vintage WordPress theme used a feature called power drag-and-drop page builder to design the site without having to add in a single bit of coding. This makes it perfect for beginners and those who do not wish to learn to code just for the creation of a site. It even implements a live customizer function that gives you even more, control over every aspect of the website.
Media Sharing WordPress Theme
SocialPlay is a media-sharing WordPress theme that is dedicated to the creation of a magnificent-looking, super-flexible, and responsive WordPress theme that is completely unique in design.
This responsive WP theme provides you with two options in uploading your audio, video, or other media files onto the site. The first method is the traditional method of uploading the media files directly onto your site. However, this method is less favored by most web designers. The other method involves linking the video URL to your site, making the management and arranging off video contents simple and easy.
News Media WordPress Theme
NewsOnline is a beautifully designed and professionally made responsive minimal WordPress theme making it perfect for the creation of an online media sharing site be it for news or magazine reviews. This WordPress theme is perfect for the creation of a website that would require the displaying of a large amount of information, making this WordPress theme a high quality and perfect template for webmasters and web designers alike.
Creative Blog WordPress Template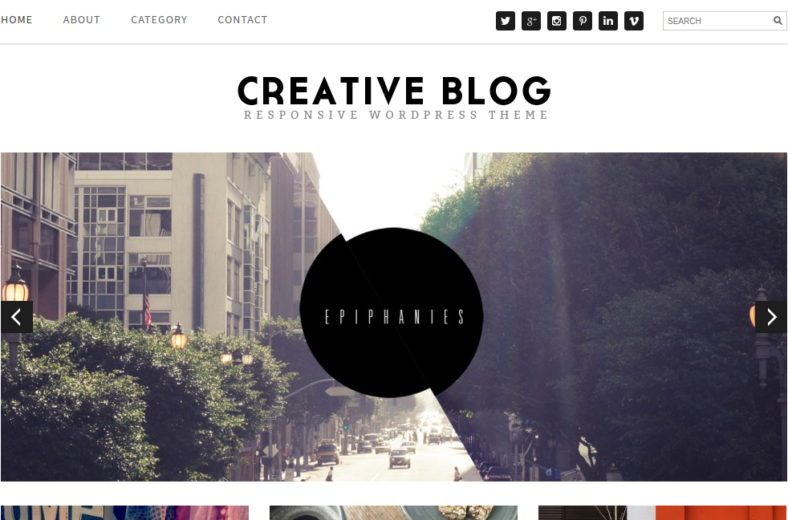 Creative Blog is a responsive WordPress theme that is made to be a great theme for a creative blogger because of its clean and simple design. It is also a clean and simple WordPress theme as well as cross-device friendly, making it possible for anyone and everyone online to access the site at any given time.
It can support the addition of audio and video files as well as create a video slider which behaves like a video gallery that you can use to display your different media content for your viewers to read or view. It also consists of several other features that make this WordPress theme effective and easy to use for everyone and anyone.
Video Streaming Responsive WordPress Theme
Motiovix is a completely editable video WordPress theme for the creation of video streaming websites. This WordPress theme is made to be completely compatible with whatever browser it is being viewed on as well as whatever device is being used to access the site, making it not only responsive but also cross browser compatible.
This simple WordPress theme also features a video gallery that is clean in design as well as powerful in terms of function. With the newsletter subscription function, you can allow your site viewers to stay up-to-date on site news and let them review each one of your latest or featured videos.
It can also allow your site users to create their own playlists and favorites so they can easily rewatch videos anytime they wish to do so. This WordPress theme also features a codeless website creation thanks to the power page builder and live customizer features included in it.