Designers and creatives have long since jumped on the bandwagon and used various platforms and frameworks to run their online web portals. Nowadays, HTML5 themes and templates are becoming one of the most popular web design tools that are being used to build extremely unique and highly functional websites that are as creative as the individuals using them.
Here is a list of some favorite HTML5 website themes and templates for designers that you can use or find inspiration from for your own creative websites. Carefully selected considering the latest web design trends and technologies included in each website template, they are guaranteed to give you the best features and options. With modern and state-of-the-art designs, these themes will surely make your website stand out from the crowd.
So, what are you waiting for? Dig in and do not hesitate to click on each template's demo button to see how it works. And, of course, do not forget to hit the download button before you go.
Creative Multipurpose Website Theme
To start this list, here is Brave Light. It is a creative multipurpose website template that is universal in functionality as it can be used for many various website niches such as creative agencies, portfolios, or personal websites. This template comes with over 45 ready-made HTML5 pages and a huge set of UI elements and blocks that will help you build a functional website.
It has a valid semantic coding which makes this theme easy-to-use and highly customizable. Its features include a variety of working forms like Contact Us, Login, and newsletter template subscription forms. Brave Light also includes four blog layouts, an eCommerce page template, cool CSS3 animation effects and transitions, multiple gallery types, and much more.
Interior Design Website Template
Next is Molder, an interior design website theme that comes with a clean and modern design which gives your website a classy and sophisticated look. Built with Bootstrap, this multi-page HTML5 template boasts of a fully responsive design with extreme customization capability, thanks to the multiple pages and the many features included in the theme.
This theme lets you choose over 40 ready-made pages, multiple header and footer layouts, a variety of working forms, various gallery types such as grid, masonry, and cobbles, and so much more in order to build a website that matches your brand image. Molder has a clean and functional design that will truly give your creative businesses a better online presence.
Design Studio Multipurpose Theme
Then, we have a modern and professional design studio theme called Grand Vector. Just like its name, this multipurpose website HTML template is guaranteed to provide your creative agencies, design studios, and other web projects a grand entrance into the virtual world of the Internet. Built with Bootstrap 3.3, it is packed with tons of cool features.
Grand Vector has over 50 ready-made HTML5 pages for you to use, along with multiple header and footer layouts, huge sets of UI elements and blocks, and stunning cool CSS3 animation effects and transitions. Its W3C valid, well-commented and SEO-friendly code helps you to easily customize and modify the theme according to your preferences.
Personal and Portfolio Template
The clean and minimalist website template you see above is Drop, which is created specifically for the personal website themes and online portfolios of designers, illustrators, freelancers, and other creative professionals. It is a cutting-edge and premium HTML template which offers you the perfect solution and the best choice for all your creative web projects with minimal concepts.
Among Drop's key features is the charming portfolio index with a grid, masonry, and mosaic layout options, as well as a unique page loading effect and beautiful color combination that surely enhance the template's visual appeal. Drop's one-of-a-kind header design with beautiful and slick animations and parallax design also make up the theme's simple layout design.
Web Designer Portfolio Theme
A multi-page HTML theme with a clean design and responsive layout, Inspire is built with the latest version of the Bootstrap framework particularly for web designers. Whether you work freelance or in an agency, you can make use of this highly professional website theme to showcase your previous projects and entice new clients to avail of your services.
With its rich UI kit, over 25 pre-defined HTML5 pages and four blog layouts, among other features, you will be able to build pages and create a working website that suits your taste and caters to all your business needs. Aside from these, Inspire also includes working contact and newsletter subscription forms as a way to keep in touch with your visitors and generate leads.
Creative Agency Template
Magicne is a creative HTML5 theme especially built for creative agencies, art studios, startup businesses, and personal portfolio websites to help your business reach new heights. Based on Bootstrap 3.3.6, this theme boasts of a fully responsive layout and retina-ready design, as well as high-performing functionality with its many features and options available.
With this template, you can bring your design business to the next level faster with an online marketing strategy brought to you by its SEO-friendly design. Magicne's clean and professional layout also provides an easy-to-navigate user interface that creates an engaging experience for your users. Other features include smooth scroll, Owl carousel, and more.
Multipurpose Creative Theme
Another multipurpose and creative website theme is Manhattan, an HTML5 template built for multiple purposes and various niches including creative agencies, personal websites, and online designer portfolios. Made with valid HTML5 and CSS3 pages, this modern and state-of-the-art website theme is perfectly responsive, retina-ready, and cross-browser compatible.
Other features include a working Ajax contact form with validation and working PHP mailer script which is used for lead generation, custom print CSS stylesheet and well-commented documentation for easy setup and customization, and many others. Manhattan also includes demos for corporate, business, healthcare, restaurant, and many other websites.
Creative Studio Theme
This is Casula, a responsive HTML5 template with a minimal yet unique design that is great for any business, agency, freelance, and personal website that deals with various creative businesses. It is specially made for creative individuals to give them a unique but functional online web portal where they can show off their works and achievements to potential clients.
Based on Bootstrap 3.3.6 and developed with HTML5 and CSS3 web design technologies, Casula boasts of a fully responsive and mobile-friendly design which makes your website look awesome on all devices. It also includes five essential web pages that you can use, namely Index, Post Single and Project Single, 404, Coming Soon, and Pricing Pages.
Architecture and Design Template
Here is a cool website theme for architecture and design called Karch. This next generation HTML template has a unique but efficient web design ideal for architecture studio, construction company, and agency websites, among others, thanks to its image-heavy layout where you can highlight completed projects which will surely encourage potential clients and customers.
Karch is made from the latest Bootstrap version, so it boasts of a number of modern and trendy features such as the fully responsive layout and mobile-ready design. These attributes help the template adjust to any screen size and image resolution of different mobile and desktop devices, so your website will always look great no matter which device it is viewed on.
Multipurpose Design Theme
Apollo is a multipurpose Bootstrap and  HTML5 template with yet another unique and one-of-a-kind look. It is characterized by a column-based layout on the home page where it is divided into different types of services that your creative company is offering, along with stunning animation and transition effects which increase the visual value of your website.
The theme comes with over 32 demo templates and a one-page or multi-page layout to choose from. It also features an Owl carousel, portfolio filter, masonry gallery, eCommerce support, and so much more. Based on Bootstrap 3 and made with HTML5 and CSS3 valid code, Apollo is fully responsive, simple to use and easy to customize, as well as speed optimized.
One-Page and Multi-Page Template
Next is Reen, a multi-page and one-page website template specifically made for designers. This beautiful and clean web design tool is definitely a high-quality solution for creative individuals and corporate businesses alike who want to build the perfect website to represent their products and services online. And this template is certainly what you are looking for.
With a flat UI design and fully responsive layout, Reen comes with 50 HTML pages that you a can use, five home page layouts to choose from, 10 pre-styled backgrounds, and eight pre-styled color schemes to customize your website. It also includes Mega Menu, a working PHP contact form, professional blog layout, touch and drag-enabled sliders and carousels, and many others.
Creative Agency Theme
Then, we have Octopus, another unique theme for creative agencies and many other website niches. This fully responsive and parallax scrolling website template has a one-page and minimal design powered by the Bootstrap 3.3.5 framework, so it looks professional and suitable for any creative agency, design studio, and freelance designer website.
A robust website template, Octopus is also packed with a number of other awesome features that include CSS3 animations and transitions, filterable portfolio, smooth scrolling with parallax background, a working contact form, Font Awesome icons, and Google web fonts, among others. The theme also comes with a clean code with comments for easy customization.
Minimal Portfolio Template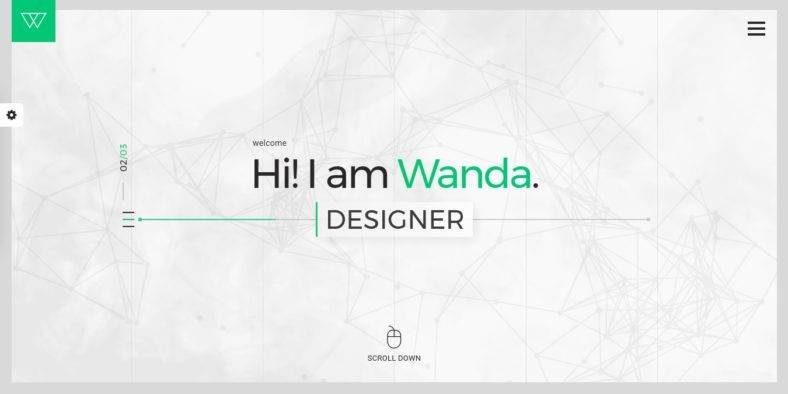 Another unique but minimal theme is the one-page portfolio website template called Wanda. This web design tool is especially created with lots of negative white space so you can highlight and showcase your creative works very well, as your audience's focus is directed towards the content instead of other unnecessary things on your web page.
As it is a creative type of website, Wanda comes with innovative features such as eight color skin options, a section hero header with parallax background and text rotator, section profile which lets you upload a profile picture and profile chart, section projects with a filterable portfolio and project gallery, and section studio with a gallery slider, among others.
Creative Studio Theme
The clean and creative studio theme you see above is Shapes. Based on Bootstrap version 3, this one page portfolio website template comes with a clean design that is highly responsive and is packed with a bunch of great features. It also uses the most recent jQuery and CSS3 techniques which guarantee an awesome user experience for your visitors.
Shapes come with 10 pre-defined color schemes for you to choose so the theme fits your taste or preference, along with a background slider, filterable portfolio with unlimited filters, working AJAX contact form with Autoresponder, Font Awesome 4 icons, Twitter feeds, and so much more. With these features, the template is easy to use and to modify.
Developer Portfolio Template
A one-page creative portfolio theme, Aurora is a clean and modern website template with a bright and colorful design as it is built for creative website niches. Based on Bootstrap 3.3, its highly responsive design allows your website to adjust and look great on all devices, while the features and options included in the theme gives it full customization capability.
This template's features include a choice of full-screen static, parallax or slideshow background with more than 600 retina-ready icons, gorgeous Google web fonts, stunning CSS animations, a working Ajax contact form with email validation, and others. Aurora also features a slideshow, video, and images portfolio with Ajax expander and filters to display your works.
Multipurpose Creative Theme
Ecada is a responsive website template made for many different purposes and various types of websites, especially creative ones such as portfolios, resumes, blogs, and personal websites. With its clean and modern design that is easy to use and customize, this multipurpose HTML5 theme can also be used for online businesses and corporate websites, among others.
Built with the latest version of the Bootstrap framework, Ecada comes with a fully responsive design and lots of powerful features which provides endless possibilities in terms of design and functionality. These features include eight index variants, 12 color options, 12 portfolio pages, 14 blog pages, three level sub-menu, a working contact form, Revolution slider, and many others.
Premium Creative Template
Here is a creative and premium one-page website theme that you can not refuse. Trumpet is a slick and stunning HTML5 template perfect for any creative agency, design studio, startup, and freelance website. It has a clean and modern design with a minimal layout which focuses more on content but does not skimp on the functionality and overall look of your website.
Based on the Bootstrap framework, Trumpet includes most of the advanced web design technologies such as the fully responsive layout, dynamic project section, testimonials carousel, PHP and Ajax-powered contact form, Google maps integration, and more. Its clean, optimized, and well-commented HTML5 and CSS3 code allow for ease of use and customization.
Simple Designer Theme
Next is Simple Studio. As its given moniker implies, this creative Bootstrap template comes with a simple design and clean layout which is perfect for designer portfolios and creative agency websites. The theme comes with five HTML5 pages upon which you can build your web pages, all with a fully responsive layout that adjusts effortlessly on all devices.
Aside from the ones mentioned, Simple Studio also includes other fantastic features such as bold typography, block-style home page with a masonry layout, studio page with a team section, projects with touch-enabled touch gallery, project description, a Contact Us page with a Google map and contact form, and overlay navigation, among many others.
Design Studio Template
We have another responsive HTML5 website template by the name of Design Studio, which is obviously created for design studio websites as well as many other design-related and creative web portals. With its bold image background, unique layout, and modern overall design, this theme is perfect for creative studios, digital agencies, freelance portfolios, and more.
Design Studio is a simple and clean one-page template with eight sections of content as well as one inner page for the project description. These pages are Home, About Us, Our Services, Our Process, Our Work with touch gallery, Our Clients, Our Team, and Contact page. It also features subtle animations to enhance its visuals, a Google map, and a Twitter feed.
Foundry Multipurpose HTML Variant Page Builder
Then here is Praxis, a creative agency and portfolio HTML5 template that boasts of a high-quality design which makes it an ultimate choice to showcase your works or display your items. Whether you are an artist, freelance designer, or digital product owner, this template offers the perfect solution to build a great online presence on the Internet.
As it is based on the Bootstrap framework, Praxis comes with a fully responsive design and mobile-friendly layout with two homepage options and two portfolio layout types to choose from. It also features a ready-to-use contact form with Ajax, Isotope filterable gallery, and W3C valid HTML files. The is integrated with Font Awesome and custom line icons.
Creative Agency and Freelancer Theme
Last but definitely not the least is this creative agency and freelancer website theme with a bold and dynamic design. Alecta is another multipurpose template as it comes with 12 beautiful home page layout options for you to choose from, which is provided to ensure that this template fits your preferences and suits all your business needs so you will not look for more.
Use this theme to set up your artist portfolio, design agency or freelancer website, and unleash your creative potential. Alecta will definitely help you achieve your goals as it comes with a large set of amazing features which include a one-click import from the demos, a drag-and-drop visual composer to build your pages with, typography options, and more.
Why should you use HTML5?
HTML5 is one of the latest and trendiest web design technologies that has been used by thousands of websites running on the Internet nowadays. Whichever platform or framework you are using, HTML5—together with CSS3—provides the most efficient and highly functional coding technique ever since its early versions. Besides that, it is one of the foundations of web design programming, and lots of web designers and developers find it easy to use and understand. Here are other reasons why you should use HTML5:
It is accessible. HTML5 creates accessible sites with semantics and ARIA, such as the new HTML headings like <header>, <footer>, <nav>, <section>, <aside>, etc. as well as the specific roles assigned to each element which creates landmarks on the page.
It has video and audio support. Unlike other modern coding techniques, HTML5 has gotten used to designers and developers embedding video, audio, and other file formats on web pages for a more dynamic web content, so it guarantees perfect playback.
It has cleaner code. HTML5 has simple, elegant, and easy-to-read code which allows both the reader and programmer to easily separate meaning from style and content by using semantic and HTML headers to describe content.
It has smarter storage. Since HTML5 has a cleaner code, it follows that it has fewer lines and less storage consumption. It has a new local storage feature and allows storage across multiple windows, so it has better security and performance.
It provides better interaction. HTML5, along with a number of great APIs,  helps you create a more dynamic website that responds well to the user and allows them to interact with each other rather than looking at the content.
It has great browser support. All modern and major browsers—such as Chrome, Firefox, Safari IE9 and Opera—support HTML5, thanks to the HTML5 doctype. It is built to make things easier and more cross-browser friendly, even on older Internet Explorer browsers.
It's mobile. As mobile technology has indeed become popular and mobile devices are taking over the world, mobile browsers have likewise fully adopted HTML5, so it is mobile-optimized, making it easy for developers to develop web applications and other features.
Therefore, make sure to grab one of these HTML5 website themes and templates and enjoy all of its benefits. For more inspiration, check out other lists available here at Template.net.