Interior design websites need to nail all design parameters perfectly, as a well presented website is half the job done in terms of leaving an impression upon viewers. Swish , with the several responsive interior design website templates on offer, surfaces as a smart pick for webmasters trying to venture in this niche. Discerning designers can ill afford compromising upon the peripheral design aspects of the interior design Swish templates they use. Contemporary Swish templates come with animations such as sliding web pages, unfurling posts, swooshing page elements, and more, all fully equipped for making your Swish website standout. With towering landing page images and aesthetically pleasing layouts with borders, Swish interior website templates give a great start to your website. Right from the preset designs that look professionally created to the customization options relevant for pictures, backgrounds, logos, headers and footers, interior website templates for Swish are fully functional solutions for webmasters. Swish templates for your interior design, architecture and furniture niche websites sensationalize your content by blending animated graphics with relevant audio at the background. Moreover, these templates offer powerful image galleries that help you in displaying HD images, editing and fine tuning images, bulk uploading files and adding tags to the same. The best in class Swish templates also allow you to edit all design aspects, right from the layout to the background, so that your website proves to be effective in establishing a brand image. Explore retina ready, HD, responsive, and multimedia equipped Swish templates to take your interior website to the highway to success.
Interior Design SWiSH Template
This is an Interior Dynamic Swish Site web template. Dynamic SWISH Templates are SWISH based templates consisting of 4-6 pages. These templates are made for those who want an animated version of SWiSH Template and don't want to use SWiSHMax software to make the basic changes. This is an excellent template for one who needs to change the company-name, slogans, content text and images.
Single Page Interior Design Website Template
Interior Design Muse Template: This is a single page also called as one page website interior design website template. Features include sliced PSD, Favicon Google map, compatible with all different browsers, Typekit Web fonts. It is compatible with HTML5. This can be a very good choice if you are looking for a single page website template.
Home Remodeling SWiSH Template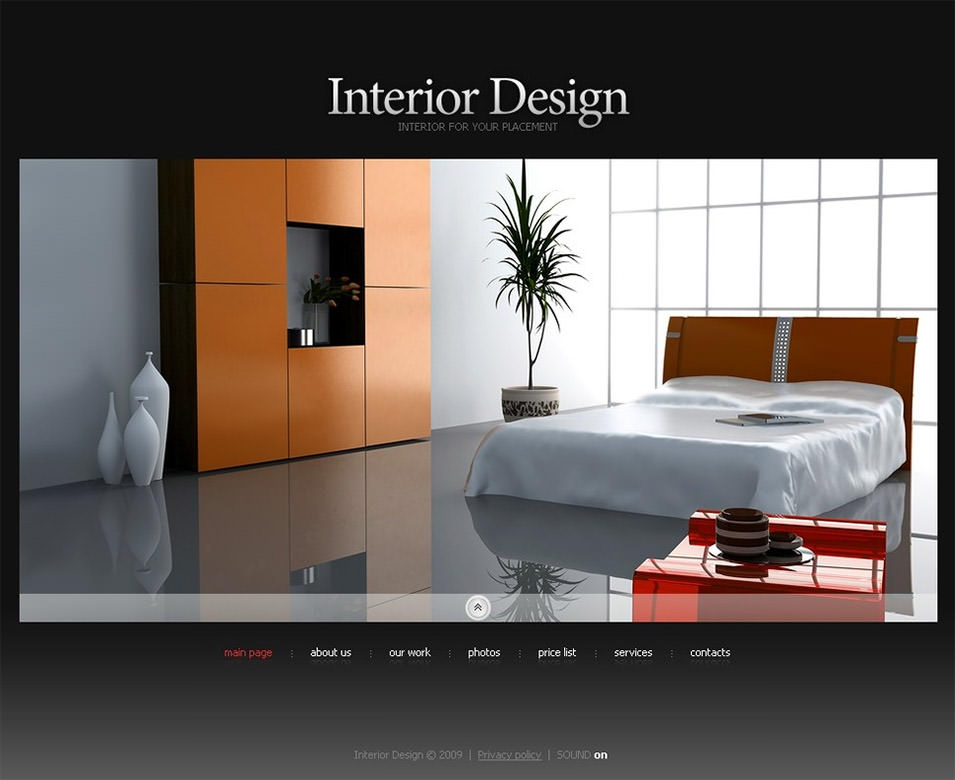 This templates will suite best for sectors like residential, interior, furniture, design, solutions, remodeling, profile, company, portfolio, designers, work, team, , non-standard, creative ideas, tables, sofa, chairs, arm-chairs, , lamp, catalogue, order, customers, clients, services, support, delivery, decoration, style, sellers, Your visitors will surely love this template!
Interior Design SWiSH Template
Not to confuse with template no.1, Interior Design SWiSH Templates are pre-made, professionally designed templates to cabinet your product /content in an exclusive way. It is designed with user understanding and usability in mind. The main advantage of this template is you can preview the look of your website even before you pay for it. This is probably the best template in the niche!
Hoover Swish Web Design Template
This swish web template was made just for the people who are in the business of interior designing. Header is flash animated and shows a stock image of a nicely decorated room. The home page is in html and you can easily add information about your company. The pages included are home, about, products, resources and contact. You can create additional content pages as needed.
Archi Interior Design SWiSH Template
Archi is an interior design webs template which is specifically made for Interior Design services. It can help you to build beautiful and modern website in no time. Archi has stunning design and a lot many to make your website look unique. Powered by HTML 5, CSS 3, and jQuery with flexibility of Bootstrap 3.
Beautiful Interior Design Single Page HTML5 Website Template
Conclusion
The interior design websites requires fixing all design parameters perfectly, as a well presented website is only half the job done in leaving an impression upon viewers. Swish templates, with the numerous responsive interior design website templates, surfaces as a smart pick for webmasters trying to endeavor in this niche.