A lot of different business models have varying website design needs. If you are looking for ways to create or improve on your corporate site then you have come to the right place! Our trusty and reliable Template.net curators have gathered company website templates that is sure to be of use to businesses from any industry. Although the examples about to be mentioned generally apply to a certain kind of corporation, you can customize the templates in order to cater to your business' needs. The following are company website templates that you can either download or get inspiration from:
Responsive Loan Company
Borrow is a loan company responsive Bootstrap template that has W3c-valid HTML markup. This simple theme is best for companies that specialize in loan, financial or banking services.
Pharma Template
Pharmacy Company is a B
Bootstrap drugstore site responsive template that makes use of a pink and white in its design elements. The menu sticks to the top, enabling visitors to scroll down and navigating across pages easily. With parallax scrolling and other features, this theme is great for pharmaceutical companies and practitioners from the field of medicine.
HTML
This is a responsive HTML website theme made with Bootstrap. Its simple layout makes it suitable for any corporation or professional, whether as a portfolio or just an official site.
Corporate Company
Software
Software incorporates a simple design with parallax scrolling, making use of bright colors to provide contrast to the white background. This scheme is good for startups and technological companies that make applications and software.
Startup Template
Cloud Agency Pro is a fully customizable template that is available for download with a layout that is optimized for all devices. Its default color (red) is easy to replace, and it is perfect for starting companies that want a clean and functioning website that's easy to manage and edit.
Group Of Company Business HTML Template
Investment Company
Professional Template
Ideal for corporate sites and blogs, Xcorporation is a light-weight Bootstrap theme that is professional-looking and SEO optimized.
Company Website Template
Brandi is a creative one-page responsive theme that makes use of parallax scrolling and other creative interactive tools. Perfect for digital agencies and freelance designers and artists.
Responsive Company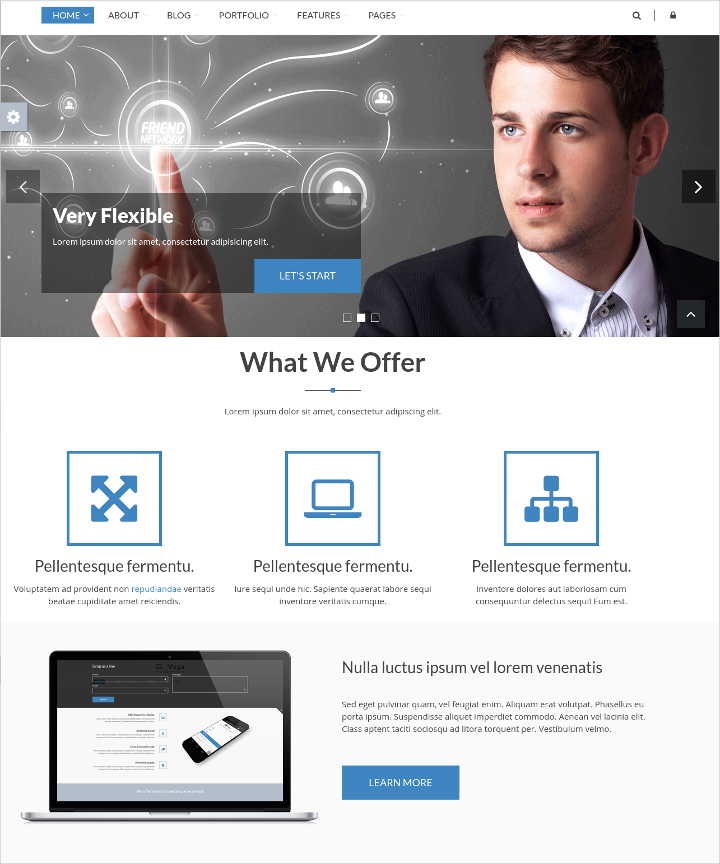 iVega is a responsive template that is ideal for business, corporate and company websites from any industry. Its parallax scrolling, minimalist layout and white background enables versatility.
Logistics
A red and white theme that is ideal for companies that deal with logistics such as trucking, deliveries and shipping. This design is compatible with WordPress and optimized for other devices such as tablets and phones.
A lot of business owners are moving into the digital market and building portfolios for their businesses, products and services. But even with all the help available, company or corporate websites are hard to conceptualize and design. At this point, with all the interesting options, it's understandable that you still can't find what you consider to be the most perfect template.
Don't worry! Template.net is home to thousands of site themes and styles with guides on how to customize each file. Browse around and download one of the many graphic design and business assets that can be found on the site.