One of the things that allow people to compete with the best marketing firms in the world these days is to have their own website dedicated to their marketing efforts. The creation of these sites is hardly a walk in the park, so going for a template often proves to be a great idea. If you're one of those who are interested in this venture, then you've come to the right place. Behold and see for yourself just what it is that makes these website templates tick.
320+ Marketing Templates in PDF, Word, Excel, PSD, HTML5, WordPress, Google Docs, PowerPoint, InDesign, Apple Pages, Google Sheets, Publisher, Apple Numbers, Illustrator, Apple Keynote, Google Slides - START DOWNLOADING
Marketing Agency Responsive Multipage Website Template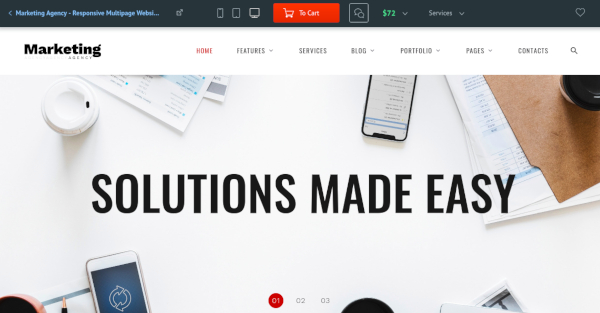 Digital Marketing Agency WordPress Theme
Modern Marketing Agency Multipage Website Template
Elements of a Good Marketing Firm Website Template
The first thing we are going to tackle are the elements that comprise of a good marketing firm website template. The following are common even among other websites, so you should be able to recognize some already. If not, then now is as good a time as any to familiarize yourself with the following:
Easy Navigation for Visitors: To know just how good your website template can be, imagine what it would be like for your visitors. Would your site be something that anybody can find their way around or will people find themselves generally lost? As great as your content is, if visitors don't know how to find it or cannot access it without considerable effort, then your website template will not amount to much.
Trust-inspiring Designs: Human beings are quite visual and this is something that many designers have taken advantage of. In coming up with layouts, the key is to make it appealing in such a way that it inspires trust in your visitors. You don't have to do a lot of complex planning; little things like including links to media coverage and displaying your clients' logos, among others, will do nicely.
Clear Call-To-Actions: What would be the point of having all of that content if at the end of it all, you don't even have anything to encourage your visitors to take further action? Call-to-actions, otherwise shorted to CTA, are essential for any website that looks to convert visitors into leads and customers. When creating your CTAs, be sure to keep everything as direct as possible.
Adverting & Marketing Agency Theme
Marketing Agency Business HTML Template
Simple Marketing Agency Multipage Website Template
Steps to Make a Great Marketing Firm Website Template
Following the display of elements and examples, now we will look into the steps on how you can make your own marketing firm website template. Take note that the following steps are for a generalized creation process; to list down more specific ones would take an entire article in itself. Regardless of the specific things to be done, following the ones outlined below will still lead you towards success.
1. Plan Out the Layout: Before you start creating, you must first have a blueprint in mind that will guide you. When it comes to your website template's layout, it is crucial to come up with something you can work with to the best of your capabilities as a problem solver. Design is, as some would say, simply the solving of a series of problems to create something great.
2. Sketch Your Framework: After the overall planning is over and done with, you may continue by sketching up your site's top level framework. The importance of this is the fact that it is your own user interface, which is what surrounds your content and helps visitors in performing what it is that they want, like navigating your website. Important components of your framework would include small details like the bottom and side bars.
3. Select the Typography and Color Theme: The next step would be to explore the selection of available typefaces and colors. Stick to just one or two for the former, which helps in crafting a consistent look for your website template. Speaking of consistency, you may want to observe sites like Facebook or Quora. Doing so should provide you with examples of how you can choose and utilize color.
4. Make Further Customizations: With everything else over and done with, the last step before testing out your website would be to look into which areas will require their own customization. Take this time to pay as much attention as you can to even the most minute of details. Doing so will help you achieve a greater overall quality for your output.
Elegant Marketing Agency & Business WordPress Theme
Marketing Agency Responsive Website Template
Marketing Agency HTML Example
Tips to Make a Great Marketing Firm Website Template
In addition to the aforementioned steps, there are also a few tips you can apply to the creation process at any stage. Do this and you can ensure an even greater quality of output.
1. Keep Things Simple: You do not need to employ anything particularly difficult or complex. In fact, it would be better for you and your visitors to keep things simple. This way, updates and repairs won't be too difficult, nor will it take up a lot of time and effort just to navigate.
2. Choose Responsive Features Whenever Possible: Non-responsive websites are simply outdated; responsive templates allow you to adjust the layout simultaneously across different devices and screen sizes. Most modern templates already have themes and options that are mobile-ready, so be smart and join the ranks.
3. Never Stay Satisfied: Once a designer is satisfied, the potential for growth and improvement plateaus. Even worse, that same potential will only decrease over time, which does not bode well for the future of any site. Always be on the lookout for things you can improve upon or refine. This will keep your project as up to date as possible.
Types of Marketing Firm Website Template
When creating your own template, one important bit of information you need to know about would be what type of website you are looking into. Although there are quite a few out there, the following are the most common examples you can find:
Responsive: These would be the websites that are most capable of giving viewers an optimal viewing experience. All of that would be regardless of the device being used. Those responsible for this make use of fluid grids, which is what you describe designs that are capable of showing or working well, regardless of what screen size is being used.
Adaptive: This is the website type which has more than just one layout. Every single one is made for particular screen sizes. Depending on the device you are using to view the site, the layout you get to see may be one or another. As far as names are concerned, the adaptive type is definitely a home run.
Blogging: When you think of blogs, you associate it with something personal. Although definitely not a business website, a blogging template can be easier to deal with and can be run through the simplest of means. Anybody can pull this off, which would partially explain its popularity.
Marketing Firm Website Template Sizes
With all that has been said, let's not forget about the website template sizes. Here we narrow them down to the four most common sizes you are most likely to encounter.
Greater than 1200 px: This would be for large-sized devices
Below or equal to 768 px: This would be the size best suited for smartphone screen resolutions.
Greater than 992 px: This would be for medium-sized devices.
Greater than 768 px: This is for tablets and other small devices.
Marketing Firm Website Templates FAQ
Why are the elements, steps, tips, sizes, and types so important?
All of these are practically necessary if you want to create a much greater quality for your template's output. Elements are there to tell you what to look out for in excellent marketing firm website templates. The steps and tips ensure a wonderful creation process, while the types and sizes are there to help you make further sense of your choices going forward.
How do I know which of the design types are best suited for me?
You ought to ask this question before you even start on the project to begin with. Firstly, you need to know what your goals are. From there, work your way through all the necessary choices that you need to make, such as what type of website your are going to make, the template sizes, and so much.
By now, you should be ready to use the information you have just gained to create the best marketing firm website templates possible. Just don't allow your learning to end here; as you grow as a designer, take note of more lessons that come to you. Ensure that each and every one of your outputs achieve a certain standard of quality from here on out.