If there are two things that currently run the internet of today, these things will be the website and the mobile application or mobile app for short. These two things are how most people access the internet. The website is usually accessed through a personal computer like a laptop or a desktop. Meanwhile, the mobile app shines brightly on smart devices such as smartphones and tablets.
Although websites can still be accessed by mobile browsers, it is the mobile app that sees more utility among these two. In fact, ninety percent of time spent on mobile internet use is through apps and only ten percent of it is used on mobile browsers.
Mobile App Landing WordPress Theme
Clean Mobile App WordPress Theme
Mobile App Responsive Website Theme
Mobile App Coming Soon Responsive WordPress Theme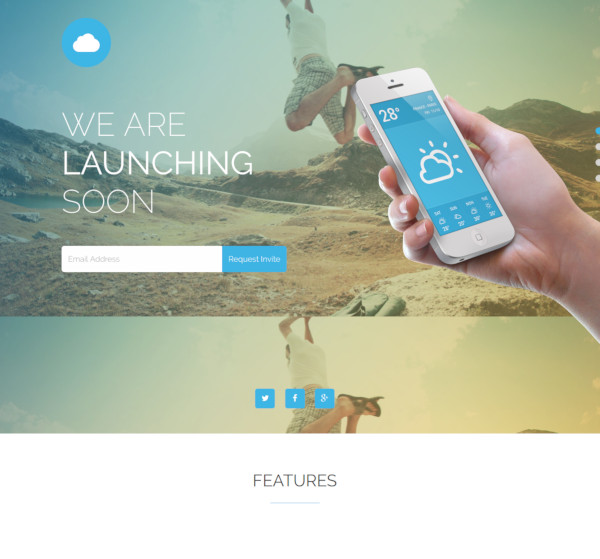 Simple Mobile App Template
Showcase Mobile App Website Template
Mobile Calling Apps HTML Templates
The question then would be, is it still necessary to create a website dedicated to a mobile app? People already ask the question of which to develop between an app or a new website for their product and if they do decide to develop both, which comes first. However to develop a website for the purpose of promoting a mobile app seems to be redundant, and might even be a waste of resources.
Designing and building a mobile app is already very taxing and hard work. Adding a sample website just seems so annoying. Yes, creating a website may be a huge pain, but having one that serves as your site's homepage may grant you handsome benefits.
App VS Website – The Difference
Yes, developing a website takes effort and can be a pain in the neck. Thus, it is essential that you understand the difference between an app and a website before developing one. Doing so will help you avoid wasting your resources, especially your time. Ultimately, knowing both the difference will help you identify if you do need to develop a website for your app (which you mostly and really should).
A website consists of browser-based HTML pages that are linked together and retrieved through the internet. When your website is entirely mobile app focused, it is highly recommended to develop your website with mobile devices in mind. Mobile websites are types of websites that are specifically designed for viewing in a smaller screen and can be navigated with the use of a touchscreen. Responsive web design is becoming the new standard for making websites as they are designed to scale on different screens. This means that not only is it good for standard screens like laptops and desktop computers, but they are also mobile friendly.
A mobile app or an app, in short, is a software that is downloaded and installed on your mobile device rather than going through a mobile browser. These applications are usually available to download on device-specific portals such as Apple's App Store for Apple devices and Google Play Store for most Android devices. Once downloaded and installed to your device, a mobile app may be used with or without an internet connection depending on the application.
Responsive Mobile App Website Template
Software Responsive Website Template
iPhone or Mobile App Website Theme
Advantages of having a Mobile Website
The goal of having an app-focused website would be to promote the said application. Doing so carries its own advantages. Though it is necessary to create this website with a responsive design to be able to reach a wider audience.
1. It is immediate
A big advantage of a mobile website is that it is accessed through a mobile browser. This means that as long as an internet connection is available, it is available to everyone with a smart device. There is no additional software to access your content or promotion. You may also see retina ready mobile web templates.
2. It has great compatibility
In addition to being immediate, a mobile website or all websites for that matter can be accessed through multiple devices. Especially with a responsive design, you can say that a website is made for smartphones, laptops, and desktop computers. It is unlike an app that different OS and platforms mean different and dedicated application versions. You may also see mobile website templates.
3. It can be updated instantly
In relation to a mobile website's compatibility, the upgradability of a website means that these changes can be rolled out immediately. For a website, you only need to update one version whereas if you have an app, different versions need to be updated separately. You may also see responsive mobile templates.
4. It can easily be found
Mobile websites are much easier to find especially if they are registered to the indexes and directories of search engines. Users can easily find your website and its pages as they will be shown in search results especially if they type certain keywords that relate to or are connected to your site. You may also see responsive mobile parallax scrolling websites.
5. It is shareable
Websites exist on the internet and can be accessed through their URLs. These URLs can easily be linked through different channels such as through email, text message, Facebook post, and Twitter tweet. They can be even linked through blog posts and internet articles. Furthermore, they can also be shared outside of the computer's screen by writing the website's address in billboards, pamphlets, flyer designs, brochures, or through a QR code. An app alone could not be shared in this fashion.
6. It has an expansive reach
A website can be accessed through multiple platforms and easily shared. If you add in the factor that they can be displayed as search results in search engines, you would have a reach without many barriers. This means that you can spread awareness of your mobile app to a wider audience.
M-App Mobile App Showcase HTML Template
Showcase Mobile App HTML Template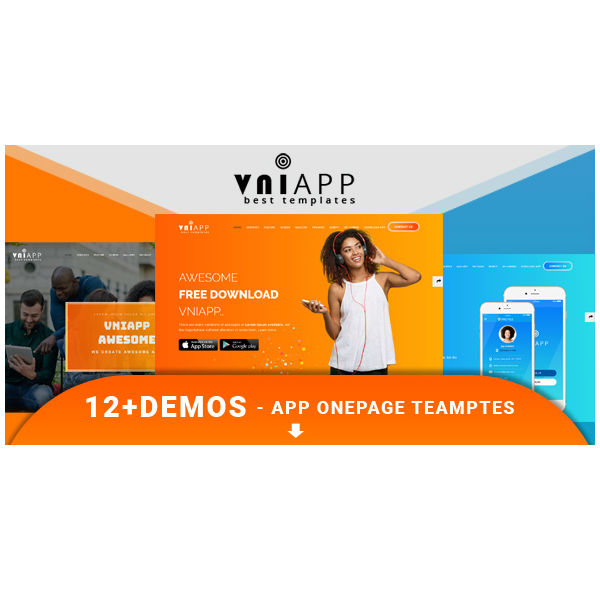 Weddings Mobile Web App Kit
Material Design Mobile App Landing Page
App Website Template
Things to Remember Keep in Mind when Making Your Mobile App Website
To get the most of your mobile application website, each website visit should be converted into one download. It may sound simple at first, but it is harder than it looks. It is even simpler to screw it up as your website's design could turn users off. These are at least a few things to know about when designing your mobile app's website. You may also see mobile business website templates.
1. Name and Logo Prominence
Before anything else, your website must communicate to the audience what your app is called. The name and the logo are two key elements that make your website stick to the user's mind, especially if your mobile app is just about to launch. Your aim in developing this website is to build public awareness of your app's existence. You have to sell and convince them that your mobile app is worth downloading. Still, those things would not matter if the public does not have any idea of what it is called or how to find it. You may also see fantastic mobile portfolio websites.
2. Brief and Direct Headline
Internet users are known for their short attention spans. You need to tell them immediately what your app does, otherwise, they might not get it and look for another. That is the job of the headline. Your audience is not ready to give their attention and time to you unless you pique their interest. A bold and simple headline will grab this attention to make the audience learn more information about your app. You may also see baby mobile templates.
3. Straight to the Point
A headline may grab your audience's attention, however, it cannot sustain it. You will need supporting details to hold on to your audience and finally reel them in hook, line, and sinker. Like the headline, these supporting details need to be clear, concise and straight to the point. Bullet points and explaining your app's features might the easiest way to do the trick. You do have to be mindful of your target audience though. Selling a teenage-targeted app will not work if your bulleted points sound like old people, or worse, trying to talk with a "hello fellow kids" tone. You may also see mobile & web app templates.
4. Evident Call to Action
Just like all advertising materials, you must include a call to action in your mobile app's website. Selling your mobile app would be useless if you just end it there. If you don't give your audience a final push. These call to action can either be a download button for a live application or a mailing list sign up for launched apps. Social media buttons can also be a good addition to your call to action for further promotion. You may also see blogger mobile templates.
5. Be Visual
A picture can communicate a thousand words. A moving picture can communicate even more words. Being visual, especially including videos, in your website can help the audience decide if your app is worth their dime or not. Most of your audience won't even read your text no matter how short and brief your bulleted points are. Provide a video of your app in action to reel in these types of people. It is also a good way to clear misunderstandings of how your app works. Using videos is just worth it. You may also see mobile PHP templates.
Material design App Showcase Template
Single Page Software Promotion HTML
Although it might seem redundant, building a website for your mobile app still has benefits. You should really build one if you aim to get your app out there and not languish in the depths of the App Store and Play Store. The website for your mobile application should be designed like a brochure design that it is visual, succinct, and persuasive. Its content should also have a target audience that you can aim for a bullseye. Building a website to drum up excitement for your mobile app would all be worth it especially if you believe that what you have is gold.