Weddings are celebrations of love and union. Wedding celebrations take a lot of planning and consider different factors such as the general motif, venue, up until the little souvenirs. Couples and wedding organizers also rely on the season the wedding will be held. One popular season for weddings is the fall. Here are some fall-inspired wedding invitations for your upcoming wedding union as well as helpful steps in your invitation-designing process.
202+ Wedding Templates in Word, Google Docs, Apple Pages, PSD, InDesign, Publisher, Illustrator, Google Sheets - START DOWNLOADING
5 Steps in Designing Fall Wedding Invitations
Step 1: List the necessary details.
A wedding invitation, no matter how small, is jam-packed with details. A single sheet invitation includes both the venue for the wedding ceremony and reception, the date, and the motif. It can also add a map to the venues. On the other hand, an invitation suite is made up of several sheets. One sheet contains the basic details and, in some cases, the program flow. Another sheet contains the wedding menu and a reservation card. With all these details to consider, it is best to list everything down.
Step 2: Incorporate photos or other designs.
If you want to steer away from traditional wedding invitation designs, you can add your pre-nuptial photographs. Keep in mind that you are not limited to using your pre-wedding photos. You can use your pictures way back when you were just starting as a couple. This feature makes it more intimate for you and your guests.
Step 3: Decide the type of invitation design.
There are different kinds of invitations, from single-sheet to suites to pocket and folded ones. It is up to you on how you will present the details of your grand wedding to your special guests. If you want a straightforward design, you can go for the single-sheet or folded design. An invitation suite is a more comprehensive choice,  and a pocket invitation is more a more modern yet simplistic approach.
Step 4: Choose a template and customize it.
Choosing ready-made graphic templates make the invitation-making process easier. There are various designs to choose from that will suit your taste. These templates are fully customizable, so you can add personal touches to make it your own. Additionally, these graphic designs are editable in various file formats such as Adobe Photoshop and Illustrator.
Step 5: Print and distribute to guests.
When all of the details, pictures, and designs are in place, it is time to print out the wedding invitation. You can also add final design features such as ribbons, thin twine ropes, or wax seals to finish off the look. To add an intimate feel, you can personally write the names of your guests on the invitation envelopes before sending them out.
10+ Fall Wedding Invitations
1. Minimalist Fall Wedding Invitation Template
When we think about the fall season, we imagine the gorgeous change of the color of the leaves from green to bright yellow to a deep burnt orange color. We can almost hear the crisp and crunch of the fallen leaves as we step on them. Who wouldn't want this at their weddings? To add a neutral factor to your wedding, make use of this minimalist invitation. This elegant design is customizable in various file formats such as Adobe Illustrator.
2. Brown Fall Wedding Invitation Suite Template
A plus factor in having fall weddings is the variety of comfort food offerings. There is absolutely no shortage of fresh produce during this season. You can vary your food menu choices from green salads to hearty warm bowls of pumpkin soup. Add to the excitement of your guests with the use of this Brown Fall Wedding Invitation Suite Template.
3. Botanika Fall Wedding Invitation Template
The fall season can also be the perfect time to have your romantic wedding ceremonies outdoors. You can rent tents and have the reception outside if the weather gives off the right amount of chill. Do not forget to check the weather forecast for the big day. Also, remind your guests to bring a cardigan or a scarf to keep them warm. Use this botanical-inspired invitation template to set the expectation for an outdoor wedding. Download now!
4. 50th Fall Wedding Anniversary Invitation Template
For couples lucky enough to reach their golden wedding anniversary, you may want to renew your vows during the lovely season of fall. You can make use of this graphic design template to tell the exciting news to your family and friends. You can incorporate both the gold and fall features in this invitation through Adobe Photoshop or MS Publisher.
5. Halloween Wedding Invitation Template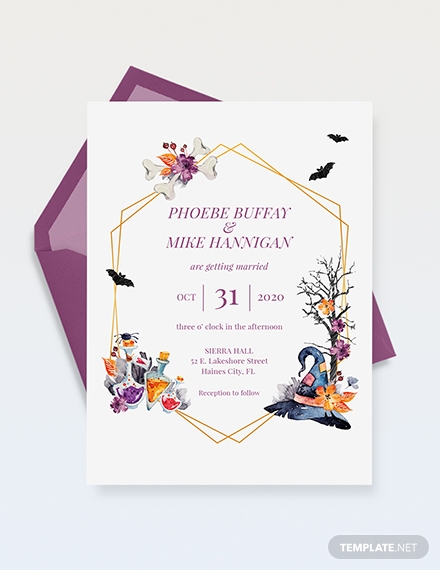 One great thing about the autumn season is that there are various holidays to work around with. There is a high chance that most of your guests will show up. One awaited holidays this season is Halloween. If you and your partner want a unique Halloween-inspired wedding, this invitation template is the perfect one for you.
6. Fall Wedding Invitation Card Template
Fall weddings experience the transition from warm summer nights to chilly winter mornings. Present your fascination with this season to your guests through this wedding invitation template. This template is fully customizable, so you can add the colors and designs that remind you of fall. Download yours now!
7. Fall Wedding Invitation Template
Fall weddings also give off the perfect rustic aesthetic. These weddings have the essentials of a rustic feel. These weddings give off natural and organic beauty, which gives a homey vibe. This invitation design can add to the theme of your outdoor fall wedding. Get your copy now!
8. Free Rustic Wedding Invitation Template
Fall weddings also give off the perfect rustic aesthetic. These weddings have the essentials of a rustic feel. These weddings give off natural and organic beauty, which gives a homey vibe. This invitation design can add to the theme of your outdoor fall wedding. Get your copy now!
9. Free Classic Rustic Wedding Invitation Template
If you dream about a fall-inspired rustic wedding, this floral invitation template is perfect for you. This format is more straightforward and direct with the details. You can edit the circle of flowers design with something more personal or adjust the color palette of the design. Additionally, this design is fully customizable with Adobe Illustrator or Adobe Illustrator.
10. Rustic Wedding Invitation
Download
This wedding invitation suite has a modern touch to it. This suite already includes the reservation card, menu, and thank you card. This design is perfect for young couples who both incline warm and earthy tones. All the sheets are tied together with a thin twine that perfects the rustic and natural look.
11. Fall / Autumn Wedding Invitation Set
Download
An image that first comes into mind when talking about fall is a tree bearing orange leaves that are about to fall. This image can also be the perfect design for your fall-inspired wedding. You can include a personal and valuable touch to this design by adding a carved design of you and your partner's initials on the tree, reminiscent of what lovers did before to mark their love for each other.