Weddings are very memorable events for every couple, and what better way to cherish those memories than by looking at wedding photos? Here, we've got a collection of wedding photobook templates that you can download and use with your photos to give it the gorgeousness it deserves. Scroll down to see the templates yourself.
5 Steps to Make a Wedding Photobook
Step 1: Choose a photobook size.
When choosing a size, take into consideration the number of photos that you wish to include in your photobook. Also, it might be ideal to consider the size of the storage that you'll be using to keep your photobook. As much as you want your photobook to contain all your wedding photos, convenience is also important.
Step 2: Decide on a photobook style or theme.
Since photobooks make you relive precious moments, make sure that it also does some storytelling to those who weren't present during the wedding. When deciding on a style, you may go with something that reflects how you felt during the wedding, or you may also go with something that closely resembles the wedding theme.
Step 3: Gather and organize your wedding photos.
What are photobooks without photos? After deciding on the size and style, gather all your wedding photos and organize them. Pick out the best ones among the thousands of wedding photos and be sure to also arrange them in the order that they occurred. You may be tempted to include all your photos, but simply highlight on your favorites.
Step 4: Customize a wedding photobook template.
There are over ten editable photobook templates below that you can choose from, download the one that best reflects your chosen style. Afterward, you can start customizing the template using the appropriate editing tool. You can make changes to the color scheme and the arrangement of the elements, and you can also add the necessary text.
Step 5: Finalize your wedding photobook.
Before finalizing your photobook, double check on the text and the arrangement of the elements to determine if your photobook is already worth showing off. If you are unsure about your own evaluation, you may ask another person to assist you in evaluating your photobook. Afterward, you can start reliving and sharing your wedding memories.
10+ Wedding Photobook Templates
1. Premium Wedding Photobook Cover Template
If you thought your wedding photos are already memorable the way they are, wait until you check out this photobook template. From the cover itself, people will already be drawn towards your photobook and will make them want to see more from it. The best thing about this template is that you can use it at no cost.
2. Simple Beautiful Wedding Photobook Design
Download
Don't worry too much about the photobook's layout, the beauty of the individual photos can help in enhancing its overall quality. Although this photobook template leans more towards being simple, it does allow the images and text to stand. If you prefer to have a lot of white space on your photobooks, this may be for you.
3. Sweet Pink Wedding Photobook Layout
Download
If getting married to the person you love isn't sweet right off the box, then using this template for your wedding photos may bring sweetness through the roof. With over 26 pages and 2 color variations, download this photobook template and use it to relive the most precious moments of your wedding day.
4. Printable Royal Wedding Photobook Format
Download
Don't let the name fool you, this template in InDesign actually doesn't require you to be a royalty to be able to use it. But if there's one thing that's certain, this template can indeed bring some royalty to your wedding photos. If you think that's surprising, you should see for yourself by downloading it.
5. Rustic Theme Wedding Photobook Example
Download
Here's a wedding photobook template that you might want to use because of how user-friendly it is. By using Adobe InDesign CS4 or later, you can add elements by simply dragging and dropping them on the layout. Besides that, it's clearly shown on the preview image that this template has a rustic theme to it.
6. Elegant Jardin Wedding Photobook Sample
Download
While the Columbian town Jardin is well known for its abundant rivers and vegetations, this photobook template will become notable for its elegance and its use of vibrant colors. Each page of this photobook features beautiful background images that complement your wedding photos. To make sure that you're using this correctly, a tutorial file is included.
7. Editable Landscape Wedding Photobook Template
Download
Keep your readers from being distracted when they go through your wedding photos by using this photobook template in PSD. This template comes with a total of 12 pre-designed pages, 8 of which are single spread while the other 4 are double spread layouts. Also, this template has 3 color variations and a link to some free fonts.
8. Tree Pattern Wedding Photobook Layout
Download
Get creative with your wedding photobook by using this template, it'll give your wedding photos a lively and fruitful aura. The entire cover of this template is made up of a tree pattern which is sure to draw attention, especially from nature lovers. Download this template now and start adding your beautiful wedding photos.
9. Pink Peonies Wedding Photobook Format
Download
Widely known for its pink flowers, peonies are one of the most popular flowering plants in temperate regions of the globe. If you're someone who lives there, then you will most likely love this peony-themed wedding photobook template. Make your own creative wedding photobook by using this template and start reminiscing about your wedding day.
10. Printable Vintage Wedding Photobook Example
Download
If you're feeling like the best way to cherish your wedding memories is by going vintage-themed, then this template would be the best choice for making your wedding photobook. This template has got various features including editable graphs, image placeholders, and vector elements. Also, be sure to have Adobe InDesign to be able to edit this template.
11. Vintage Floral Wedding Photobook Sample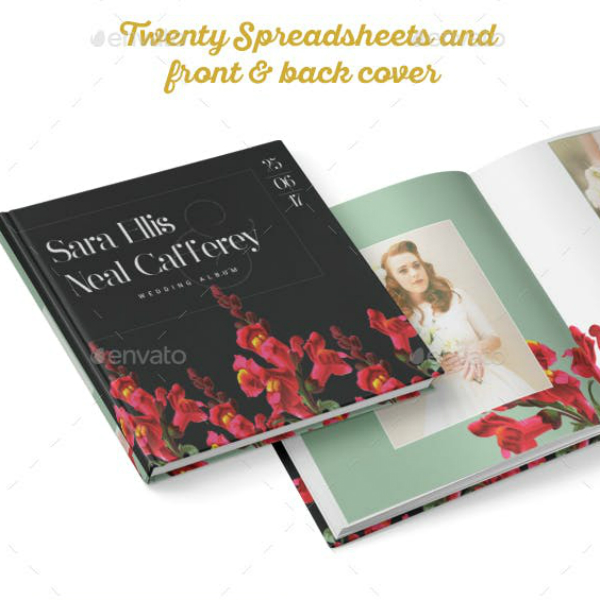 Download
Here's another template that you might want to use if you're planning to go vintage-themed with your wedding photobook. Every layer and every element on this template are fully editable including the text, images, and shapes. Surely, your wedding photos will stand the test of time when used with this vintage photobook.