Weddings are memorable milestones for individuals whose love flourished into greater heights. Withstanding all the hardships and struggles life threw at them but managed to remain emotionally resilient despite the world's cruel environment and inconsistent social climate. During this moment, it is essential to look back at those precious memories as you look forward to a new journey together. Good thing for you, we can do just that. Below are some elegant wedding Powerpoint presentation templates for you.
202+ Wedding Templates in Word, Google Docs, Apple Pages, PSD, InDesign, Publisher, Illustrator, Google Sheets - START DOWNLOADING
5+ Professional Wedding Powerpoints in Google Docs | MS Powerpoint | MS Word | Pages | Editable PDF
1. Wedding Powerpoint Templates
Weddings are indeed beautiful and touching events to say the very least, but one has to consider what goes on behind the scenes. Most of it would include the hectic planning, calculating expenses, food and venue preparation, making invitations for guests, and other miscellaneous things. That's why you need a timeline to sort out your plans properly. Good thing for you, we have the write wedding template. Download this Powerpoint template now and benefit from its highly customizable features and detail-oriented content to make a regular timeline for your wedding.
2. Wedding Powerpoint for Background
A wedding is an act or process of joining two individuals in close association. However, aside from all the motherhood and spiritual feelings, you can't forget all the actual preparations you need to make your wedding possible. Good thing for you, we have the right high-resolution Powerpoint template to assist your needs. With its highly customizable features and stunning artworks, you can make a useful timeline plan for your wedding event.
3. Wedding Powerpoint Presentation Template
A wedding storyboard takes a lot of planning time and meticulous processing in deciding what you want to incorporate in your celebration. If you need help in organizing the flow of your wedding event, then we can help you out. With its editable layout and customizable contents, you can organize all your initial plans for your wedding ceremony smoothly. So download it now in all version of Google Docs, MS Powerpoint, MS Word, Pages, and Editable PDF.
4. Wedding Powerpoint Presentation For Free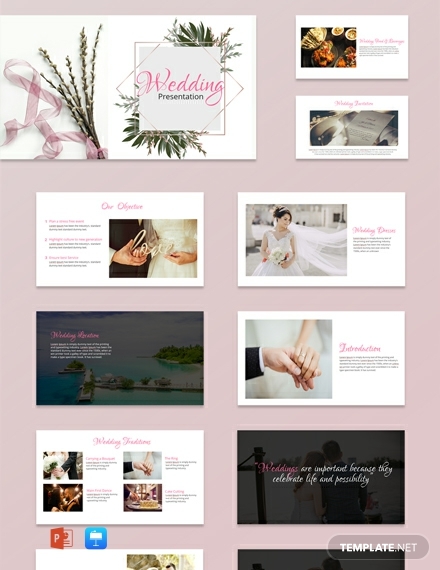 A wedding is meant to celebrate the love between you and your husband-to-be or wife-to-be. It connects and strengthens your bond as a couple significantly. That's why a grand slideshow presentation is essential in rekindling and enhancing that undying love you have for each other. Good thing for you, we have something to help out. Download this Wedding Powerpoint Presentation now and utilize its fully customizable layout and high-quality images to make a beautiful presentation of you and your partner for the whole audience to see.
5. Wedding Powerpoint Slides
Most wedding events use a slideshow presentation to make a commemorating background of the couple's journey together. The concept itself is magical and gives us the rekindling feeling of love we felt first when we met them. If you want to make a stunning presentation to show people your blossoming love story, then we have what you need. Download this Wedding Powerpoint Slides now and customize it to your aesthetic and showcase all your beautiful moments together.
6. Wedding Powerpoint Ideas
When you get married, you engage in a ceremony where you and your partner exchange vows, followed by some form of reception (a sit-down meal or cocktail party). While these activities make up the event, you can modify these elements to unforgettable moments of your big day as a whole. This is why a slideshow presentation can help make your audience participate fully in your day of marriage. Download this Powerpoint template now and use its ready-made layout and artistic designs to make your magnificent slideshow of you and your partner.
5 Steps in Making a Wedding Powerpoint Presentation
Step 1: Collect all of your photos.
Being in a committed relationship for a certain amount of time, you probably have loads of photos and selfies taken together. All you have to do now is select high-quality images for your slideshow and arrange them accordingly. Remember to choose meaningful photos that showcase pleasant memories of your journey together.
Step 2: Choose a Powerpoint template.
Now it's time to select a beautiful powerpoint template for your wedding theme. You can opt to design one from scratch using a blank template or choose from a ready-made design. Be sure to choose one that goes in line with the event and something that looks eye-catching, so your audience will know of your loving history together.
Step 3: Upload all your photos on the presentation.
Once you've compiled all your photos together, it is time to arrange them on the Powerpoint slides. Adjust it to the size of your liking and be sure it looks discernible to the naked eye during your wedding day.
Step 4: Incorporate graphic designs, texts, colors, and other visual effects.
When you've finished arranging the photos on the slides, it would never hurt to be more creative with your presentation. Try to add graphic designs and symbols, texts that describe your pictures, colors that match the occasion (pink, gold, red, and white), visual transitions, and music if you like. Remember to be artistic and make your wedding presentation colorful and memorable.
Step 5: Review and save the file.
After the tedious process of organizing and editing your template, it is now time to review your slideshow presentation. Check if all the photos are in the right order, if the music plays from start to end, if visual transitions go in the right time, and if pictures are of high-quality. Once you feel like the output is good enough, then run through it one more time and save the file. If not, then edit and adjust elements you think is necessary.