If you're looking for some tool-themed icon sets, then scroll through this collection of tool icons and you might find some sets that you're looking for. We have found for you some icon sets of varying themes and design styles in hopes that at least one of them might fit some of your design needs. This collection of tool icon sets include tools for different occasions and professions too.
But you might be looking for more generic icon sets with icons that you can use for several more purposes. If that's the case, then have a look at this set of icons our website offers.
Building Hand Tools Icon Set
Tool Icons Set with Line and Solid Style
Construction Tools Icons Set
40 Tool Icons Set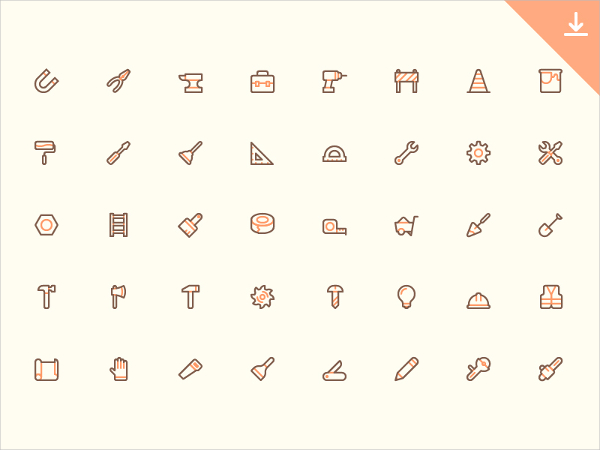 Camera Tools Icons
Tool Icon Design Styles
If you're working on some themes right now or an app with a tool set, stop here for a moment just in case you find a tool icon set you can use. Here's a summary of the tool icon design styles you'll find on our website:
Realistic or detailed icons. One set each of flat and 3D icons with solid colors and details
Flat icons. Minimalist icons that are easy on the eyes causing minimal strain
Line icons. Three sets of flat icons made only of outlines of objects
Solid or silhouette icons. One or two sets of flat icons filled in one solid color
Each design style has its own pros and cons. Flat icons, the dominantly featured style in this collection, are used to create a calm, simple environment in the app or website. They cause minimal to negligible eye strain and are easier for users on heavy use.
Construction and Repair Icons
Aside from a single set of icons for camera tools, most of the icon sets included are construction and repair tool icons. But if you feel like looking out for more of that, check out this collection we have of construction equipment icons. These types of icons can be used for related apps, websites, and even games with a building or construction component in their gameplay or those in the likes of Minecraft and Don't Starve.
Hand Tool Icons Set
Home Repair Tool Icons
Flat Construction Tool Icons Set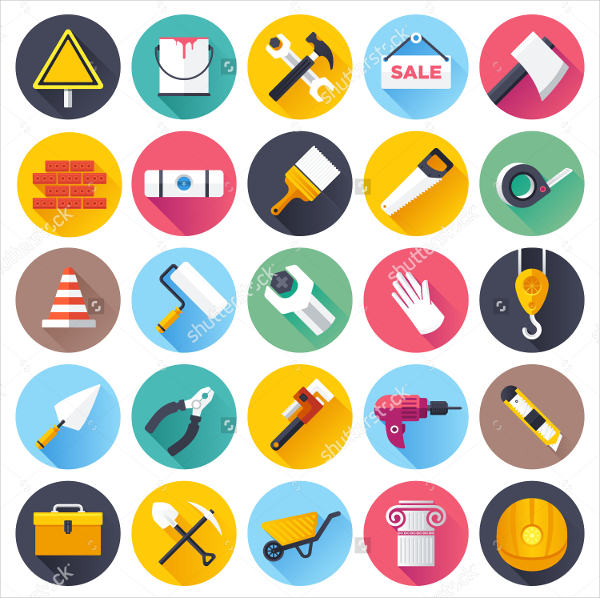 Vector Tool Icons Set
Quality Icon Downloads
These tool or equipment icons are made in high quality by seasoned graphic designers for digital view or use. They are quick and easy to download with just a few clicks. And each one of them are just as easy to modify to better suit your tastes or the design needs of your app or website.
They come in vector formats like EPS and some of them in PSD or AI. Some of the designers have also included in several sizes or resolutions some jpg or transparent png file image formats as well—formats that you can use right away if there wasn't anything that you needed to change.
More Equipment Icons
Haven't decided yet on with tool icon pack to download? Design a lot of tool-related websites or apps and just need more to add to your local icon library resources? Or were you just looking around just in case you'll stumble across something you'd like. If it's yes on any of those questions, then feel free to go ahead to this page and take a gander at the collection of equipment icons that we have scoured from all around the Internet for you to stumble upon.