Concrete5 is easier to use than WordPress and is no less functional either. With Concrete5 Themes you can set up a website from a basic template with great ease and minimum technical skills. You can edit the content directly on the page, edit images through an editor that is embedded on the page, and much more. The recently launched CMS has already seen many CMS Website Templates created for users to get started with.
Premium Photography Concrete5 Theme $48
Passport is a modern responsive Concrete5 theme that gives you a powerful admin panel for quick and easy tweaking of settings. It comes with 15 layouts to choose from and lazy load effects that will make graphic heavy pages load faster. It features animation and effects coded with Jquery. Every week, the developer offers downloadable content to enhance your website.
Professional Concrete5 Theme
This beautiful theme is everything that a new template should be. It includes features like parallax block to give your visitors a sense of visual depth. It comes with many different page type, including full page, 2, 3 or 4 column layouts, left and right sidebars, a home page and a blank page that you can customize. It also includes a sticky sidebar, a share page, FAQ, etc.
Responsive Parallax Concrete5 Theme $48
Ever After is a parallax theme with a one-page design, where you can present only the most relevant information. It is a beautiful theme that can be customized for any website. Features include great-looking parallax effects and smooth transitions, a form processor, sticky navigation bar, Google Maps integration, full-screen galleries, and more.
Modern Concrete5 Theme
Neat is a straightforward and modern theme without fancy bells and whistles. It is excellent for those who want to build a site with no extra features quickly. It is not entirely bare-bones, however, it supports background video, animated Isotope-style Portfolio, lightbox effect on the prebuilt Team page, breadcrumb trail, etc.
Creative Portfolio Multipurpose Concrete5 Theme $48
The structure is a responsive theme for multipurpose use. It has been built with Foundation 4, which is a robust and responsive front-end framework with Sass capabilities. It comes with 16-page layouts, over 20 elements of style that you can customize at the Theme Panel, a premium slider, portfolio, custom block for testimonials, three blog layouts, CSS3 transitions and more.
Simple Style Business C5 Theme
Stucco is a simple free concrete5 theme that is bootstrapped, responsive and highly customizable. It has been designed keeping businesses in mind. The theme includes features like multilingual content including Japanese, a custom template like sidebar, FAQ, Q&A, breadcrumbs footer navigation, form, news list, thumbnail grid, etc. It also includes prebuilt pages for Page Not Found, Default, Full page, Homepage and more.
Spa & Wellness Concrete5 Theme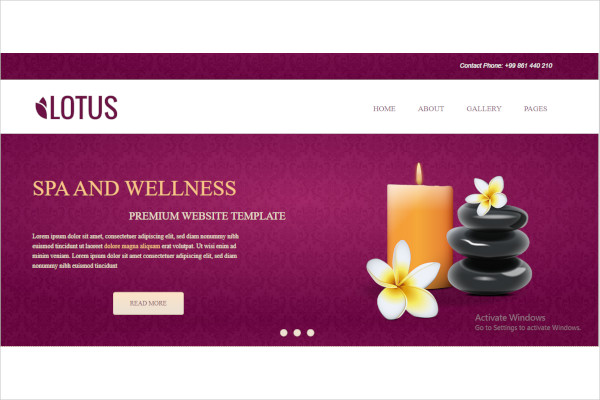 Spa & Wellness Concrete5 Theme for C5 that has been built on bootstrap. It includes features like three color variants, a fixed or fluid layout that you can choose between depending on the experience you want to provide the visitors, and 26 custom block templates. The theme comes with prebuilt pages like Gallery, Members, FAQ, etc. It also includes 23 PSDs, 11 custom blocks and a lot more.
Simple Concrete5 Responsive Theme
This lovely one-page template called Long Story Short is probably not for everyone. It is a good template for websites that don't have a lot of content but want to make an announcement or introduction. It features full-page images, parallax backgrounds, Bootstrap features, CSS3 animations, Google Fonts and more. It also supports multiple pages.
Personal Portfolio Concrete5 Responsive Theme $43
metroME is a Responsive Concrete5 theme with a tiled layout introduced by the Windows mobile OS. It is a one-page vCard theme that is perfect for displaying your electronic business card, portfolio, etc. in an attractive modern layout. The theme includes 13 custom blocks, 15 prebuilt layouts, 29 backgrounds to choose from along with plenty of customizations. It also supports Ajax contact form, Google Map and more.
Bakery & Cakes Concrete5 Responsive Theme
The beautiful Palette theme with its light, delicate colors is best for websites with a bakery or confectionary theme, though it may also be used for makeup and beauty stores and shops. The theme has been bootstrapped and built on Flexbox. It includes page type like homepage, full page, product item, announcement, left sidebar, right sidebar, etc.
The Contact5 themes above are simple and easy for anyone without coding knowledge to set up a website with. They are also ideal for the experienced coders who want to use them as a foundation for creating compelling and stunning websites. Also, many of the templates in the list can double as eCommerce Website Templates.