Muse
21+ Free Muse Themes & Templates
No we are not talking about the band here! Adobe Muse is an application that can help you create websites without knowledge of any coding. It is really easy to use and comes handy for beginners with little or no technical knowledge of designing a webpage. You May also See Free Bootstrap Themes
Free Adobe Muse Template

Instead of going for WordPress, designing a website according to your like is more easy and customized in Adobe Must. There are so many free Adobe Muse templates available for download to create different types of websites and reach out to the targeted audiences.
Free Simple Muse Theme

If you are looking to create a simple website just to have an online presence and show your business or portfolio, you should go for free simple must theme. In that way, building a stunning website would be absolutely inexpensive. There are many pantillas gratis available for download suiting all categories of websites.
Free Soul Muse Theme
Free eCommerce Muse Theme

If you are thinking about opening an e-commerce or online store, you need to download free eCommerce must themes. You can edit them and add more features and personalize them as per your requirements.
Free Business Muse Theme

It does not matter on the type of business you have, you can always find the appropriate free business Muse themes that have all the necessary components like Muse grid, galleries, portfolio section, testimonials, and mobile-friendliness.
Free Image Slider Muse Theme
Free One Page Muse Theme

The demand for one-page websites is rising exponentially. In this scenario, you should use free one page Must themes for designing your business or personal website to represent most of the information on one page.
Free Photo FieldsMuse Theme

Free photo fields Muse themes are perfect for photography portfolio showcasing. They have amazing sliders, galleries and widgets to showcase the different categories of photos and sell them directly from the website.
Free Beauty Muse Theme

The beauty and fashion blogs and websites are on the rise and there is a huge demand for them. If you want to capitalize on this opportunity, you should use free beauty Muse theme for creating Muse blogs and earn money online.
What is a Muse Template?
Adobe Muse is an application that lets you build websites of your choice without any technical knowledge of coding. It is truly a WYSIWYG platform and is becoming extremely popular among new users. You can build any type of websites and somewhere down the line, experts think that Adobe Muse has the capability to take over WordPress which is currently the most used content management system(CMS) platform by the newbies for website designing. A Muse template is a website design template specially designed and developed for Adobe Muse so that users can download them and create their own website. It is fully editable and requires no technical abilities to do so. Most of the templates are available for download.
Why Should we use Muse?
If you have used any of the Adobe software previously then it will be really easy for you to figure out how to use this application. No knowledge of HTML/CSS is required to create webpage using this software and you can create platform specific layouts in a single file. You May also See Responsive HTML5 Website Themes Moreover if you use Muse Site templates then you will find that these are much easier to edit and customize than its other counterparts like WordPress which require some technical knowledge. Several elements from different templates can also be combined very easily to create a website.
Free Website Design Muse Theme

As a web developer, you have to develop different types of websites. As Muse is one of the trending platforms to design websites of various nature, you need to have multiple free website design muse themes in your possession to serve your clientele better.
Free Google Calender Muse Theme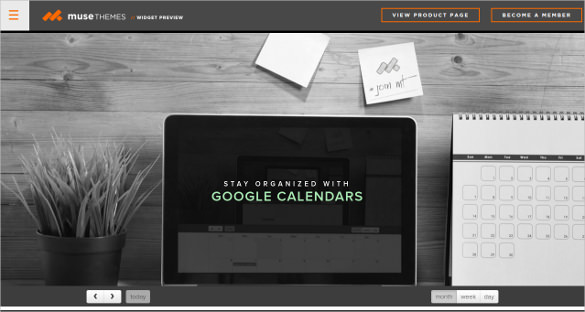 Free Adobe Muse Theme
Free Special Adobe Muse Theme
Free Web Muse Theme

Everyone wants to build a website with minimum expenditure. The reason is that they already have to pay for hosting. Therefore, use of free web Muse themes is perfect for designing the desired website and generation leads.
Free Minimal Design Muse Theme
Free Professional Muse Template

When you are creating a business website, it is very important to make it look professional. There are so many different types of free professional Muse templates available to serve the required purpose wonderfully.
Free Design Muse Template
Free Business Muse Website Template
Gallery Widget Muse Web Template
Free Portfolio Muse Widget Template
When you work on multiple domains, you have to showcase your portfolio for each domain to convince the potential clients and customers visiting your website. Therefore, you should use free portfolio Muse widget template to represent everything attractively.
What is yet to be Achieved by this Awesome Application?
Muse does not come with many complications but at the same time it lacks some of the major functionalities and possibilities present in a platform like WordPress. One of the major drawbacks is that, it does not support database driven things like blogger, eCommerce etc. You can use third party widgets to get these functionalities but that only leads to more complications. To edit Muse, your site has to be full Adobe hosted. You cannot access any codes generated within the system and thus there is no scope for modifying them even you have some technical knowledge.
Some of the amazing free Muse widgets
JUMP: This widget requires you to enter any text in it and then the letters come with a jumping animation in your website. You can change the font, color, size any other things as simply as you do it in Word. Hover Image: This is a free template that lets you create image blocks with hover effects. It is really simple to use. Sound Waves: You can use this free widget for animating sound waves that can be used in music player backgrounds. All the given widgets are available on Musefree.com which also stores some of the best themes available for free. Adobe Muse is getting popular which the beginners and people from non technical background due to it is relatively user friendly and easy to use nature that does not even require the basic coding capabilities. Since it's a comparatively newer platform for web designing and of course not an open software there is steady but slow development with lesser number of templates available that comes handy. We hope that the information given in this article helps you understand the purpose of this application, target users and also help you find some of the amazing widgets, templates and themes that are available in the market.
More in Muse