WooCommerce Templates
45+ Best WooCommerce Themes & Templates
WooCommerce themes are quite a success when it comes to modern day web portal development. The question that arises: what would make for that perfect WooCommerce them and which features need to be included to make it highly effective? You May also See Responsive WooCommerce Themes
Multi-Purpose Responsive WooCommerce Theme
Purpose Responsive WooCommerce Theme
New Life Style WooCommerce Theme $70
Responsive WooCommerce Theme $49
Clothing Responsive WooCommerce Theme $39
Free Fully Modern WooCommerce Theme
Fishing Store WooCommerce Theme $114
Colorful Responsive WooCommerce Theme $59
Online Store WooCommerce Theme $46
Business WordPress WooCommerce Theme
Hair Styles WooCommerce Theme $114
Furniture Multipurpose WooCommerce Theme $59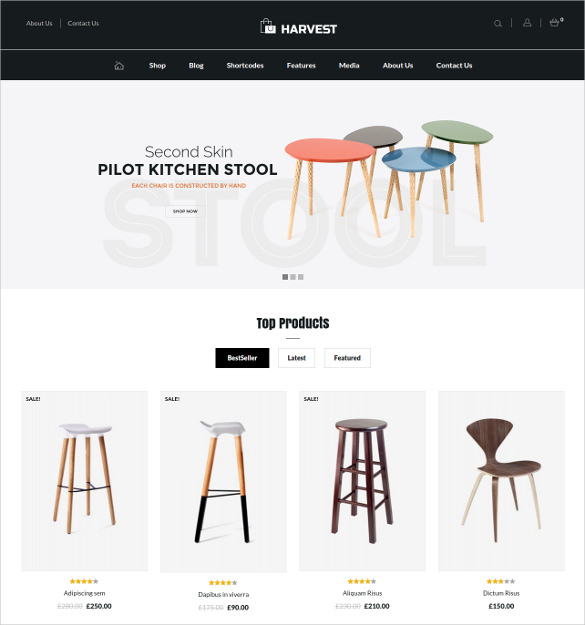 Multipurpose Woocommerce Theme $55
Computer Hardware WooCommerce Theme $114
Amazing WooCommerce Theme $59
Builder Page Multipurpose WP Theme $59
Free Minimal WooCommerce Theme
Hot Perfume Shop WooCommerce Theme $114
Modern Responsive WooCommerce Theme $59
Kid Store WP eCommerce WooCommerce Theme $29
Summer Collection WooCommerce Theme $114
Portfolio Responsive Woocommerce Theme $59
Ultimate WordPress WooCommerce Theme $32
Premium Furniture WooCommerce Theme $114
Electronics Store WooCommerce Theme
Powerful And Flexible WooCommerce Theme $100
Free Design WooCommerce Theme
Kitchen WooCommerce Theme $114
Shopping Multipurpose WooCommerce Theme $59
Shoping Responsive WooCommerce Theme $39
Bikes Online WooCommerce Theme $114
Shopping Zone WooCommerce Theme $49
Online Shoping WooCommerce Theme $114
The present scenario
Near about 30% of the entire online ecommerce portals have been powered by WooCommerce plugins. The number is pretty impressive (ah, yes; it's near about 9 million downloads!). If the right type of WooCommerce theme is used to develop the website for ecommerce purpose, scenarios would turn out to be highly positive for the client. You May also See Fashion Store WooCommerce Themes There has never been any scarcity of options when it comes to picking a theme based on WooCommerce. However, what makes sense is to look for themes that meet the expectations perfectly with the presence of all the necessary features that would be deemed appropriate for the specific site being developed.
Enjoy free benefits with all the premium features
Yes, you heard it right! WooCommerce is available for free. Never to worry about features since it comes loaded with loads of features to work with. Simply use this eCommerce toolkit and setup your e-store with minimal hassles. You need not have to worry about paying those monthly fees; there aren't any! Once your ecommerce store starts growing, you would definitely be including new set of features to improve on the functionality of the site. Yes, there would be some sort of monetary involvement during those scenarios that comes at a much later stage. Even with monetary involvement, there is always a strong chance of success with this CMS, thus justifying the investment cost.
Features those are available with the Free WooCommerce plugin option
5 types of payment gateways are supported
Perfectly customizable check-out process with option for guest checkout Varied types of currency options
In-built geo-location support
Automated tax calculation with Geo-Location
Proper controlling of the functionality of shopping cart
Support for AJAX themes
Rating & reviewing
Inventory management
Wide range of shipping controls including different shipment methods, destination restrictions, and calculators
Focusing on the Community
It was way back in 2011 when WooCommerce was launched as an Open-Sourced plugin. The WooCommerce Community is supported by over 400 contributors. For any problem and troubleshoot, these members are available 24/7 to figure out and provide the best solution. For more complex issues, it is recommended to go for developer support.
Scalability
The start may well be small; but, future definitely holds bigger plans. With WooCommerce plugin, it becomes easy enough to move from 1 small unit to 1000 SKUs. It is not important about the number of products you sell as far the performance of website is concerned. No matter how many clients you deal with or how many products you sell, the site would always run in the smoothest way possible.
Extensibility
It's common fact that every single ecommerce store is unique and different. When you develop a ecommerce store using WooCommerce, the functionality of the store can be extended as per the requirement. There are over 300 extensions to work with from Woo Marketplace.