Zen cart is an open source online store management system coded with PHP that allows easy creation and manipulation of eCommerce websites online. And the best part is that it is completely free to use as well. The only real problem might be on how to actually use it. But wait, before you bury your head deep into big coding textbooks, just try out the online shop Zencart templates. They are free, easy to download and use and suit all your requirements in one single package. Also premium Zencart templates offer you additional functionalities that you never thought would be possible with the web.Top Zen cart templates allow customization on a whole new level. You can change everything from the background theme to even the icons and tiles on the webpage, offering you the complete freedom to create a unique identity for your store.
Little Fop Zen Cart Template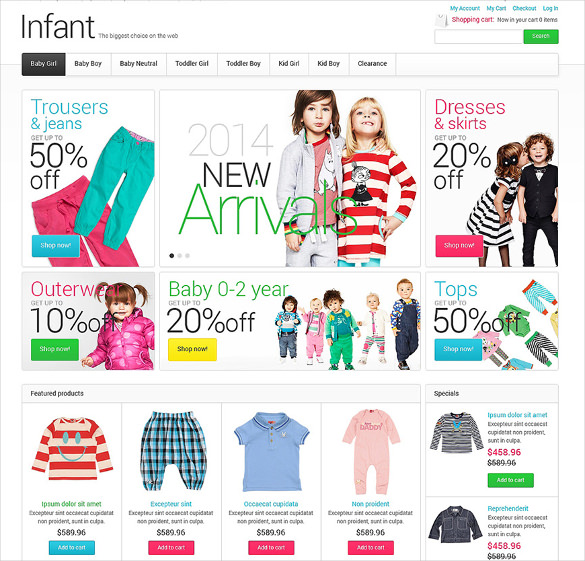 This theme is specially designed for kid's toys and apparel store. It features a white background that gives a cute look to the children's goods. The home page shows a lot of products and there is clarity in the layout.
Edify
Computer Store Zen Cart Template
This template functions as an online store or shop, consisting of customized modules. Some of the additional features are sliced PSD, drop down cart, social options, Google web fonts, powerful commenting system, cross-browser compatibility etc. The slider displays its galleries.
Hair Salon Zen Cart Template
This template also functions as a hair salon shop. Similar to many other templates, it features back to top button, cross browser compatibility, social options. The currencies are in USD, EUR, GBP. All the contents are in English language only.
Elegant Responsive Zen Cart Template $24
This template is universally designed for any kind of online shop, with wide color variations. It is a search engine optimized template and very user-friendly. It is built using HTML5, CSS3 and jQuery based on Bootstrap 3 and includes Google map at contact-us page.
Apparel Zen Cart Template
This template is designed for apparel stores. It is built using Semantic coding, HTML5, jQuery and CSS 3. The contents are in English language only and the layout is in two columns. Some of the web forms are advanced search, news letter subscription.
Minimalist Responsive eCommerce Zen Cart Template $43
This is a fully responsive Zen cart template. It features block manager that allows one to create banners, flexible layouts with many sliders and other blocks. It is easily installable and highly customizable template. It also features product quick view.
Online Drug Store ZenCart Template $139
This template is designed for drug stores. Zen cart modules include banner box, navigation block, search block, special products. The web forms feature contact form, advanced search, newsletter subscription, log-in form and user registration. It also features powerful commenting system.
Shopfast
Premium Responsive Zencart Theme
Auto Parts Services Zen Cart Template $139
This template is designed for auto parts online stores. Stock photos are included in this template. 24/7 customer care team clears all the queries of the customers, promptly. It is coded using CSS 3, JQuery, HTML 5, valid coding and Semantic coding.
Mozen
This template is fully responsive and designed for retail, e-commerce related websites and shopping websites. It is built using Bootstrap framework and powerful grid system. It features eight color variations, mobile optimized slideshow and menus and over twenty module positions.
Premium Car Audio Zen Cart Template $139
This template is designed for online shops selling car audio parts. The items are portrayed along with their prices and description in the slider gallery. The content area is divided in two sections where products are organized in three columns.
Fashion Online Shop Zen Cart Template
The fashion online zen cart templates comes with a fashionable look and feel that makes it very eye catching and attractive to look at. This online shop zen cart template comes with a variety of HD pictures on its background.
Also the best Zencart templates are responsive as well, so you can create online stores ready to fit smaller screen resolutions too. But the best part is most of the amazing looking Zencart templates are completely free to use as well. Here is a list composed of such free and awesome online shop Zencart templates for you to choose from.