Cooking is an art. This is a saying which we all might have heard. Nevertheless mentioning the ingredients and in what portions is also very important. In this context we see that the recipe templates can be of a lot of help. These templates enable a person write down all his or her recipes and also the ingredients and their quantities. These templates are very helpful for the chefs and the cooks, who need to serve the food service industry relentlessly with innovative bakery recipes daily. You may see Free Recipe Card Page Book Templates.
Recipe Cookbook Catalog Template

Download
Recipe Book Cover Template

Download
Free Blank Recipe Card Template PDF
These templates offer a great format or style where boxes are provided for the quantity and the variants amongst the ingredients. In a separate box the cuisine preparation is made. The templates have a simple and elegant look. They are perfect for a sophisticated and attractive cookbook format. The user can download it in the form of a PDF or a word doc. The theme contains illustrations related to cooking and food. The templates can also support illustrations of the dish prepared. The format has a neat and an organized look.
Printable Recipe Card Template
Free Recipe Card Template
Blank Recipe Template For Kids
These templates can be used for the purpose of writing down recipes for kids. These ten plates have a super responsive style and also have a great resolution. This approves of a very good print out quality. The designs can be edited wherever required. The information can be written own in a paragraph style.
Printable Blank Chalkboard Recipe Card Template
Free Printable Recipe Card Template
Vintage Blank Recipe Card Template
Blank Recipe Page Template
Users can download these temple designs that come in the form of word doc or in the form of PDF. They are high navigable so the user can edit and change information with ease and speed. The user can also change the background or the theme of the template. These templates are also available for free.
Simple Blank Recipe Cards Template
Full Page Blank Recipe Card Template
These templates can be used by a user for the purpose of writing down all the details about a dish. The templates will mention the ingredients and their quantities and also the preparation method. These templates have a very interesting background that will help to create catchy recipe books.
Free Editable Recipe Template for Microsoft Word
uwstout.edu
Standardized Recipe Template
dese.mo.gov
Professional Recipe Template
goodfoodresources.com
Blank Recipe Ingredients Template
princeton.edu
Downloadable Time for Kids Recipe Contest
deancare.com
Free Printable Recipe Layout Template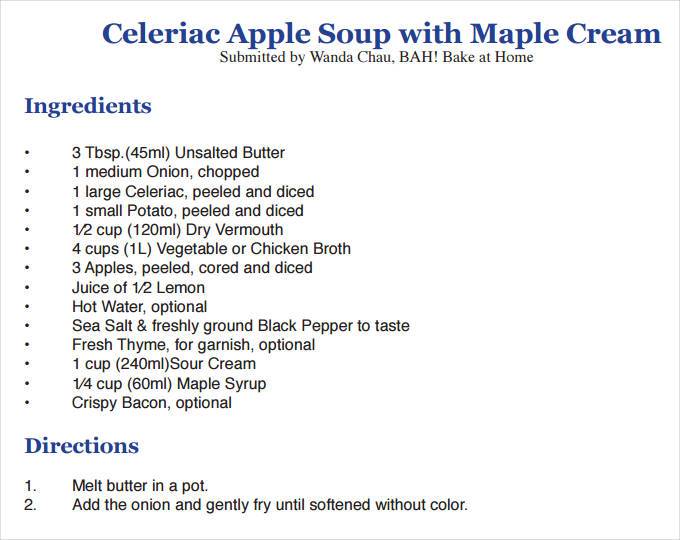 soupsisters.org
Basic Blank Recipe Booklet
beaconhill.cumbria.sch.uk
Blank Recipe Sheet Template Free
menucal.fsai.ie
Soap Recipe Sheet Download
msue.anr.msu.edu
Blank Recipe Template PPT
foodafactoflife.org.uk
Modern Homemade Mayonnaise Recipe
sfcn.org
Fruits & Vegetable Recipe Binder
schoolwires.henry.k12.ga.us
Black and White Brownie Cake Recipe
legendairy.com.au
Simple Cooking Recipe
blackwoodssoec.vic.edu.au
Recipe for a Formal Letter
teachit.co.uk
Monthly Recipe Coupon
theadvantageoftwo.ca
Commercial Recipe Template
jfshouston.org
Secret Recipe Menu
yellow-pages.ph
Sample Recipe Magazine
igtezine.com
Retro Recipe Free Download
sweb.hap.org
Printable Chevron Recipe
freeprintablesonline.com
Example of a Kitchen Recipe
uncommonkitchen.org
Christmas Holiday Recipe Template
math.kent.edu
Special Thanksgiving Recipe
camillus.org
Recipe Cost Analysis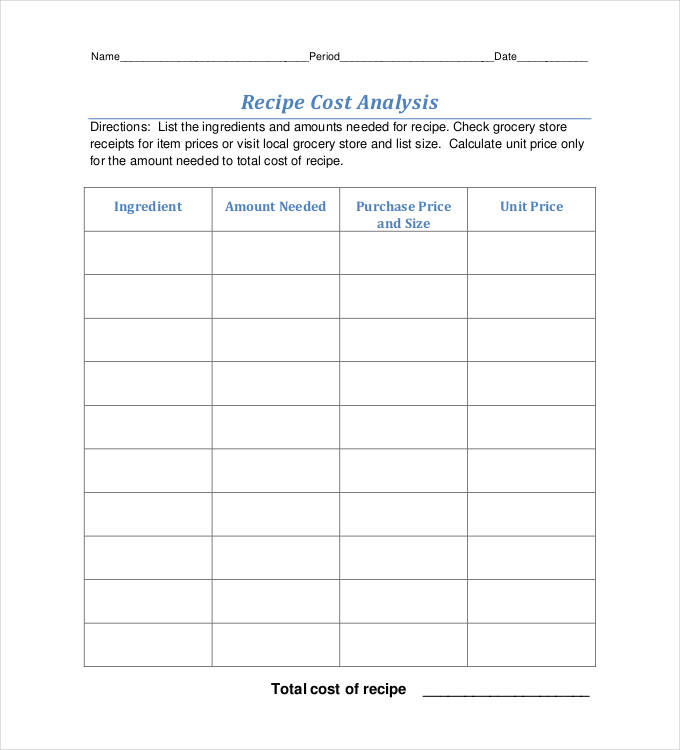 cte.sfasu.edu
Baby Shower Cake Recipe
squarespace.com
Wedding Recipe Card
oasisfloralproducts.com
> 

What is a Recipe Template?

It is not just enough to cook, mentioning the recipes on a proper format are also important. The Recipe Card Template help to mention them. They are professionally made formats that will help in the process of making excellent cookbooks and recipe formats.
> 

How to Make a Recipe Template?
Following are points that need to be kept in mind at the time of making a recipe template:
The look has to be very simple.
The background must contain relevant illustrations; however it is best that the background and the theme of the template can be changed as per requirement.
The format has to be a clear and a minimalistic one.
Chefs should be able to mention the ingredients and very importantly the quantities of the same.
The Meal Calendar Template must contain a space that will mention the time required to make the dish.
The template has to be fully editable for example (stationery, preschool, kindergraden, vertical) .
> 

Benefit
The most important benefit of theses infographic restaurant recipe templates is that they help the chef to record all his or her creations.
These formats can serve to be an excellent base for the creation of attractive and simple cookbooks and recipe books.
These microsoft excel friendship Recipe test templates can also be used for the purpose of instructing the young students of hotel management aspiring to become chefs.
The Word Recipe Template are the best example that a good creation has to be presented in an organized manner. It serves to be a base of an excellent guide book.
If you have any DMCA issues on this post, please contact us!