WordPress Templates
12+ Crowdfunding WordPress Themes & Templates
Crowdfunding or Crowd Financing WordPress templates are trending in the market. Most of the better ones will help you to build your own niche in the Crowdfunding community with the help of attractive layouts, responsive designs and impressive campaign submission options. These WordPress templates give you the scope to start your own Crowdfunding website with panache.
Excellent Crowdfunding WordPress Theme $49
Amazing Crowdfunding WordPress Template $99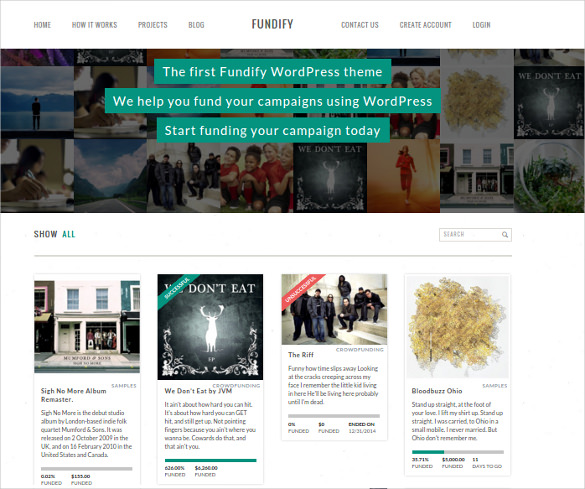 Creative Crowdfunding WordPress Theme $59
A good template will have the structure to showcase the content of a campaign, the length and duration of the same as well as options for submission of new campaigns from your followers and fans. These campaigns can then be edited and published by the admin of the website. A good Crowdfunding Template will always have easy browsing options for the followers.You may see
Non-Profit WordPress Themes
. It is also required for these templates to have apt gallery options and the ability to support high quality photos and videos that accompany the campaigns. These templates make setting up a new Crowdfunding website so much more convenient. Since these campaigns target collecting fund from the followers it should always be kept in mind that more avenues need to be kept open for the same. It should support at least the most common payment gateways that may include Stripe, and Google Checkout in addition to Credit or Debit card options. But most importantly the design and the layout must be attractive enough to hold the attention of the viewer. Count in the slider options, pre-loaded quality content and the preset pages that make a site striking.A good Crowdfunding WordPress template is equipped with all the features to draw the attention of the crowd and hence beings in more funds.You may check
Spiritual WordPress Themes
.