WordPress Templates
21+ Best Premium Travel WordPress Templates & Themes
Working out great travel oriented websites is breezy like never before, courtesy some top rated travel WordPress templates. Plan a highly responsive WordPress website for a travel agency which comes ahead with a simplistic design followed by certain usable features on using the best travel wordpress templates. These themes can be intuitively used for creating highly functional websites in addition to the myriad features in store. This article showcases the best templates which can be used by the professional for making the websites highly interactive.
Tours & Travels WordPress Theme/Template
Travel Agency WordPress Theme/Template
Fully Responsive WordPress Theme for Travel
Travelo WordPress Template

This theme comes with a booking interface which makes it an ideal travel template in addition to the tour management systems and vibrant color schemes.
Adventure Travel WordPress Template

Here comes an organic theme which is exceptionally crafted and specifically designed for sharing adventurous moments followed by cross browser compatibility.
Time Travel WordPress Template

A highly responsive theme which supports 19 color schemes in addition to the multiple font sets and an exclusive page builder!
Traveller Premium WordPress Template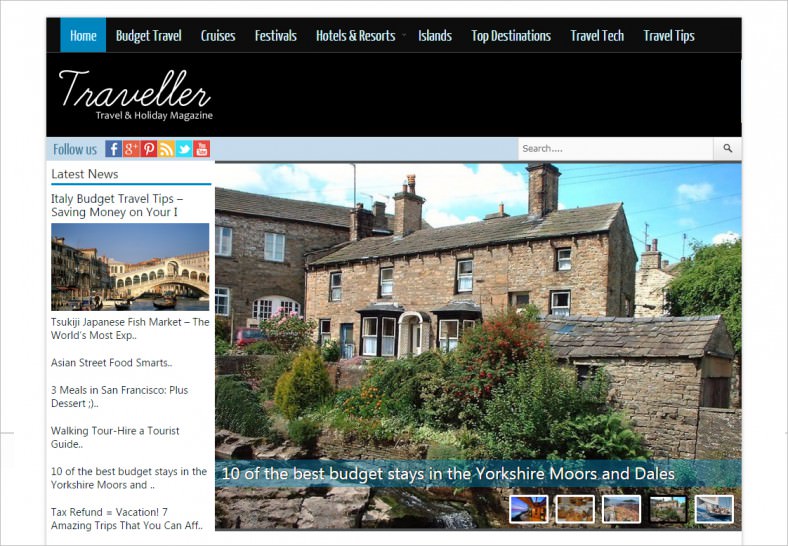 This theme features a responsive slider in addition to the unparalleled user support and better advertising options for the designers.
Online Booking WordPress Theme for Travel – $48
Tour package WordPress Template

A retina ready design is supported by this theme alongside package posts and an SEO optimized approach for the professionals.
LuxStay Hotel WordPress Template
Responsive Travel WP Theme

This theme can be well customized on adding certain selective tools in addition to the online booking forms and built-in widgets.
Hotel & BnB WordPress Theme
Tours and Travel WordPress Responsive Theme
WaveMetroPro is a premium responsive WordPress template with unlimited colors, Google map integration, Lightbox integration and an advanced shortcode generator.
Travelador – WordPress Blog Travel
Traverse WordPress Template

A theme which supports a minimalistic design in addition to a widget enabled footer and a responsive navigation bar followed by the cross browser compatibility.
Travel Island WordPress Template

This theme provides excellent search and filter options for the designers and also features an auto install tab for minimizing the hassles.
Popular WordPress Template for Travel and Travel Agencies – $49.95

Extensive theme options and multiple color schemes are included with this theme which also features an SEO optimized layout and an advanced Admin panel.
Winterland WordPress Travel Template