WordPress Templates
3+ Agriculture WordPress Themes & Templates
Agriculture and farming related websites can now have great looking and highly attractive themes with the latest offerings of agriculture wordpress themes. Using these themes you can get personalized and specialized themes for organic products, growing areas, categorized foods and various products related to the various cultivated and mixed products.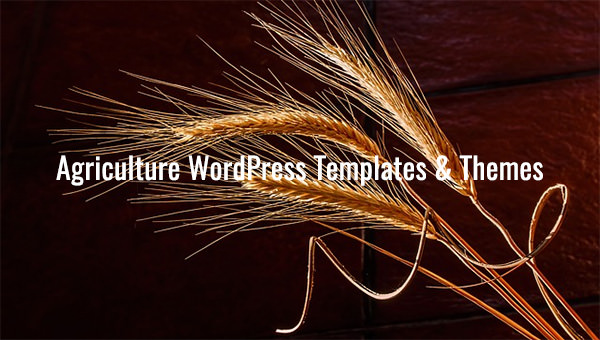 Best Agriculture WordPress Theme – $58

Here is one of the best templates for your agriculture website. The vibrant colors, excellent features and interesting layout will instantly attract people towards it. It provides all the information about quality products, agriculture methods, delivery options and lot more.
Premium Agriculture WordPress Theme – $58

Want something outstanding for your website? Look n more! Here is a template that is designed so beautifully, with excellent use of colors, right amount of information, great pictures, color options, sliders and lot more! You must try this template.
Food & Agriculture WordPress Theme – $49

This is a great template for your agronomy website that produces and serves fresh and quality foods for people. It offers excellent theme options, colorful layouts and unique designs that are just awesome for your agriculture websites, portals or catalogs.
Best Organic Food WordPress Theme – $58

The layout and color usage of this template is just so apt for the theme. It is one of the most beautiful organic food website templates that offer various color options, unlimited sidebars, shortcodes, widgets and many more fantastic features!
You can also display the custom growing field details, the processing details and entire product details in the online website easily with the templates for attracting more users. Also you can set up an online shop for seeds, machines and other agricultural requirements and allow users to directly buy stuff from there using an integrated payment system. Using wordpress agriculture themes, you can make interactive and innovative organic food and farming websites where people get all the information regarding the processes involved, availability and local production of the organic foods. You can even design pages which have blogs and other user review areas where previous users of foods give their reviews on the items. You can also design websites which let users find which food grows in which region and where the best quality is available using the various creative wordpress agriculture templates, by integrating with agriculture linked market databases. You can even make online ordering which enables users to get the best quality ordered online. HD image readiness, downloadable content provision, preset pages, customizable layouts, SEO advantage features, and agriculture marketing tools – all are integrated with the best WordPress agriculture themes.
More in WordPress Templates