WordPress Templates
34+ Blog WordPress Themes & Templates
Blogging seems to be one of the most popular activities nowadays, with every second person you meet having a blog of their own. Blogging is a great way of expressing your own opinions about a particular topic or subject, and can help you formulate public opinion. But all that is possible only when you are able to make a name for yourself as a blogger. The popularity of your blog, to a large extent, depends on the presentation of your blog. What your blog looks like will make or break the deal. If you have a good, well designed blog, that is sure to attract a large number of followers. But if you don't, then you're likely to miss out on followers. You may also see News Blog WordPress Templates.
Traveling Blog WordPress Theme $45
This WordPress Theme is perfect for websites that are dedicated to traveling related blogs or even for sites that deal in travel and tours.
The theme offers a user friendly interface with easy to use features and options.
Live customizer allows the user to view changes before putting those changes online.
Bootstrap design makes the theme not only responsive for various screens but also compatible with various browsers.
The theme is absolutely SEO friendly in nature, well documented and includes various features such as Google fonts and 24/7 support.
Magazine WordPress Blog Theme $44
Safir is a WordPress Theme made for blogging sites. The theme has been equipped with various features in such way that can influence the audience in a great way and can attract a lot of traffic on the site. The theme has
Mobile responsive design,
Changeable theme colors,
Different layouts and custom widgets.
Along with these features, the theme is known for its clean and elegant design and simple to use customizer.
Restaurant Blog WordPress Theme $75
This theme is proper for any food based website. Mostly it is used by restaurants and food joints where people can go for online booking and order.
It is highly responsive for all types of devices,
It is retina ready for better display,
The mega menu allows creating various categories easily.
The user can use and select from various plugins, sliders and can make use of features like Google map.
Simple Business WordPress Blog Theme $49
LaRead offer the users a perfect WordPress theme for those who are into blogging and are about to come up with a blogging site.
It offers 5 different blogging options,
Features such as quick read and push bar are provided,
5 different interfaces are offered for publishing.
The theme offers various other features such as 17 post formats, 12 widgets and 51 PSDs.
Channel Blog WordPress Theme $75
As the name suggests, this theme is perfect for sites features TV shows, movies and other shows available to be watched and downloaded.
The responsive theme is also retina ready,
The mega menu sticks to the top and shows various categories,
It supports multiple languages for various users.
The theme is well supported by widgets, Google maps, SEO features and also contact forms.
Minimal Personal WordPress Blog Theme $39
Whether it is about story telling or blogging, Brixton offers the best WordPress theme for such websites.
The theme is SEO friendly and responsive in nature,
Slideshow designs are improved for gallery posts,
Widgets for social share are offered.
Ad space can be selected and customized. Along with this there are other features such as search bar in the theme.
Photography WordPress Blogging Theme $55
If you have many things to express, but you are not getting the right medium to do so, use Blink to create your blogging site.
The customizer feature allows you to preview the changes before finalizing them.
Multiple layouts can be selected for homepage and different other pages in one click.
The user can select from as many as 600 number of Google fonts.
The theme has the facility of having regular free updates from time to time. Also it offers free service support of one year.
Free WordPress Blog Theme
Ignite is a free to use blog theme offered by WordPress. This simple to look WordPress theme is amazing to use and is full of some most important features.
Clean interface with easy to understand features make it best for all,
It is mobile responsive in nature and is compatible with all browsers.
It supports live customizer.
This particular blog theme is actually developed for blogging sites that are for personal use of a particular user.
Elegant Fashion Blog & WooCommerce WordPress Theme $59
Chic Blog is not only for site owners who are into blogging. It is also for the site owners who wish to promote and advertise their brand in a big way.
It is totally eCommerce ready,
It is mobile responsive in nature,
It supports theme customer to better looking of the site.
The theme features various layouts, widgets and other features that make it perfect.
Premium WordPress Blog Theme $59
Camyno offers a multiple use website theme for almost everything that you wish to come up with such as a blogging site or an ecommerce site or just a community site.
The responsive theme is retina ready and well documented,
It is featured with various layouts, and color schemes,
Updates are automatic from time to time.
The various features of the theme is supported by demo content and also support.
Fashion & Style Blog WordPress Theme $45
Kustrix is designed for fashion blogging site or even for the ecommerce sites dealing with fashion items.
The theme is easy to use and friendly with various shortcodes and customizer,
Live customizer features allows to view the changes made before publishing,
The SEO friendly theme is also highly responsive.
The theme is very much well documented and features widgets and Google fonts that can be helpful.
Responsive Masonry Blog WordPress Theme
Fashionista theme has a clean and user friendly interface. It is developed for blogging sites or even for portfolio sites of photography or personal.
It is highly responsive in nature and compatible to various browsers too,
Various layouts are provided to select from,
Multiple formats for posts are provided.
The theme Fashionista along with above features also offers infinite scrolls, great navigation and load more options.
Multipurpose Blog WordPress Theme $39
This is a simple yet an amazing WordPress theme used by various blogging sites. The theme offers various features such as:
Simple to use interface with modern feature options,
Responsive in nature and SEO friendly,
Features with various fonts, graphics and themes.
Altogether it is a simple to use WordPress theme but can be a great personal blogging site theme for many.
Free Simple & Beautiful Blog WordPress Theme
OneBlog is a perfect WordPress Theme for various personal blogging sites. The theme offers a number of features such as:
Fully responsive design with sliders,
Live customizer and various customization options,
SEO friendly design to provide great traffic.
The theme has a simple to view interface but is well supported by these modern features.
Modern Fully Responsive Blog WordPress Theme
Aruba Nights is the perfect WordPress Theme that can be used for personal blogging sites for fashion, travel or food. It features:
Responsive design, Post layouts,
Multiple options in color, Post sliders,
Custom widgets, Free installation.
The theme features many more options such as dropdown menu and uploading profile picture.
Play Games Blog WordPress Theme $75
As the name suggests, this WordPress Theme is designed for games websites. The theme has a lot of offers such as:
Retina ready and responsive design,
Mega menu and cherry framework,
Multiple languages supported and MotoPress Editor.
The theme is SEO friendly and supports Google maps and stock photos and offers 24/7 support.
Feminine Responsive WordPress Blog Theme $44
Vixen is a WordPress theme for blogging sites with creative concepts such as food, knitting and photography. Some features of the theme are:
Easy to customize,
Fast loading and readable,
SEO optimized and supported by Instagram feed,
Various layouts for creative design touch.
Vixen is an SEO optimized WordPress Theme that has a clean interface and is easy to use with various features.
Adventure travel WordPress Blogging Theme $39
TayP WP is a unique WordPress theme with a clean interface that allows the site owner to provide blogs and stories. The theme features:
Page builder with drag and drop,
Multiple languages, Updates for themes and plugins,
Navigation option for various pages.
The fully responsive theme offers multiple portfolios, animation styles, unlimited Google fonts, custom colors and also widgets.
Fitnesys is a fitness blogging site theme that is SEO friendly and is very responsive to be compatible with every device screen.
It is available in multiple languages,
It is supported by mega menu with sliders,
It features various layouts and designs.
The retina ready theme has live customizer and also features a number of widgets in it.
Lifestyle Responsive WordPress Blog Theme $59
Oxie is responsive and a beautiful looking WordPress Theme that can have blogs over various topics such as travel, food, fashion and lifestyle.
The theme offers various design demos,
It supports website customizer,
It supports header builder and multiple languages.
Apart from these features, the theme offers various modern features such as Google fonts, icons, shortcodes and widgets.
Versatile Blog WordPress News Theme $48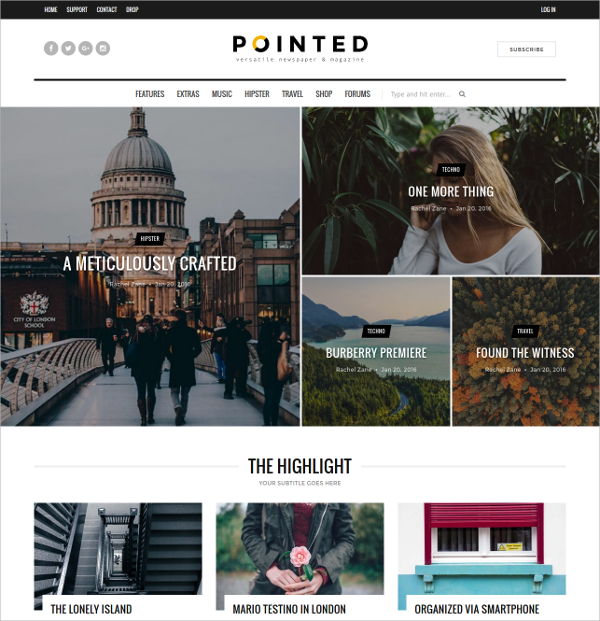 If you wish to make your stories much powerfully features, then this is the theme you are searching for. Pointed is also best for news sites.
It offers easy page builder feature,
It features various slider options such as grid slider and hello slider,
Modern features such as social media, color options and ads.
The theme is full of advanced typography, widgets, cover styles and many shortcodes.
Fully Responsive WordPress Blog Theme $59
Spike is a colorful and bright WordPRess theme for blogging site. It is fully responsive in nature and is supported by live demo.
It features 9 layouts for homepage,
It supports unlimited colors and over 600 Google fonts,
It is supported by a powerful option panel and translation option.
The theme has been designed and coded with CSS3 and HTML5 techniques. It is also supported with widgets and shortcodes.
Premium Blog WordPress Theme $59
Equinox is a responsive WordPress theme that comes with step by step guide and various free plugins and widgets.
It features full width and left and right sliders,
Multiple layouts and colors are provided,
Dropdown menu, adding or extra widgets and having a profile picture are added features.
The SEO friendly theme Equinox offers a clean and simple way of publishing great blogs.
Business Blog WordPress Theme $75
Deltex is meant for business related website. The WordPress theme is SEO built and is also responsive to be compatible with all screens.
Along with being responsive, it is retina ready,
It features mega menu and cherry framework,
It also features MotoPress Editor and MotoPress Slider.
The theme is available in multiple languages, has stock photos and is supported by 24/7 support.
A Responsive WordPress Blog Theme
It features easy management of the blogs,
Various customizable layouts and formats,
Unlimited sidebars and menu with sliders.
It is a SEO friendly and responsive theme with various other features too such as widgets and shortcodes.
WordPress Blog Magazine Theme $30
Newspaper, as the name suggests is developed for sites that features news blogs or even for online magazines. The theme features
Simple and user friendly system,
Responsive and retina ready,
Unlimited layouts, formats and colors.
It takes just a minute for the theme to get installed. It is designed on Bootstrap technique and has a powerful admin panel.
Investment Services Blog WordPress Theme $75
Jo Invest is a WordPress theme developed for business related websites that features the concepts of investments.
The responsive theme is retina ready,
It features the option of parallex,
It features needful options such as contact forms and newsletter subscriptions.
The theme is well supported with varied languages and other features such as widgets and Google maps and fonts.
Multipurpose WordPress Blog Theme $44
Nerdy WordPress theme is for blogging sites as well as the portfolio sites. The theme is available with various features.
It features various portfolio layouts and formats,
It features unlimited color options,
It has unlimited number of Google fonts to try.
The theme comes along with various modern features such as child theme, slider, social share and is highly responsive.
Blog & Portfolio WordPress Theme
Beckett is mainly the WordPress Theme for portfolio websites. It is for websites that features blogs and images of professionals such as photographers.
It features slideshows, shortcodes and theme customizer,
It is supported by widgets, custom logo,
filterable portfolio and client testimonials,
It also features video support and templates.
The responsive theme is compatible with various browsers and has a life time support available.
Journalist Blog WordPress Theme $45
As the name of the WordPress theme suggest, this is for websites and blogging sites featuring news or journalistic blogs.
The theme has live customizer for better customization options,
It is very well documented and supported by shortcodes,
It features various fonts and designs.
Editorso is SEO friendly and responsive in nature and is designed based on the Bootstrap technique.
Are you a blogging enthusiast and looking to design your own WordPress blog? Then you can definitely consider various WordPress Blog Templates available online that come with eye-catchy design, color schemes and organizations ideal for any kind of blog. These blog templates let you give desired look to your blog in just a few minutes even without any coding knowledge. The features these carry include responsive layout, custom color scheme, multiple font options and more.
Have you started a blog of your own recently? Or maybe you already have a blog, but haven't got too many followers yet? One way of solving your problems is to get your hands on WordPress blog themes. These themes have been specifically designed for bloggers like you, and can help you out. You can also see Travel Blog WordPress Templates.
> Types of WordPress Blog Themes
Given all the different types of blogs available, you must look up all the different types of blog wordpress themes online –
Educational Blog WordPress Themes- Some people run "how to" blogs, or educational blogs which strive to teach the viewers something. It could be cooking, handmade items, DIY and so on. Such blogs require special wordpress themes.
Entertainment Blog WordPress Themes- Entertainment and the glamorous and glitzy world of films form popular topics for most blogs. If you're planning to start such a blog, you can try out some entertainment blog WordPress theme templates.
News blog WordPress themes- A news blog must have a formal tone about it. It must have an official and a professional strain maintained throughout. It must be kept factual, and to the point. If you have started such a blog, you will need good news blog wordpress themes.
> Uses of WordPress Blog Themes
A wordpress blog theme would allow you to design your blog any way you want. Downloadable WordPress blog themes are fairly easy to use and edit. You can narrow down your search for templates on the basis of the kind of topic you deal with in your blog. That would certainly give you the template you require. You may also see Free WordPress Blog Templates.
> Tips While Using WordPress Blog Themes
Now that you've decided to download WordPress blog themes, well done, but there are few things you should keep in mind-
The theme template that you select must go with the overall theme of your blog. If you run an entertainment blog, you could use bright vibrant themes. A news blog, on the other hand, would need a more professional and subdued theme.
Whatever the purpose, do not select themes which contain too many patterns and designs. The purpose of your theme is to support the content on screen, not draw attention away from it.
Before deciding upon the template, weigh the pros and cons of each kind of template displayed to you.
> We Can Help You Out!
If you have decided to start a blog and are looking for fabulous themes, then you have come to the right place. Take a look at some of the free WordPress blog themes on template.net, you're sure to find the one you're looking for! You can also see Video Blog WordPress Templates.