WordPress Templates
39+ Church WordPress Themes & Templates
Most religious and charity institutions depend on different sources to earn their revenue. How else are they supposed to run the institution smoothly? Especially since a large number of people depend on religious institutions like churches in dire situations. A parish usually has a fixed number of members, which is generally determined by area. You may also see Non Profit WordPress Templates.
Church WordPress Theme/Template
Religious,Church WordPress Theme $75
With Religious WordPress theme, you can draw more devotees to the church. This welcoming and spiritual theme is sure to usher Almighty's grace on you. Its unique features include-
A pure white backdrop symbolizing piousness.
Primary content presented in three columns.
Contrasting black area for testimonials.
Well documented and easily customizable.
This theme with its sliced PSD with Google web fonts is sure to be the paradise of any new blogger.
Pastor Church WordPress Theme $59
Rock harbor- church WordPress is designed and crafted keeping in mind the basic needs of a church webpage. It is loaded with user-friendly features and some of them are-
•Built-in slider revolution with additional header.
Demo content option included in an XML import file.
Use of placeholder pictures.
Equipped with retina support for easy view in Macbook Pro, iPhones and iPads.
The responsive layout with relentless colour option and detailed aid file makes this a flawless choice for any parishioners' community blog.
Church Web WordPress Theme $75
Church web presence wordpress theme will surely invite your guests and visitors with its clean and pristine presence. It has numerous personable characteristics like-
Custom post types and post formats.
Supports numerous languages.
Includes more than 80 shortcodes.
Multiple colour options and filterable portfolio.
This theme with its advanced backup, customizable typography, fantastic sliders and custom widgets is ideal for use in developing a webpage for church.
Church Compaign WordPress Theme $59
Bethlehem- church WordPress theme is a trendy and intuitive theme with flexible modes and lovely features like-
Responsive design and layout
Schema markup for improved SEO performance
Localized and ready for translations.
Equipped with nestable and flexible grid system using Susy, Bourbon and Sass.
This theme with powerful options panel, deep integrations and easy accessibility is the best choice for church and other prayer homes.
Religious Grace Church Organization WordPress Theme $75
What can be better for a religious organization website other than this with its 100% responsiveness, unmatched and unparalleled customisable options, this is the ultimate solution for any web-designing needs.
Extremely editable with the customise panel.
Editable post types and formats.
Multiple language support Includes plenty of short codes.
Church Prayer WordPress Theme $59
This design is extremely beneficial for churches and prayer groups. The design has been made with such sects keeping in mind and thus includes the two most quintessential features- mailing subscribers and event calendars.
Clear and intuitive responsive design.
Has a full-fledged event calendar.
Stay updated with the mail subscriber list.
Animation Church WordPress Theme $79
Instill a new vibrancy and soulfulness in your church website with the Restore Church Theme (bundle) with its personable features-
Sermons, staff pages, recurring images are included.
7 stack responsive and re-usable templates.
MP stack add-ons and page building plug-in Google maps integration and total font control.
Its vintage wood style serves as an awesome setting for all your contents and images and you can never go wrong with this lovely template.
Free Church WordPress Website Template
Church WordPress theme is a responsive HTML5 Omega child theme and is designed keeping in mind the requirements of a liturgical blog. Its unique features include-
Custom logo upload and custom header.
Customizable menu, widgets and colours.
It inherits all Omega parent thematic abilities.
It has woocommerce compliance for using in e-commerce web-pages.
As you can see, this theme is not just suitable for church related blogs but you can use it for online retail shops, non-profit organisations and personal website.
Stylish Church WordPress Theme $39
If you are looking for a premium theme for your webpage, then WordPress Church theme is perfect for you. It is loaded with personable features like-
It is responsive as well as Google mobile friendly.
It has a separate section for gospel music and sermons with individual icons.
Events and important news can be easily shared.
More than 100 shortcodes for writing any content.
This theme also offers unmatched assistance if you want to customize or need any support from the developers.
Church & Religion WordPress Theme $53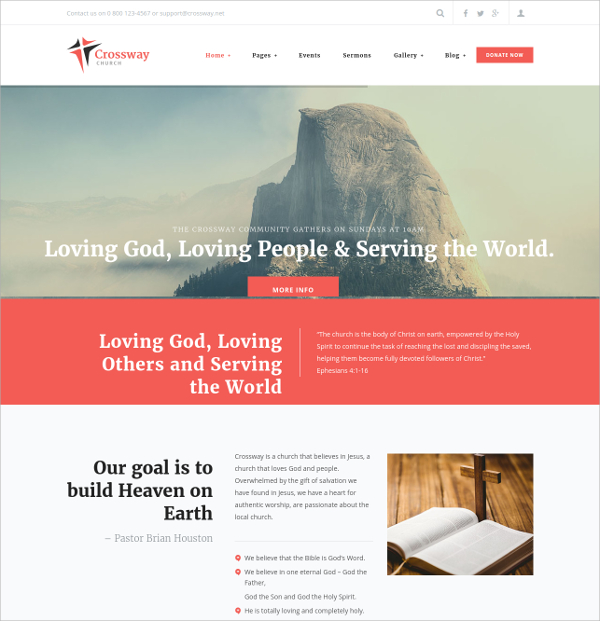 What is a better option than to get one's own website for churches, prayer groups and various other non-profit organizations? Simple yet elegant, this is a perfect word press theme template for church websites. This template also contains
It uses HTML5 and CSS3 coding formats.
The use of sober colours looks attractive.
Crisp and fine text fonts are used.
It can be used across various browsers and has one click demo install.
It also comes with various plug-in options such as calendars and visual composers.
Perfect Theme For Church, Community Website $59
Loaded with an event management form, customisable fonts, widgets and a donation form; this is a very unique and fresh design which is fit for any charitable organizations or churches.
Customisable event management form.
High quality HTML5 and CSS3 coding.
Editable custom widget panel.
Podcast Church WordPress Theme $59
It is an extremely versatile and flexible word press theme that has been designed extremely well suited for any church or non-profit organization. It is equipped with host of features including responsive mobile friendly design and responsive UI.
Equipped with retina design.
Sermons in various formats
Can be linked with iTunes.
Multimedia Church Non Profit Charity WordPress Theme $49
A unique mobile friendly design that is well equipped for any church website. It has multiple sidebar widgets, staff information, contact page and various other customisable options which include sorting feature of sermons based on length, audio format and several such categories
Audio and video gallery.
Customisable word press toolbar.
Option for message archive.
Church & Non Profit Association WordPress Website Template
This is a widely popular church website theme used by several churches, charity and non profit organizations due to the fact of its sophisticated coding and payment options as well as the variety of features it provides including
High end CSS3 and HTML5 coding.
Message archives including sermon division.
Highly customisable widget and theme options.
Perfect Church WordPress Website Theme
the prayer church WordPress theme is an effective idea to portray any noble deed or church related activities through a suitable website. The promising and decent looks make it the ideal WordPress theme for church related website. Some of the exclusive features of this theme are:
SEO optimized, thus making your website available in top searches.
Sermon management, customized widgets; a user-friendly way of web designing.
Multiple colour themes, variety of colour options.
The flexible homepage layout makes your website complete and trust worthy, helping you as a designer or blogger to portray your creativity.
Modern Church WordPress Theme $75
What can be better than a wordpress theme which is attractive and meaningful? The religious responsive wordpress theme gives you, as a blogger or designer the opportunity to connect well with your religious viewers. Some features are:
Built-in theme customizer, to help you customize it according to your needs.
Fantastic sliders, swap the images with style.
Filterable portfolio and advance backup, to increase the efficiency.
This wordpress church theme satisfies a blogger's need with its awesome features.
Donation Church WordPress Theme $49
The belief church wordpress theme helps you to design your church related website in the best possible manner, so that you can connect easily with your viewers. Some of the mind blowing features are:
Drag and drop layout builder, an expressive way to make it worth noticing.
Like option to help viewers to appreciate your work.
Social media ready and easily connects with popular social networking sites like facebook.
This theme is the ultimate approach towards designing a church related website.
Church Parallax WordPress Theme $79
The growing church theme is an ideal way to keep up the standard of your church related website. This makes your website an easy access for your viewers. This theme provides some awesome features like:
Easy setup, making it easier for you to concentrate on the content.
Supports all type of gadget screen size, super responsive.
Complete parallax control, supports Google map
Try this awesome theme today to make your website look a bit more alluring.
The uplift church wordpress theme helps you as a designer to bring out sheer creativity through super responsive websites which helps religious people to connect with an ease.
Parallax scroll system, making your website user friendly.
Revolution slider and custom colour fonts makes it a better story.
All over, this theme is the key to make your website worth scrolling.
Responsive Multipurpose Church WordPress Theme $39
The skt biz pro church theme is a super responsive one to make your church related website look professional and trust worthy. This theme includes features like:
Contents contact form with spam protection
Compatible with various plug-in of wordpress
This theme is a blend of minimalism and style which helps you, as a designer to connect more easily.
Free Premium Responsive WordPress Website Theme
This is a free responsive mobile friendly word press theme based on bootstrap 3 framework. This theme is built specially designed for churches or various such organizations. The features include
It has a host of customisable theme options.
The bootstrap 3 framework provides entire flexibility.
It has multiple customisable slide bars with ample widget options.
Jesus Christian Church WordPress Theme $67
This theme is an intuitive yet with lots of options including various customisable slide bars and widget options. This theme is coded sophistically using HTML5 and CSS3 coding panels which make it highly flexible too.
It contains customisable widgets.
It has CSS3 and HTML5 coding.
There are various sermon categories which help in better management.
This unique word press theme was made with a church or prayer group in mind. It has several features including event calendars and several categorization options for sermons. They can be uploaded or download in various formats.
The theme is 100% intuitive.
It is customised for mobile view.
It has enabled search engine view.
The widgets are highly customisable.
Powerful Church WordPress Theme $59
Kerygma Church Theme is a niche, wordpress theme that could be used to setup and customize the church and NGO websites.
Every page comes with customizable image/text option at the top
Offers complete support for video and audio podcasting
Home page is completely customizable
Drag and Drop functionality at the Home Page
True North Premium Church is a premium wordpress theme for the churches.
The theme promises to be highly flexible
It promises to be cross-browser compatible
The theme features customizable Control Panel
It also features custom image uploading option
The theme comes embedded with Google Maps
Premium Church WordPress Website Theme
Real Church WordPress Theme is a truly unique and niche wordpress theme with elegant design and easy to understand contents.
It comes with 3 blog styles
It also features a highly useful events calendar
It comes with support for sermons
It is totally responsive and comes retina ready
Creative Church WordPress Website Theme $55
Evangelist is a responsive wordpress theme for churches and NGOs. It is simple and easy to use with very attractive design.
It offers easy customization
It also features the very unique Events calendar Slider
It comes with retina Ready Display
It also offers easy changing of the background style
Religious Church & Consulting WordPress Theme $67
Religious wordpress theme is a classy template designed exclusively for church websites. It comes with simple layout to make it easily understandable.
It is totally responsive
It comes with easy customization of the background
The home page comes with custom widgets buttons
It also offers HTML Plus J5 animation option
City Church child Website Theme
City Church is a fine wordpress theme that comes bundled with several effective features and plugins.
It offers easy and fast managing of the site through widgets and plugins
It is responsive and cross browser friendly
It also offers easy upload and display of the sermons
Responsive Christian Church WordPress Theme $75
Christian Responsive WordPress Theme has a niche design and unique appearance. The theme is easy and simple to manage.
It comes with multiple color options
The theme also features fantastic sliders and advanced typography
It also guarantees lifetime free upgrade
The also includes filterable portfolio
Church, Organization WordPress Theme $59
Spiritual is a niche wordpress theme for catholic sites. It is easy to manage and comes with numerous user-friendly tools.
The theme comes with a very powerful CMS functionality feature
It also comes with a Theme Customizer tool
It promises Retina Ready display and fully responsive layout
Responsive WordPress Church Theme $65
Sanctify 3 is a niche WordPress Church Theme that comes with total responsive layout and retina ready display.
It has been developed using the robust but flexible Genesis Framework
It also features editable and rotating javascript slideshow
The theme offers easy customization facility
Simple Church WordPress Theme $39
Simple is a highly effective wordpress theme for church related websites. It comes with elegant styling and simple user interface.
The theme comes with over 100+ shortcodes
It offers lot of white space for usability purpose
It comes integrated with 580+ font based icons
Christian Church WordPress Theme $75
Christian Church is a responsive wordpress theme. It is perfectly apt for not for profit organizations and catholic websites.
The theme comes with custom post types
It promises to be fully editable
It is also multilingual ready
The presence of filterable portfolio promises easy customization
The church keeps on organizing a number of events and other occasions, apart from the daily mass. The only way for a church to earn enough money is by gathering more and more followers. Religious institutions too are judged on the basis of popularity which to a large extent depends on the number of members of the church or other similar institutions. You can also see Best WordPress Templates.
If you are looking to create a website for your church or ministry or have decided to give your existing church website a new design then using a church WordPress template would the a wise decision. All the church templates offered by WordPress come packed with numerous features like donation options, multiple color schemes, shortcodes, custom post types, responsive layout, custom widgets, Google fonts, mega menu, customizable header styles and many more. These themes are ideal for church websites, ministries, religious communities and even charities. You may also see Multipurpose WordPress Templates.
Have you been asked to create flyers or posters on behalf of your church? Then you need to know exactly how to proceed. If you don't, there's nothing to worry about. You can always take the help of Church WordPress Themes templates which are found galore on the internet.
> Types of Church WordPress Theme Templates
If you thought that there was only one type of church WordPress theme templates, well think again. There are several types of free church WordPress theme templates online –
Church flyer WordPress theme templates – If a church is planning an event of some sort, say a special mass for a particular reason, it will use a flyer to let the people of the parish known. In such cases, flyer theme templates are often used.
Church poster WordPress theme templates – For special occasions like Christmas and Thanksgiving, churches often organize get together for all members of the parish. In such cases, posters containing the details of the event are distributed. For that, poster church WordPress theme templates are used.
Important religious document WordPress theme templates – Churches too have important matter that they have to look into. In order to create important documents for the church, like a declaration, such formal templates may be used.
> Uses of Church WordPress Theme Templates
If you do download church WordPress theme templates, you will be saving on a lot of precious time and energy. You can use that for something more productive. With such fabulous themes, it has become possible to create any kind of document, or even a website for the church. You can also see Spiritual WordPress Templates.
> Tips While Using Church WordPress Theme Templates
While using downloadable church WordPress theme templates, there are few things you should keep in mind-
Make sure you keep in mind the purpose while selecting the template. Since you're dealing with the church, make sure you narrow down your search for theme templates accordingly.
Church theme templates are best kept simple and to the point. There is no point beating about the bush here. Keep the template as elegant and sophisticated as possible.
Only choose customizable church WordPress theme templates. Even if you get the perfect template, you will need to make some edits and changes to ensure it suits your purpose.
> We Can Help You Out!
At template.net, we have an amazing collection of the best church WordPress theme templates. If you're looking for some Church Templates, you cannot afford to miss out on the endless collection we have in store for you.