WordPress Templates
15 WordPress Themes For Plumbers – Remodelling The Plumbing Website Just Got Easier
Are you looking to get a smart website for your plumbing services? Well, you have a wide range of amazing WordPress themes here with stunning features and professional layout. Some of them are even SEO-friendly and mostly all of them follow a cutting edge responsive design. You will have easy customization facilities here and the themes can be used for other handyman professions as well like painting, carpentry, electricians and so on.
Most of them promise great customer support. Download a top level wordpress themes and get it activated. Once done, your site will get fully configured automatically. This reduces the overall time to design and launch your site.
Plumber Worker WordPress Template – $58

This responsive plumber wordpress theme would be good for other professionals as well like painters, electricians, cleaners, builders, landscapers and so on. You have a wide host of features here such as:
More than 700 Google web fonts
More than 240 Flag icons
Three professional skins
Customizable background
Full width or box layout
Supports both right and left sidebars
You are getting a SEO ready plumbing wordpress theme here which is both cool & functional. The template is CSS & HTML validated and works for WordPress 3.0. There are 7 color options to choose from for your convenience. The template also promises easy use and you have amazing features waiting for you.
Simple Plumber WordPress Template – $49

If you are looking for a minimalist simple plumber wordpress template, this theme here would be amazing or you with neat and clean outlook. It is fully responsive, retina-ready and hence would work great on the HD devices. The other features include:
Image slideshow
Revolution slider
Easy customization
Several fonts
Responsive Plumber WordPress Theme – $58

This responsive website template is for those professionals into construction industry such as architects, engineers, builders and so on. It promises various amazing features such as:
Seamless layout possibilities
Speedy performance
Four predefined skin
Over 30 custom readymade pages
Multi-footer styles
Seo-friendly High end customer support
If you are looking for a smart plumbing website template that will help you with your SEO campaigns, this template here would be the right thing for you. This innovative template comes with a wide range of color options and there is a good host of functional features as well.
Plumber Construction Repairing WordPress Theme
Plumbing Spl Plumber WordPress Theme
Contractor Plumber WordPress Themes
Plumber Building Construction Business Theme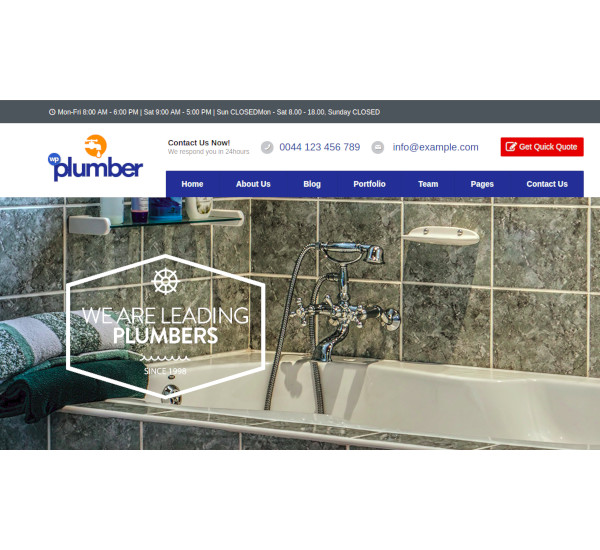 Plumber Pro Construction WordPress Theme
Plumber Zone Repair & Construction WordPress Theme
Plumber Repair Services WP Theme
PlumberPlus Handyman Services WordPress Theme
Oriel Plumber WordPress Theme – $43

This multipurpose WordPress theme here is great for interior decorators, remodelers, architects and engineers. You have a clean professional design here and some real cool features:
Full responsive design
Seamless color combination
Robust admin panel
Touch friendly carousels
Customizable fonts
Flickr Feed
Cross browser compatibility
The Plumber WordPress template – $67

If you are looking for a truly functional and highly professional website theme for plumbing services, this template would make your day anytime. There are several features to look forward to, like:
Service pages
Turnkey installation
CTA Complete responsive mobile-friendly design
Clean layout
Beautiful galleries
Plumbelt Plumber WordPress Theme – $67

You have an elegant and cool plumber website theme here waiting for you. It opens up with a contact form with menu bar and social media icons topping it. Below the contact form, you can talk about your values or services in separate sections and after that you can mention about your previous projects with images.
Blue Collar Plumber WordPress Template – $16

This HTML template here not only works for plumber websites but for other handyman services as well such as painter or electrician. Thanks to its responsive design, the theme offers a smooth view across all browsing devices, irrespective of size. It comes with retina graphics and there are 4 color options to pick from.
You have a classy WordPress theme for plumbing websites here packed with amazing features. It's built for WordPress 3.0 and its CSS 7 HTML validated. Most importantly, this theme is SEO friendly. Then, yes, you have a video tutorial to help you when you are in need of ideas to set up your website.
Lassic Plumber WordPress Template – $48

This WP business website template caters to a number of businesses such as construction, painting, roofing, carpentry- added to plumbing. You have some awesome features here like:
Drag and drop facility for page building
Modern admin panel
Revolution slider
Unlimited sidebars
More than 650 Google fonts
Several shortcodes
The Plumbing WordPress Theme – $67

When you are looking for a professional plumbing website WordPress theme, this template here would be amazing for you. It is a low-maintenance template with great host of features like:
In-built social network options
Responsive design
SEO manager
In-built blog
speedy navigation
easy contact details
top-notch support
Plumber Pro WordPress Theme – $49

This is a next-gen smart plumber website theme with a professional outlook and bucket-load of awesome features. These include:
One-click installer
sidebar manager
great support
WP page builder
Auto sizing pictures
Widget-ready zones
Fonts library
Custom menus
Cross browser compatibility
Integration with social media