WordPress Templates
23+ Popular WordPress Real Estate Themes
Real estate themes decide clientele within the first few seconds; hence they need to be impressive, stylish and yet have minimal interference with the content. So we present a collection of free intuitive real estate template designs meant for public download. Editing is free and supported by print friendly instruction sets. Experience the luxury of free contact forms, advanced filters, iOS support and Google maps integration.
Real Estate Agent Realtor WordPress Theme/Template
Real Estate Website Header Template
Real Estate Email Ad Template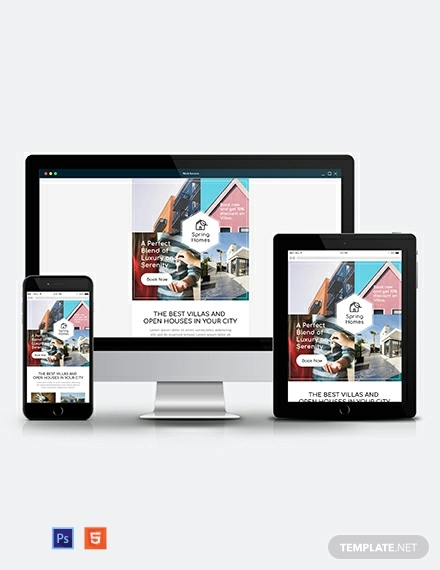 Real Estate App Landing Page Template
Real Estate Agent Realtor Bootstrap Landing Page Template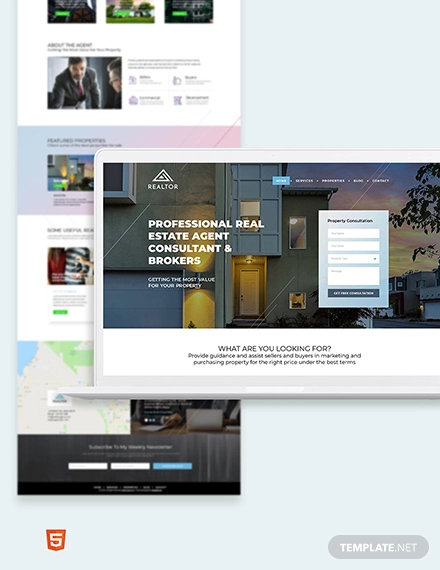 Google Map Integration Real Estate WordPress Theme – $49

This real estate template has an extremely user friendly layout. Users of the template can put up pictures accompanied by description and details, easily communicating important information about properties and houses with relevant visuals.
Responsive Real Estate Agency WordPress Theme – $75

Responsive Real Estate Agency Template is an immensely flexible theme, allowing plenty of customization options. Relevant options, such as contact details and the 'buy now' button, are displayed in prominent places so that they can be easily noticed.
Real Estate Business WordPress Template – $49

This visually appealing template has multiple columns and has a price bar that makes switching between the price ranges a smooth experience. Search results are displayed with pictures and description in boxes which makes them easy to read, leaving no room for confusion or chaos.
Perfect WordPress Template for Real Estate – $69

The gentle slideshow with description on the main page provides appealing visuals with a sense of serenity. This tranquil template brings a list of diverse customization options to the table and has quite a few useful widgets to make browsing easier than ever.
Real Estate Agencies & Brokers WordPress Theme – $95

The dark color of the template reduces stress on the eyes and makes the browsing experience cooler and peaceful. This creative design also makes all the information easily accessible and even has customizable icons and graphic image options to make it more fun and pleasing to use.
SEO Friendly Real Estate WordPress Theme – $54

This template comes with prominent social media options so the website information can be easily shared by visitors on popular sites like Facebook and Instagram, increasing website traffic. Multiple options are available for columns, timeline, grids, and side bars.
Real Estate Agency Responsive WordPress Theme – $75

The slide in graphics for the description texts makes the template pleasing to the eye, attention grabbing and interesting. The contact option in a prominent position sends the message that the company is only a click away, satisfying the potential customer.
Smooth Slider Integrated Wp template for Real Estate – $69

The description columns at the bottom allow all the relevant information to be on the main page, making it easy to navigate the website. Prices and pictures are displayed in boxes which makes it simple to look through different options and suggestions creating a chaos free experience.
Clean & Premium Real Estate WordPress Theme – $48

The muted color of the theme is not too bright and is easy on the eyes for the user. This crisp layout is easy to pilot because of the bold, noticeable options and the fast and light nature of the template.
Property Owners & Real Estate WordPress Theme – $59

The template has the options for multiple colors, sharing on social media, Google maps location of the property, and a page to book appointments. All this makes the website experience convenient and smooth, making the template beyond useful for clients.
Excellent Real Estate Agency Responsive WordPress Theme – $75

The tabs in the left sidebar allow the user to quickly browse through different, popular properties through serene and light graphics. The cool layout and crisply cut columns and description boxes make this a fantastic design that's easy to work with.
Lightweight WordPress Theme for Property Management – $49

This highly responsive design includes an advanced search bar, easy customization, editing, categorization options that make it simpler than ever to organize the website whenever deemed necessary. This quick functioning theme caters to clients in every way providing a satisfying experience.
Fully Responsive Real Estate WordPress Theme – $49

This timeless design does not only surpasses the most sophisticated website layouts of today but has other features that make it tasteful and more. It has an appealing background, easy to read font and fantastic graphics to bring about a pleasant experience.
Property Listing WordPress Template – $79

This design covers many attractive options making the template extremely detailed. It contains payment gateway support, neighborhood information, different color themes and advanced integrated property search, allowing the client a classy theme that encompasses every aspect of a suitable website.
Fully Responsive Real Estate Agency WordPress Theme – $75
Perfect Rent Real Estate WordPress Theme

The easy to install and use design gives way to a trouble free and more than satisfactory client experience. It includes a calendar, back to top button, a tag cloud and Google web font options making it flexible and diverse.
Responsive WordPress Real Estate Theme

Available in three variations, this real estate design aims to cater to buyers and sellers of real estate. Users can browse various properties to buy through the simple search options or they can submit their own properties through three easy steps smoothly!
Realtors WordPress Theme

The gentle colors with widgets, tabs and quick search come together to make a very beautiful theme. It has a premium design and functions that make it very use friendly and open to changes. The advanced graphics make it even more appealing.
WordPress Real Estate Theme