WordPress Templates
6+ Ultra Minimalist and Modern WordPress Themes
Bring out the full potential of your creative blog and portfolio by using a minimalist concept that won't take away the attention from your works of art. And what's another way to display your creative works than to lay them out in a spotless and gleaming platform that will certainly highlight their details and artistry? This is certainly true when you use the collection of ultra minimal WordPress themes we have carefully curated below.
With these template's immaculate and pristine aesthetics; any designer, photographer, illustrator or other artists will be able to flaunt their masterpieces in an elegant and sophisticated way. These WordPress themes also provide a polished and professional look that is worth presenting to eager clients or buyers of art, thus, helping you monetize your creativity.
Clean and Minimal WordPress Theme
Another clean and minimal WordPress template is Pure. As its name implies, this simple but high-quality WordPress theme is perfect for blogs or portfolios that emphasize raw and genuine content. Its design is based on the Bootstrap 3 grid framework and is mobile-friendly, so it is easy to use and customize, and looks great in all screen sizes of various devices.
A creative and minimal WordPress theme, Hipsta is a template built especially for creative individuals looking for a modern and elegant theme for their portfolios. It comes with a drag-and-drop page builder for easy customization and the native WordPress Customizer, letting you create a personal website with your own distinctive and creative touch.
Eris is a portfolio WordPress theme that offers a unique and sophisticated web design perfect for showcasing any creative project and design product. It can be used by freelance artists and creative agencies alike because of its many built-in functionalities. It gives you a couple of menu styles to choose from as well as a choice for the number of columns on the layout.
Resonant Portfolio Template
Another awesome portfolio template is Resonant. This is the type of template that will present you and your work in the best possible light with its choice of layouts with which you can use to feature your best works. Being made with WordPress, it offers flexibility and versatility with column options, hover effects, split views, custom colors, and typography.
Motive – Minimal Portfolio Theme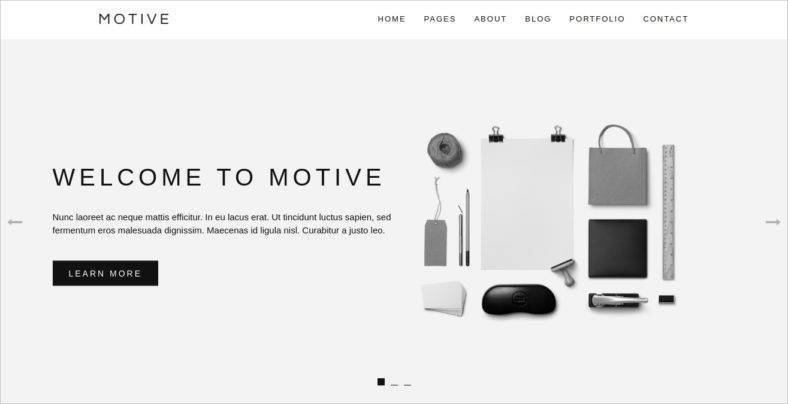 To end this list, we have Motive, a minimal but beautiful WordPress template made for every artist's portfolio, blogs or shops. The theme features a full portfolio section where you can add filters and a detail page to present your works cohesively and coherently. Additionally, it consists of other powerful features for ease of use and customization.
If you're looking for a website theme that has a flawless aesthetic and the right features, then, we highly recommend all the themes and templates we have listed above. Not only do they provide you with lots of useful functionalities, they also give you a simple, fast, and elegant web design to display your works of art. So, don't hesitate and download the best one now.
More in WordPress Templates