Be it a gallery oriented website or professional portfolios, Joomla websites have a huge potential and features for each. With better designs and exceptional color combinations, Joomla empowered websites do come in handy for professional use. But the inclusion of shopping carts and payment gateways often show up as the constraints which can be dealt with VirtueMart templates. You may als check Restaurant OpenCart Themes.
663+ Restaurant Templates in PDF, Word, Excel, PSD, Google Docs, PowerPoint, InDesign, Apple Pages, Google Sheets, Publisher, Apple Numbers, Illustrator, Apple Keynote, Google Slides, HTML5 - START DOWNLOADING
Coffee Shop VirtueMart Template
How can you have a coffee themed website without the splashes of brown all over it? Brown just screams coffee beans, doesn't it? If you have decided to sell coffee online, then you must take a look at this template. The best part about this template is that it is easy to use. You will be able to edit them and customize it to meet your requirements. So come on, what are you waiting for?
Restaurant VirtueMart Responsive Template $53
A simple meal is what usually people desire. When you are serving the people with just simple and healthy food, you can easily use this kind of template from VirtueMart.
Beautiful Coffee Shop VirtueMart Template
Spice up your restaurant's digital appearance and value by decking it up in this particular virtual mart theme template. The design and layout of the theme is brimming with elegance and sophistication. Moreover the impressive background artwork lends a charm to the overall look of the theme. The fully responsive theme lets to enlist all the foods and other products you specialize in and their respective selling rates.
Exclusive Coffee Restaurant Store Virtuemart Template
Coffee shops are on the increase everyday. You will find them in every corner of the city. The intelligent decision is to get the people buy coffee online and deliver it to their doorstep. This template is for the people who want to set up a coffee store to hold that target market.
Online Food Store VirtueMart Template
Fresh food is a necessity. If you have a farm and are ready to get hold of a large market, go online and sell your food using this template. Opening an online store with this template is going to be a hit.
Cafe Restaurant VirtueMart Template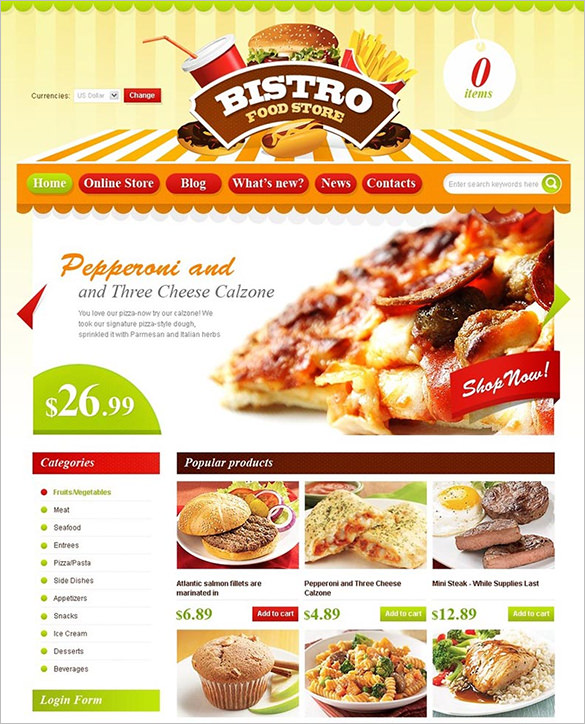 Open a cafe but online. Using this template you can open a cafe that served food and coffee to people at their doorstep. You can flaunt the food you make in this template.
Restaurant, Spa & Salon Joomla Template $59
Â>
Splendid Restaurant VirtueMart Template $53
These templates help set up an online shopping counter in the matter of minutes and VirtueMart Templates for restaurants are no different. Takeaways or the usual hangout places, any restaurant which is selling food items benefits largely from these innovative templates. The best thing about the VirtueMart templates is that regardless of the PHP coding, the users are still allowed to make changes based on HTML codes. As restaurants need to be well decorated, the online reminiscence has to be kept vibrant as well for attracting a wider customer base. Food stores are also benefited from these templates and can include those classy yet free options into the mix. Premium templates do have a special flavor about them and cover up the more intricate areas requiring business specific features. Text Tooltip is added whereas the cross browser compatibility is seen with the topmost options. Text resizer and Carousel displays are supported by these VirtueMart selections in addition to the image magnifier, allowing customers to look keenly into the designs.