Impress your seniors and clients with excellent contract writing skills by using our ready-made construction contract templates. We work to support you in doing what you are best at. We intend to save your time and effort with our Construction Contract Templates because time is money, right? The collection that we are serving you contains a variety of contracts like construction contract proposal, swimming pool construction contract, and many more. All of the templates are easily editable and printable. They contain suggestive headers and relevant content. You can also customize them in all versions of Microsoft Word, Apple Pages, and Google Docs. Wait no more, subscribe now, and start downloading!
How to Create a Well-Written Construction Contract Agreement?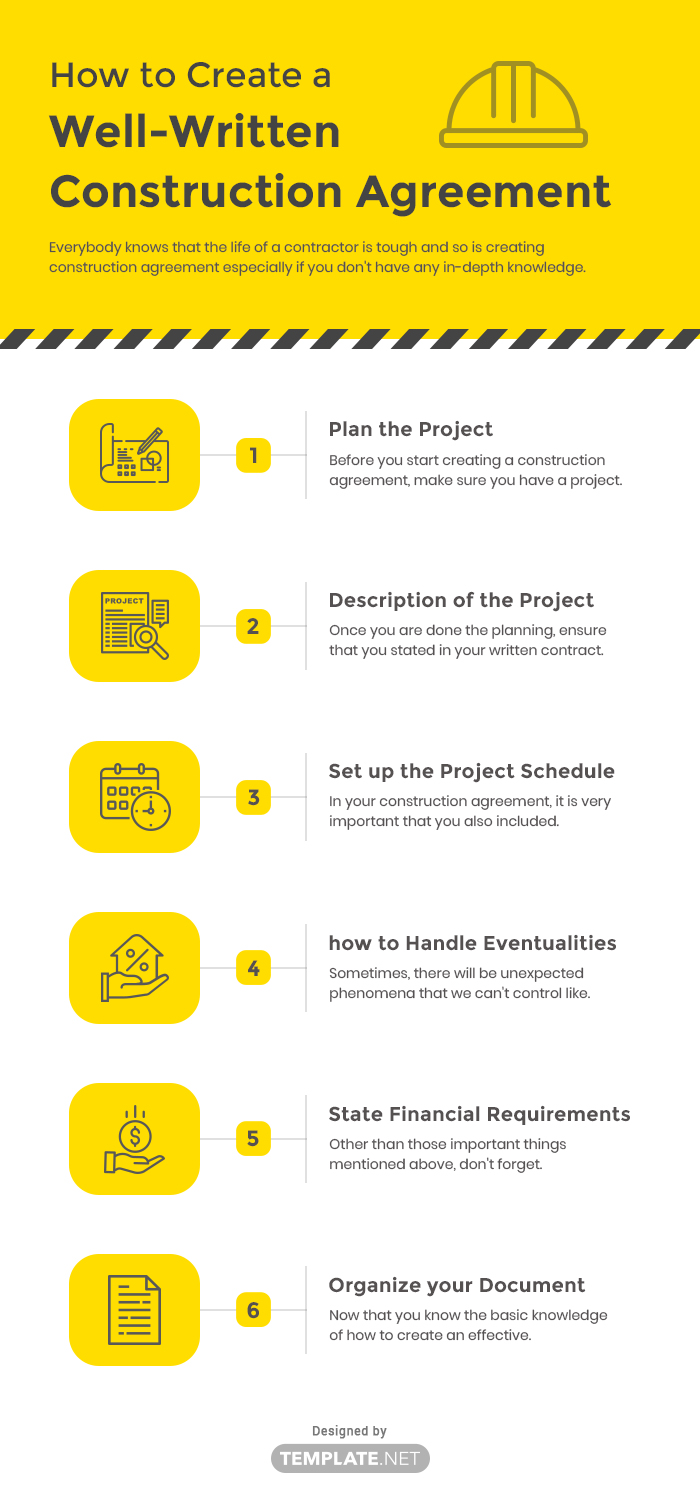 Construction projects can be large or a miniature but securing it with a legal contract saves the mutual interest of both the service provider and the consumer. Making this legal document requires in-depth knowledge of the construction process to state the terms and conditions appropriately. You can follow the specified steps below to complete your paperwork quickly without pondering much. Following the steps would help you make a well-designed construction agreement.
1. Plan the Project
Before you start creating a construction agreement, make sure you have a project plan in mind that you want to accomplish. It's very preposterous to think that you are already creating an agreement but still, you don't have any projects in mind yet. After you are done planning for your big project, make sure you state it in your agreement the goals and its purpose.
2. Provide the Description of the Project
Once you complete the plan, ensure that you state in your written contract all the necessary information and instructions that you want your workers to follow. Make sure that you made your list as specific and detailed as possible. For instance, state the specific point that you want to achieve for your project, the specific color of the tiles, the cement, and a lot more.
3. Set up the Project Schedule
In your construction agreement, it is important to include the project schedule. You must clearly state the work starting and ending dates to notify them of the time limits and at the same time state the proposed number of days for the completion of the project.
4. Explain how to Handle Eventualities
Sometimes, there will be unexpected phenomena that we can't control like the weather. Therefore, you must think ahead of time to handle these uncontrollable events especially when your building construction is still ongoing. State in your agreement the initial emergency plan whether you will be needing a new timeline for the project or either explain in your contract another set of instructions.
5. State Financial Requirements
Other than those important things mentioned above, don't forget also to include in your agreement all the financial statements. Aside from that, state, if there are any inclusions or removals, were made in the contract and at the same time discuss in the contract what type of insurance company who will cover the needs of your construction workers.
6. Organize your Document
Now that you know the basic knowledge of how to create an effective construction agreement, don't forget to organize properly its parts and label them accordingly. Don't forget to put page numbers in your contract so that there will be an organized flow in your agreement.
General FAQs
What is a Construction Contract?

A construction contract is a legal document that binds the parties involved with certain obligations and responsibilities towards each other. This agreement is vital because it outlines the span of work, duties, and lawful rights among the construction companies and their contractors.

What is the Purpose of a Construction Contract?

To allocate and define the duties and responsibilities of the parties.
To recognize and inform different risks of the parties.
Reducing any sort of uncertainty and allowing the parties to plan for the project.

What are the Types of Construction Contracts?

Lump-Sum or Fixed Price- The buyer agrees to pay a set amount and to which the contractor agrees to complete a construction project.
Cost Plus- The owner agrees to pay a fixed fee or some percentage of the cost.
Guaranteed Maximum Price- Owners agree to pay for service and materials costs only up to a guaranteed maximum price.

What are the Components of Construction Contract?

Full name, contact details, addresses, and signature of the parties involved.
Description of the type and scope of the project.
Defining project costs and terms of payments.
Method of Payment.
Work schedule and timeline.
Authority to make decisions.

How to Get a Construction Contract?

Organize your business profile and get it registered on online sites.
Improve network with people working in the Small Business Administration body.
Make your contract location strategies.
Get professional assistance to avoid mistakes and errors while making federal bids and proposals.
Read More
Earn 20% commission on every sale from your Share
Bloggers: Publish/Mention Template.net products on your website, blog, Social Media or Via Email & Earn affiliate commission of 20% for every sale