In the entirety of a construction project, you will need construction forms of various types and for various purposes. If you sit to create each of them from scratch, you'll be losing valuable time. That is why we are offering you our Ready-Made Construction Form Templates that you can easily grab whenever you need one. Each of these form templates prepared for every construction purpose is downloadable in Microsoft Word, Apple Pages, or Google Docs format. The benefits they offer do not end here; these templates are also highly compatible with all your different devices. If you want an effortless process of creating construction forms, then sign-in now, get our subscription and start downloading templates now!

How to Make a Construction Form?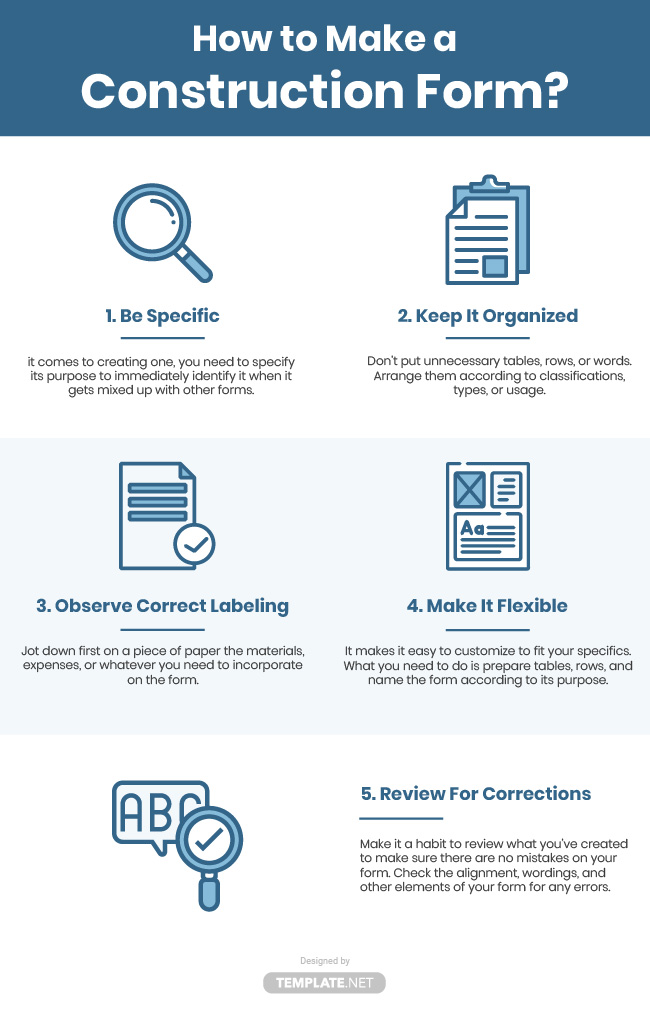 When you create a construction form, you have to make it flexible as much as possible. Doing this will make it easy for you to customize it according to your needs. Construction Form can make your work efficient and up-to-date. For example, when you want to reduce your indirect and direct costs, having easily available forms that you can record your expenses will increase your efficiency.
According to the Associated General Contractors (AGC) of America, construction is one of the biggest contributors to the US economy. This means you'll be expecting more construction projects to come in your way. And of course, you will need construction forms for work completion. We've managed to create a list of some reminders you need to consider when creating a concrete construction form.
1. Be Specific
There are numerous kinds of forms you will need while the construction project is on-going. It can be a construction estimate form, a daily proposal form, or a construction checklist form for your house project. When it comes to creating one, you need to specify its purpose to immediately identify it when it gets mixed up with other forms.
2. Keep It Organize
Don't put unnecessary tables, rows, or words. In the first place, you're creating construction forms to be organized. Arrange them according to classifications, types, or usage. Choose a structure or layout specifically for one type of construction form for easy recognition in case you need one in the future. Ensure to create a clear, simple, and well-presented form to have an organized project implementation.
3. Observe Correct Labeling
Labels are important in every form. If you commit mistakes on the labeling, it will be a confusing document when used by others. To avoid this mistake, you need to jot down first on a piece of paper the materials, expenses, or whatever you need to incorporate on the form. It's easy to insert the names of stuff when you have a reference.
4. Make It Flexible
A flexible construction form will come in handy in times when you don't have enough time. It makes it easy to customize to fit your specifics. What you need to do is prepare tables, rows, and name the form according to its purpose. By doing this, it will be easy for you to insert information next time you need one.
5. Review For Corrections
Ready to print? Not so fast. Make it a habit to review what you've created to make sure there are no mistakes on your form. Check the alignment, wordings, and other elements of your form for any errors. Is it complete? Are the labels correct? Does it look organize? These are just a few questions you need to ask before you print out your form.
General FAQs
What is Construction Form?

A construction form is a tool used to document various transactions in a construction project. It helps in keeping project data documented for future references. It can be a bidding form, change order form, work completion form, damage waiver form, and a lot more.

What is the Purpose of Using Form in Construction Projects?

It helps in documenting data.
It helps in communicating details.
It helps in easy and classified data entry.
It can be used for future references.
Using forms saves a lot of time as it gives an outline to follow while writing details.

What Construction Works Forms are Required?

For making the following documents forms are required:

Purchase order.
Work order.
Material order.
MEP release.
Bid form.
Application form.
Construction health and safety form.
Submittal form.
Tender action plan form.
Flooring inspection form.
Material submittal form.

What to Add in a Construction Form?

Client and contractor's name, contact details, and address.
Project description.
Purpose.
Schedule.
Items specified.
Payment is due.
Tabulate or structure all the content.

What are the Benefits of Using Forms?

As it already has an outline so you need to write less.
The outlined structure reminds you to add the information that you might forget to add while in a hurry.
It gives uniformity to the details added and convenience in communication.
Read More
Earn 20% commission on every sale from your Share
Bloggers: Publish/Mention Template.net products on your website, blog, Social Media or Via Email & Earn affiliate commission of 20% for every sale