The construction and real estate industry is a fast-paced enterprise filled with opportunities and risks. Thus, a proper work plan and management can save those in the field from many challenges and risks. Be prepared to create relevant documents with our Construction Real Estate and Admin Templates. You can now work efficiently, practically, and securely. Business professionals created these products with the quality so that you can be sure that you have the best templates available in the market. Download any of our printable and editable templates available in file formats of MS Word, Pages, Google Docs, PSD, InDesign, and Illustrator. Subscribe now!
What is Construction Real Estate and Admin Document?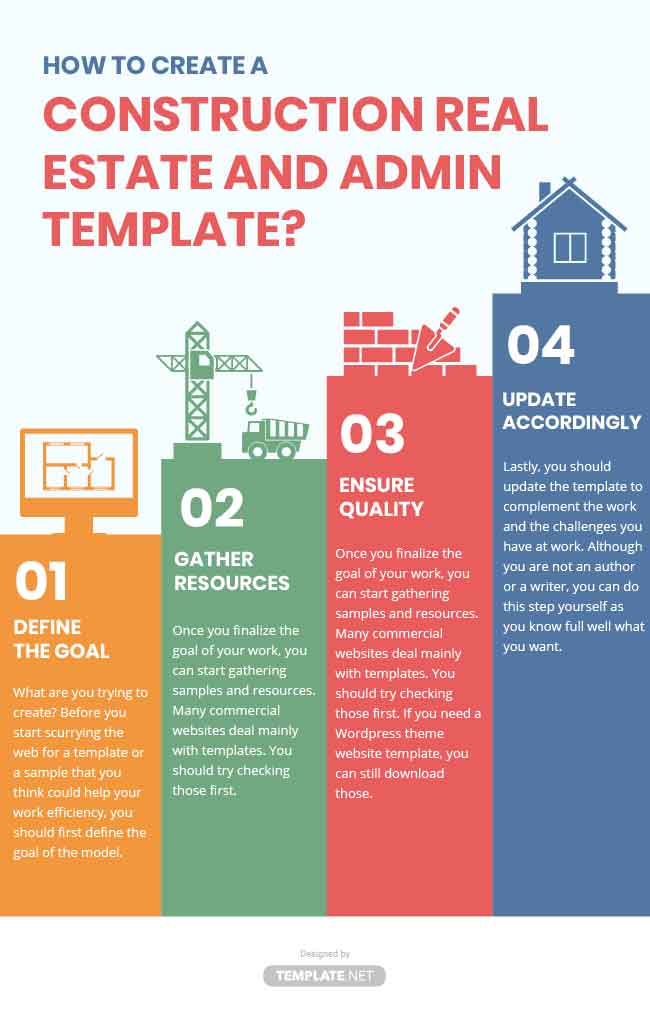 Construction Real State and Admin documents are tools that individuals from the construction and real estate industry can use. These management documents are perfect for administrative work that involves construction, renovation, development, and projects that revolve around residential, commercial, and industrial properties. Through the use of these samples, the engineer, architect, or worker, will be efficient and effective in their work.
How to Create a Construction Real Estate and Admin Document?
According to a study, there is at least $122 million lost for every $1 billion investment in the current construction industry. Some of the factors that contribute to this damage are inefficient management, wrong supply, and more. However, since we are aware of the problem, let's focus on a solution. One of the best answers to these problems is through better management tools and documents, which can boost productivity and efficiency in the workplace. So if you desire to create a management or project template, document, we provided steps below for your convenience.
1. Define the Goal
What are you trying to create? Before you start scurrying the web for a template or a sample that you think could help your work efficiency, you should first define the goal of the document. What is the purpose, and why do you need one? You should answers these questions accordingly before you look for other property management checklist.
2. Gather Resources
Once you finalize the goal of your work, you can start gathering samples and resources. Many real estate businesses find that websites assist with streamlining their company better. You should try checking those first. If you need a website template, there are many available at our site. in the market.
3. Ensure Quality
Yes, you can quickly download a template from the gallery above and customize according to your requirements maintaining the quality. or take reference and start filling your document as planned according to the goals that you need to achieve.
4. Update Accordingly
Lastly, you should update your document to complement the work and the challenges you have at work. Although you are not an author or a writer, you can do this step yourself as you know well what you want. Try to add words and sentences that go with the nature of your job. After finalizing your tool or worksheet, you are ready for work!
General FAQs
What is a real estate admin dashboard?

A real estate admin dashboard is a tool for real estate agents, managers, and administrative assistants. Through the use of this program, people can check how their real estate business is faring and how far or near they are from their weekly or monthly goals and plans.

What are the three types of property?

The three types of property ownership are:
1. Collective Property
2. Public Property
3. Private Property

What are the types of real estate?

There are four types of real estate; they are:
1. Land
2. Industrial
3. Commercial
4. Residential

What are some of the duties and responsibilities of a real estate agent?

Some of the roles and responsibilities of a real estate agent include:
1. Delivering excellent customer service and experience
2. Provides clerical and administrative assistance to the customer
3. Creates more avenues for business
4. Assess and assists customers to lease, purchase, and sell properties

What is the concept of property development?

The concept of property development is to add value to the property through acquiring, renovating, and converting them to a desired establishment or building. Through their methods, the world changes, and they build better lives for people.
Read More
Earn 20% commission on every sale from your Share
Bloggers: Publish/Mention Template.net products on your website, blog, Social Media or Via Email & Earn affiliate commission of 20% for every sale