If you wish to include sandwiches as part of your restaurant, shop, bar, or cafe menu, then we highly recommend you to download from our selection of Sandwich Menu Templates! We guarantee you that whatever kind of menu design template you need, be it a table tent menu, a modern-themed menu, a simple menu, or even a blank one, our highly functional and creative sandwich menu templates is the answer to your needs. For added convenience, these templates can be downloaded and customized using various software programs, namely MS Word (.docx), Publisher (.pub), Photoshop (.psd), Illustrator (.ai), and Apple Pages (.pages). Waste no more time and get any of our sandwich menu templates when you avail any of our subscription plans today!
What Is a Sandwich Menu?
Like any other food menu, a sandwich menu is more than a list of food items with its corresponding prices that your cafe or restaurant serves because it can also serve as your food establishment's sales tool as well as its branding tool. Even if you are serving something as simple as sandwiches, it is still important that you secure a well-formatted and well-planned menu for that since it brings in more sales, boosts your profits, and ensures your food establishment brings in customers and deliver them the satisfaction they deserve.
How to Create a Sandwich Menu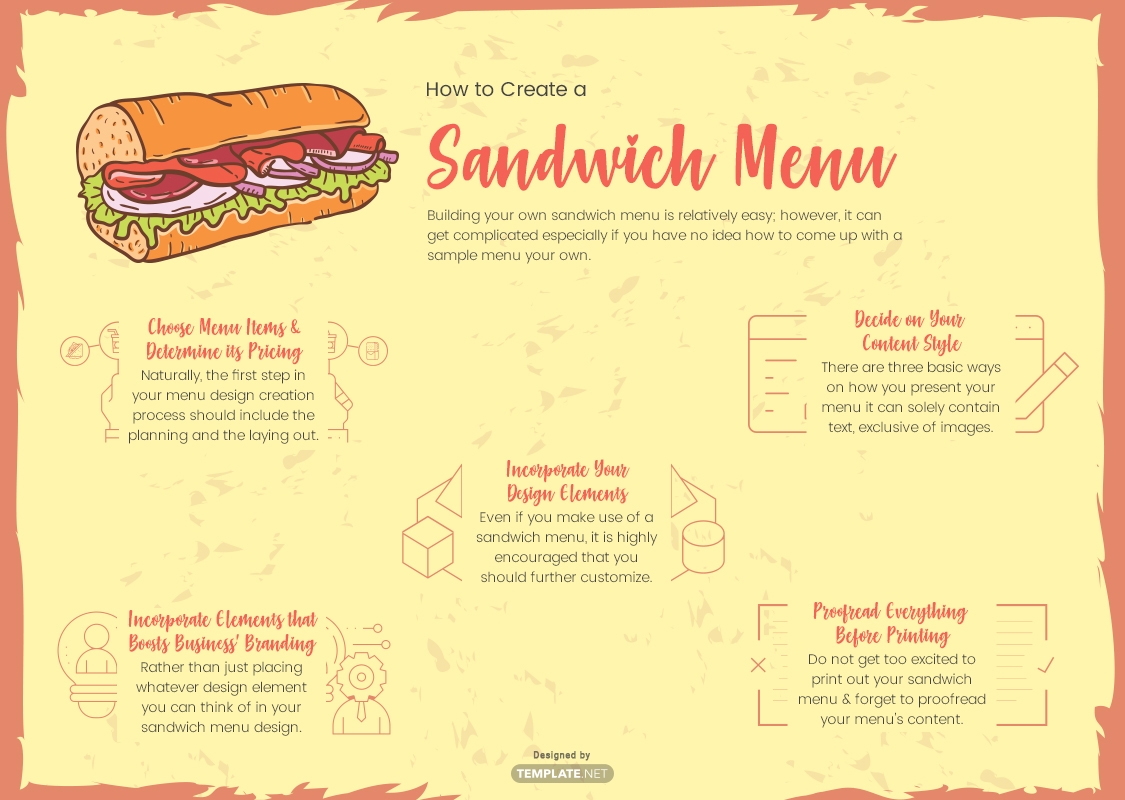 Building your own sandwich menu is relatively easy; however, it can get complicated especially if you have no idea how to come up with a sample menu your own. To help you out with that, you can now create the best sandwich menu possible as we have provided you with these easy-to-follow guidelines.
1. Choose Menu Items and Determine its Pricing
Naturally, the first step in your menu design creation process should include the planning and the laying out of all your potential menu items and its corresponding prices. What's a menu without its items and prices, anyway? This also the step when you should determine whether you have specialty sandwich items or you have separate sandwich items for breakfast, lunch and dinner menus. You can also determine what types of sandwiches.
2. Decide on Your Content Style
There are three basic ways on how you present your menu—it can solely contain text, exclusive of images alone, or an excellent combination of the two. Next to that is that you should decide whether you want to include individual descriptions for each menu item. Whatever your choice might be, ensure that it can accommodate the number of items in your menu.
3. Incorporate Your Preferred Design Elements
Even if you make use of a sandwich menu template, it is highly encouraged that you should further customize it to suit your needs by incorporating design elements such as relevant images and graphics that help you meet your food business plan goals. One of the things that you can modify in your chosen template is to make sure that your menu's color scheme and font choice should be a representation of your restaurant menu or cafe menus overall theme.
4. Incorporate Elements that Boosts Your Business' Branding
Rather than just placing whatever design element you can think of in your sandwich menu design, it is best if you also incorporate branding elements especially that your printable menu is considered as a form of print advertisement. That is why you have to make sure that whatever design elements you incorporate in it, you need to be careful as it can automatically serve as your business' branding.
5. Proofread Everything Before Printing
Do not get too excited to print out your sandwich menu and forget to proofread your menu's content. Proofreading is an essential step prior to printing since this is to ensure that every single element you have included in your menu is of quality. This also displays your professionalism since a well-polished work only means that you took the time to work on it until it meets the standards of menu engineering.
Read More
Earn 20% commission on every sale from your Share
Bloggers: Publish/Mention Template.net products on your website, blog, Social Media or Via Email & Earn affiliate commission of 20% for every sale