Bibliography Templates
10+ Annotated Bibliography
An annotation bibliography annotates the citation to various written works. This list includes documents, articles, blogs, forums, and even books. (The invisible technology puts the books in the last place). Annotations are very useful in giving the reader much clarity and clearance. They are very informative.
Our Annotation bibliography templates help the reader well-informed about the topic. Many misinterpret an annotation to an abstract. An abstract is a descriptive summary often found at the beginning of scholarly articles.
Word Annotated Bibliography Templates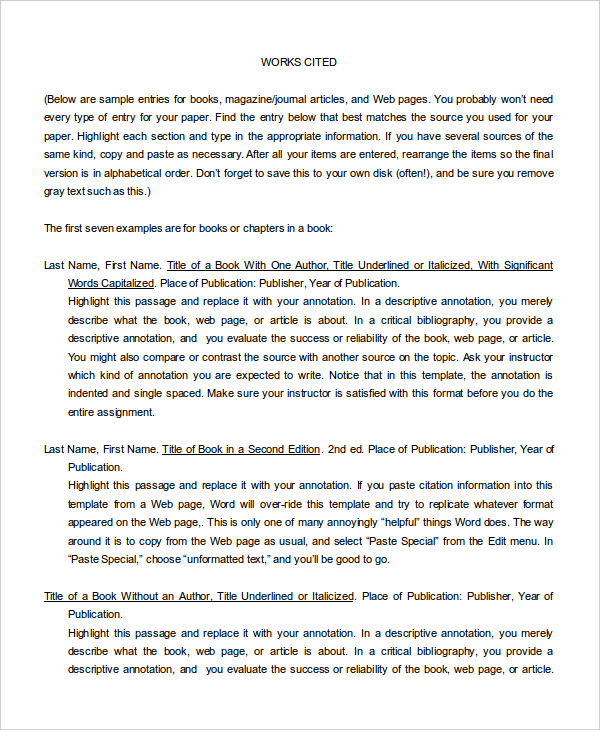 ns_button size="md" target ="_blank" type="source" value="library.spokanefalls.edu" href=""]
Most of the Annotated Bibliography Templates are available in Word. Because it is all about typing text. Our Word Annotated Bibliography Templates are the best Bibliography Templates in Word Format. They support all applications that support word and can be easily downloadable. So that you can have them in your drive and open at any given point of time.
Simple Annotated Bibliography Templates
ns_button size="md" target ="_blank" type="source" value="overleaf.com" href=""]
Simpleness lies in design and how it works, but otherwise, all our simple annotated bibliography templates can face any rigorous testing without failure. You will never face any issues with our simple annotated bibliography templates as it is almost a future impossible tense. Download them now before others snatch them. You can download them in multiple formats.
Teaching Annotated Bibliography Templates
ns_button size="md" target ="_blank" type="source" value="tep.uoregon.edu" href=""]
Teaching annotated bibliographies for middle school and high schools are good assignments to start with. Due to this, many missionaries put this to follow as a standard practice. However, you cannot expect a cent percent quality bibliographies from students. This is where our Teaching annotated bibliography templates come to use. Download them now as if there will be no tomorrow.
Annotated Bibliography Generator Templates
ns_button size="md" target ="_blank" type="source" value="bethel.edu" href=""]
Annotated Bibliography Generators or Citation Machines help students and other researchers cite their information sources from MLA, APA, Chicago, Turabian, and thousands more. Our Annotated Bibliography Generator Templates are so accurate in searching and retrieving the sources in a tick of a second. Try a Download. They are fast and foolproof.
MLA (Modern Language Association) Annotated Bibliography Templates
ns_button size="md" target ="_blank" type="source" value="library.csun.edu" href=""]
The dissimilarities between normal annotated bibliographies and MLA annotated bibliographies are mainly related to the look and feel including the indentation, spacing, page numbering, margin etc; Say for example, in MLA annotated bibliographies, lines starts at the left margin and subsequent lines at 1/2. Our MLA annotated Bibliography Templates are easy for you to adopt the audacity in views and expressions.
APA (American Psychological Association) Annotated Bibliography
liberty.edu

APA Annotated Bibliographies are no so far away from normal bibliographies. However, once you are done with a bibliographic citation, the new one has to start afresh on a new line. Coming to its user base, these are often used by students from natural and social sciences backgrounds, such as criminology, economics, social work, sociology, nursing, and psychology work in APA format. If you possess good research skills and analytical abilities, our APA Annotated Bibliography templates won't let you down in your paperwork.
CBE (Council of Biology Editors) Annotated Bibliography/ CSE (Council of Science Editors)
sierracollege.edu

CBE and CSE models are being used by students from Zoology and Biology backgrounds such as microbiology, biotechnology etc; These bibliographies vary in the Font with the rest. Otherwise, while following the name-year system, it equals with MLA and APA. Our CBE/CSE Annotated bibliography templates are the untitled masterpieces.
> How to create an Annotated Bibliography Template?
From the above sections, we can easily cogitate that before putting a start for any annotated bibliography, doing spade work is a task so long running. Hence, your annotated bibliography template should be smart enough to reduce your labor at least by half. For that try to refer to many bibliographies of your kind as possible. It gives a flying start to your prototype.
Prepare an Annotated Bibliography Template
bbk.ac.uk

Graduate Student Annotated Bibliography Template
ns_button size="md" target ="_blank" type="source" value="sfsu.edu" href=""]
Blank Free Annotated Bibliography Papers Template
ns_button size="md" target ="_blank" type="source" value="elearning-gilman.remote-learner.net" href=""]
> What does it mean to annotate a bibliography?
We all know that thesis submission is a result of a person's hard loving effort. This sometimes would take years altogether. And annotated bibliography takes lion's share in the thesis. The very purpose of the annotated bibliography is that you performed some valuable research and it's worth recognizing.
By the end of an annotated Bibliography, the person would get the authenticity on that particular topic if the research is proved to be genuine.
> What is the purpose of an annotated bibliography?
The thesis is a document that consists of the student's research findings which are submitted in support of his/her academic degree. It is very important for a writer to make sure that the content presented is entirely his/her own. References are absolutely okay. However, plagiarized content will severely affect your work. That's why at least try to paraphrase your references in your words.
Make sure that your flow is free and fast. If your flow is not as per your idea, that means your research is not are getting stuck every now and then, it brings in the personal check that your research needs to be continual and means that you are not having ample
It means a lot to annotate a bibliography. It means to provide the reader with a summary and evaluation of the source.
> How long will it take to create an annotated bibliography?
You can write a bibliography in one hour if you spend one year in research. Yes, the length depends on upon the research you conducted. Our Annotated Bibliography templates help you avoid footing on two boats. So that you can concentrate on the sheer bibliography. Make your bibliography a memorable experience with our templates.
>

Last Word
An annotated bibliography is the collection of annotations, citations, and its sources. An annotated bibliography rendered life to many citations and annotations. Hence, they should be brought in with a great attention. In the process, chances are more for your formatting issues to divert your focus. However, creating annotated bibliography has now become a lot easy with digitalization than earlier when print media is the only source that exists. But now you can have multiple options. You can download free templates those are ready to start with. However, you need to be decisive in choosing a right template.