Church surveys have to be very respectful and modest and the same times need to be designed in such a manner that they do not look too orthodox for the tastes of the educated and the modern world. This is a seemingly tough task because many of the church survey questions make it sound a little too conventional and set in a particular pattern. You may also see Survey Questions Template.
During such times it is necessary that the language of the survey irons out these areas and makes the questionnaire look rather easy and casual.This website is filled with many such Survey Templates that can make the surveys of the related subject a cakewalk.
Sample Church Survey Template
Sample Church Member Satisfaction Survey Template
Survey Report Template in MS Word
> 

How to Use Church Survey Templates?

Churches, like any other non-profit organizations for e.g. Schools, Hospitals etc. are subjected to occasional surveys to see if the standard is being upheld. It first needs to be understood that churches are a public benefit building for the betterment of the locality. Usually the surveys are conducted to see whether the funds donated to the church are being properly utilized. You can aslo see Sample Restaurant Survey Templates.

Funds are donated by both the government and private individuals for fixing up the church and make sure everything needed is properly provided for. Many churches nowadays not only provide religious services but also arrange several things for the underprivileged like Clothes Drive, Food Drive, Banquets during Christmas time etc. Surveys are conducted to check whether the church is responsibly performing all these duties.
Church Visitor Survey Report Sample Letter
Church Facilities Survey Template Free Download

freechurchforms.com
> 

A few Hints on Developing the Right Questions
Know your Target Audience
If the survey is targeted at members of the church then use familiar terms and analogies instead of beating around the bush. When tackling with outside opinions make sure you are polite and cordial and respect other people's views instead of stressing upon a point.
Everybody is busy with their own lives and do not have time for a long intensive questionnaire. Surveys which creep over from related information to useless information tend to provide lesser information, as people lose focus from the topic.
Suppose you are conducting a survey on "Church Performance" make the answers enjoyable and relatable to the normal church going mass. Instead of using drab dull answers. A matrix representing different moods is a good option.
Be wary of Open-ended Questions
Open-ended questions though offering a larger amount of information they do take a larger amount of time to answer. And it is quite rude to interrupt a person while they are in between a train of thought.
Do not make the Questions Biased
Since the topic of religion is quite sensitive make sure the questions do not provide any biasness in context or sub-text.
Provide a Scale of Reference
When asking questions about the quality of a certain object it is wise to provide a scale from least to most satisfactory (or vice-versa) that's understood by all.
Irresistible Church Survey Example Template

cnh-lcms.org

Natural Church Development Survey Template

ncdchurchsurvey.org

Church Survey Questionnaire Template Example Format

freechurchforms.com

Sample Template to Download Church Member Survey
freechurchforms.com
Spiritual Gifts Inventory Church Survey Example Template
freechurchforms.com
>

How to Help of Church Survey Templates?

There is a lot of information available from the internet to help you make an informed decision regarding the type and variety of questions. There are even sample surveys available where one needs to enter a few basic information and they're ready.
An Example Template for Congregational Church Survey Template
uua.org
Church Worship Survey Sample Template
worshipfirst.org
Sample Church Survey Template Free Download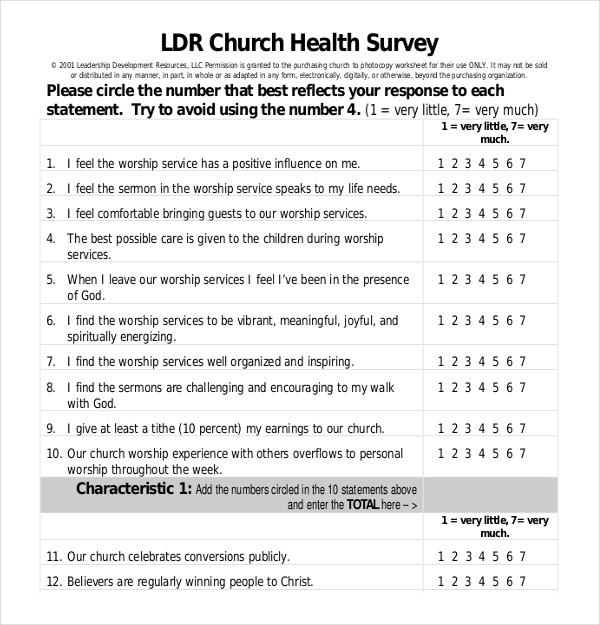 christfellowship.us
Church Membership Satisfaction Survey Template Sample
churchsurveyor.com
Church Visitors Survey Report Template Sample Format

lincoln.anglican.org
If you have any DMCA issues on this post, please contact us!