Long gone are the days of printed portfolios, CVs, and resumes. In our modern times, people prefer to create digital business cards and online personal pages to showcase their skills and qualifications. With this new platform, it is easier for job seekers and entrepreneurs to reach out to potential employers or their target market. At the same time, it is also more convenient for recruiters and business owners to find the perfect person for the job they need to be done as they can easily make a search on the Internet and they are given a list of highly eligible individuals.
In this article, we present to you a list of ingenious and efficient modern vCard and personal website themes that can be used for your online resumes, CVs, and portfolios. As a job applicant or a startup business owner, it is imperative to create an eye-catching and informative online resume that will give you an edge among your many competitors. Along with an easy-to-navigate layout and stunning visual aesthetic, you will be able to get that dream job that you deserve or generate the clientele that will skyrocket your business to new dimensions with these themes.
Resume and Portfolio WordPress Theme
Let's start the list with this resume and portfolio template for WordPress. Hello is characterized by a stylish, modern design that will surely catch the attention of any employer and ordinary viewers. Made with the Bootstrap framework, its one-page layout enables you to organize and showcase your skills, experience, and portfolio in an easy-to-navigate user interface. Along with its other unique features, this theme is perfectly suitable for every creative individual; whether you're a web developer, graphic designer, illustrator or photographer.
Personal Portfolio and Resume Theme
Next is Invers, a personal portfolio and resume theme that comes with a minimalist yet elegant design that creates a professional-looking personal page. This HTML5 theme is used to build an online resume to highlight your educational background, work experiences, and achievements in a stunning way. It features a responsive layout, parallax scrolling effect, beautiful animations, and other great design elements that are very flexible and easily customizable. Great for both creative and corporate people.
Creative Resume and CV PSD Template
A highly creative and very unique template that is made especially for websites used as personal pages and portfolios to showcase different works. Supersonic is a resume PSD template that comes with various, logically layered, and easy-to-customize PSD layouts for desktops, tablets, and other mobile devices. Designed on a grid system, the theme offers a pixel perfect and fully responsive design that will surely render your portfolio content and other works strikingly. It includes 54 PSD files that you can choose from for different pages.
Folius WordPress Portfolio
Folius is a clean and minimal WordPress theme for personal pages and portfolio websites. It comes with a stunning monochromatic color scheme of black, white and gray which gives your website a sophisticated and professional feel. The theme also features a sidebar menu for easy navigation, a predefined one-click installable demo content, and a wide range of customization options via WordPress Customizer. A premium, multipurpose and fully-responsive WordPress theme, the theme suits well with creative agencies, design studios, and even corporate websites.
Resume and CV HTML theme
The above resume and CV HTML template is a clean and straightforward theme that boasts of its robust functionalities despite its simplicity. Its wide sidebar menu provides an easy-to-navigate user interface with amazing CSS3 effects and animations that will certainly give your viewers a stimulating viewer experience. This template is made for anyone who needs an attractive, engaging and effective way to promote your skills and services and display their work either to prospective clients or employers in the best way possible.
vCard WordPress Theme
On the other hand, we have Raptish; another simple and minimal WordPress template yet allows you to present yourself and showcase your skills and abilities in a rather bold manner. The theme comes with a dedicated beautiful and responsive design with lots of cool features. Amongst these are the additional 9 Visual Composer elements, 3 additional widgets, Googe web fonts, Font Awesome icons, and much more. With Live Customization options, this template can be easily modified to suit your needs and preferences.
Bio is an awesome Weebly theme that is minimal yet packs a punch of amazing attributes. It includes every a state-of-the-art web design techniques in a dark, moody, and sleek aesthetic that are perfect for personal portfolios, biography, or resume websites of various purposes. It is attributed with an animated header and a zoom carousel which gives your site a stunning visual appeal. It is mobile and tablet responsive, with a multipage and one-page menu options and customizable section layouts to ensure high flexibility and versatility.
This fun-looking and an interesting theme is the perfect template for certain creatives like art directors, graphic designers, artists, illustrators, cartoonist, and others. Icemonster is a unique CV and resume template like no other. With a responsive template support mobile version, it guarantees a wider reach of audience and potential clients or employers. It has a very clean design with a one-page parallax layout, a sticky menu that lets your users navigate your site easily, as well as unlimited color options, snowball effect, and a changeable background.
An ultra-customizable WordPress resume theme, Emerald is a stylish template that provides its users unlimited styling and customization options by its powerful live preview customizer. This theme enables you to build a fantastic and highly functional website really fast and surprisingly easy. Among its collection of exciting and outstanding features is the 5 awesome layers of background that you can blend together to create a unique aesthetic for each section of your website. Other features include 5 post formats that you can choose from.
John Smith Website Template
Another unique and one-of-a-kind theme for resumes, CVs, and portfolios is John Smith. With a modern and contemporary design, this ready-made personal page website theme emphasizes beautiful imagery as well as written content with a visually attractive aesthetic. Obviously made for different types of creatives, it can also be used to promote any corporate business' brand identity. It features a grid-based portfolio layout to help you showcase your works and present your portfolio to suspecting clients and employers.
Personal Page Responsive Website Template
Another personal website theme is the responsive HTML5 template presented above. With a fullscreen header and an image slider background, this template will give your personal website the visual appeal it needs. It features a one-page layout and parallax scroll design so that your readers can view your website conveniently. Using bold fonts and a vibrant color scheme with a simple layout, the theme can be used for personal pages of individuals that offer creative services such as make-up artists, personal trainers, dance instructors, and even music teachers.
Writers Personal Page Website Template
Another one-page website theme with an extraordinary aesthetic that suits well with various types of personal websites. This Moto CMS template is a creative tool that will help artists and writers alike can use. With 8 slider and gallery options, 20 widgets and modules, and an easy content and layout editing capabilities; this theme is user-friendly and high in flexibility. Fully responsive and cross-browser compatible, the template is also SEO friendly to ensure your website goes into the top places of most major search engines.
Painter Personal Page Muse Template
Just like the theme before it, this template comes with an elegant and classy design over a watercolor-washed background. This personal page Muse theme is perfect for most visual artists such as painters, illustrators, and such. With its artistic aesthetic reminiscent of an art gallery, it is a great way to showcase your one's artworks along with you contact information and other essential data to gain commissions and recommendations.
Actor Personal Page Muse Template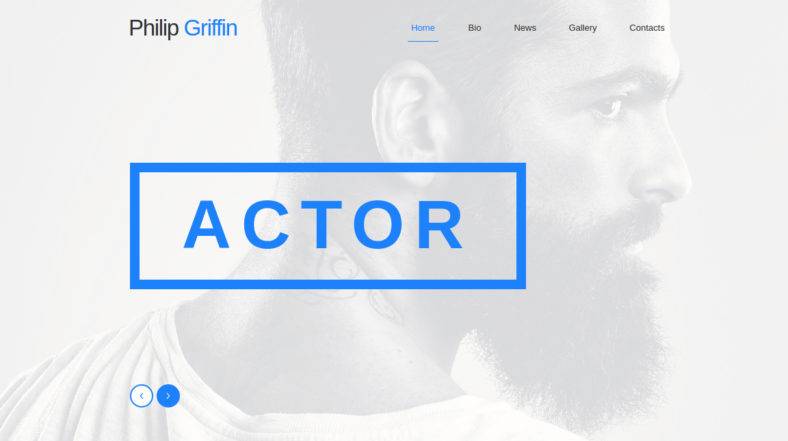 Another Muse theme for personal websites and pages, the above theme omes with a clean and minimalist design to give more focus on its content rather than its aesthetics. Great to use by individuals who wants to promote their performance skills to gain projects and gigs. These individuals include actors, performers, dancers, or singers among others. With a bright color scheme and simple fonts over a clean white background, this theme will highlight your skills best and provides your viewers an in-depth evaluation that goes beyond the surface.
Pianist Responsive Website Template
Here is a website template built especially for musicians and music artists. The theme presented above comes with a dark and sophisticated design to suit well with people who offers performances or services of high fashion. Along with its seamless layout and beautiful design, it also comes with some cool features that includes a Back To Top button, dropdown menu, a grid system, extra pages layouts, a carousel and slider galleries, and much more. It also has a contact and search form as well as a newsletter subscription.
Composer Portfolio Website Template
This portfolio website template is an amazing HTML 5 theme that offers a classy and professional design for composers and music enthusiasts. Its sophisticated aesthetic also suits well with corporate entities, graphic design studios, and other ceative businesses. Even without web development experience, anyone can use this easy-to-use template with its many customization capabilities. With a fullscreen header, SEO friendly codes, a responsive layout, and social media integration, this theme will surely bring your career into new heights.
Responsive HTML5 vCard Theme
With a unique design inspired by the traditional business card, yet incorporated with a fun and quirky elements, impressivCard is the perfect vCard template for innovative individuals who create unique products and services that aim to change the world. This responsive HTML5 theme comes with 3D jmpress layout on infinite canvas with CSS3 animations, 70+ predefined skins, solid ajax portfolio details and optimized performance for mobile devices with touch gesture support. All these make this theme easily customizable and recommendable.
Responsive Personal vCard Template
Cascade, on the other hand, is a personal vCard template that features colorful vertical menu tabs to present various types of information directly on the homepage. Each of these tabs represents a page on your website; the first tab is a typical descriptive about page with slider, the second is a gallery with build-in lightbox, next one is a personal info page and the last tab is the contact page with a working form. The theme allows you to create unlimited pages based on your needs with a simple layout that gives your viewers a great navigation experience.
Precision – Premium vCard WordPress Theme
A premium vCard WordPress theme, Precision comes with a one-of-a-kind "brochure style" design that will surely pique the interest of your viewers and potential customers or employers. Its left side page remains fixed so your image slideshow is always visible, while the home page is built inside a content slider which can slide, fade, or prevail as a static page. This sleek and minimalist single page WordPress template also features a smooth scrolling design with amazing animation effects that enhances your website's look and feel.
One Page Personal VCard HTML5 Template
Selfless is a one-page HTML5 template made for personal websites adnd potfolios that can also be used as vCards or online resumes. Using advanced jQuery features, the layout is designed for all user types providing a rich and smooth browsing experience. Its main features include an HTML5 valid code, CSS3 techniques, fully responsive layout, one page scroll effect, and a fully functional AJAX contact form among others. Capable of donning a fullscreen image background, this theme will let you create a visually stunning personal page.
Vcard Resume and CV Template
Recoba looks like it has a classic web design layout, but look closely and you will see a subtle but unique change to the web layout that we are used to. This vCard, resume, CV and portfolio template comes in a simple yet stylish design that is perfect especially for creative people who prefers a clean and minimalist approach to his or her personal page. It features a responsive layout that works flawlessly on all devices, a sliding sidebar for effortless navigation, 12 color alternatives to suit your taste, and a bunch of custom pages to cater all your resume needs.
Monster vCard Template
Last but definitely not the least, is this fun and creative vCard template that features quirky imagery and an unconventional layout. Built especially for the eccentric artists, Monster does not shy away from featuring a bunch of robust attributes. It is fully responsive and has a cross-browser support to make sure it looks good on all devices of different screen sizes. It allows you to create a comprehensive and cohesive portfolio with a slew of filters that you can choose and add to your images. You can as well create pricing tables for your works with this theme.
We are rest assured that the themes and templates presented in this article are meticulously chosen to give you the best vCard, resume, portfolio, and CV websites.  Highly customizable, flexible, and versatile, each of these themes includes robust functionalities and lots of theme options so you can create a personal website that matches your personality and caters to all your needs. Therefore, make sure to grab one of them now and start seeing improvements in your online visibility. For more ideas and inspirations, try our awesome portfolio website themes for artists and photographers.