Nowadays, having a website of your own is a matter of status more than anything else. There was a time when websites were only reserved for large companies and business owners. These websites were official and were used to sell and advertise a particular product or service. But not anymore; websites are now being used for personal reasons too. Think about it, it is really the best way to get your opinion across to the masses. How else would you be able to influence public opinion? If people want to know more about something, they're likely to look up renowned websites. You can also see Personal Trainer WordPress Templates.
Makeup Artist personal Page Website Template $75
Personal Page Responsive Website Template comes with complete responsive design, Parallax effect. It provides additional pages layouts, bootstrap.
Provides live search, contact forms
Compatible with various browsers
Provides dropdown menu, web fonts, animation facility
Includes stock photos, scripts for gallery
Coding in various languages
Simple Personal WordPress Website Theme $39
Notes Personal WordPress Theme is comprehensively responsive designed, unlimited colors. It provides quick installation as well as set up. Some of the important features are –
Provides plenty of fonts for Titles, Body
Color pickers for theme font colors, background colors for elements
Provides new options for themes, nineteen background themes
Allows using blog content, switching themes
Personal Page Singer Website Template $67
Create a professional impact on your readers with the added awesomeness of the Personal Page theme for WordPress. No matter what type of blog you've got you'll surely enjoy its special features.
Integration with Google Maps and Google Fonts
Provides sample content for all kinds of blogs
Two column layout
Bootstrap version 3.0
You'll definitely love the simplicity and user friendliness of the theme that lets you present yourself in the best possible way.
Minimal Personal Portfolio Template $14
Photographer Personal Website Template $69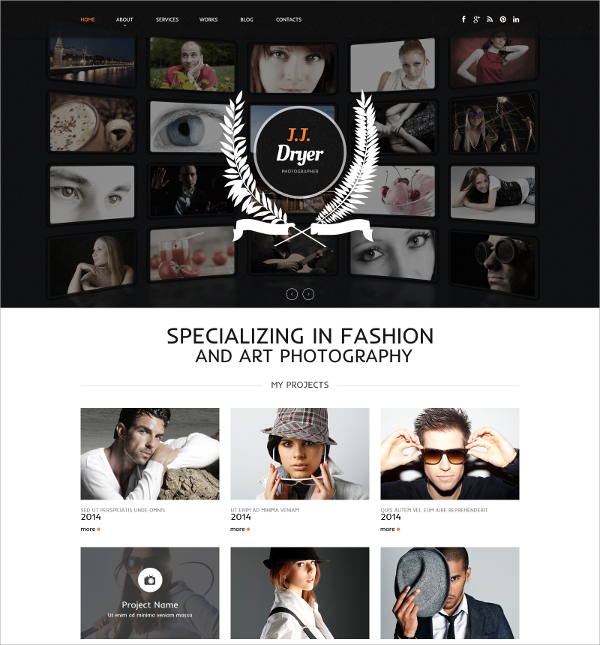 A theme that distinguishes the amateur photographers from the professional ones! Simply download the theme and upload your works with its unique set of features.
A separate dropdown Menu
Works on HTML plus JS animation
2 column layout for blogs
Contact us and search form included
With photographer portfolio theme you get everything that lets you showcase your photography works on WordPress in the most stylish way.
One Page HTML Template $14
Food Personal Responsive Blog Website Theme $35
Liberty Responsive Blog Theme supports standard, audio, and video formats. It provides tremendous reading effect on blog readers and its main features are –
Complete responsive design, five varieties of layouts for blogs
Supports contact form, 500+ fonts, translation
Enables hiding or showing elements
Provides enormous colors, left and right sidebars, content for demo
Compatible with various browsers
Responsive WordPress Website Theme For Personal Blog $49
Finding the right blogging theme might take a little bit time, but when the search is over the outcomes are surely worth it. With the professional MyBlog WordPress theme you'll be amazed with features like:
A colorful sidebar with powerful admin panel
Custom background with more than 500 Google Fonts
The theme is translation and SEO ready
Up to 300 FontAwesome icons and 40+ Shortcodes
Social Media integration
Just download the theme and you're ready to customize it according to your theme needs. Post blogs and get a much better viewer response.
Multipurpose Corporate Personal WordPress Website Theme $19
Joy theme for WordPress is created while keeping only one thing in mind, it's beauty and elegance. While visiting a website everyone would love to see something distinctive and glossy in every page and Joy assures you get every bit of that.
Inbuilt front end website page builder
Customize fonts your way
Tons of options for customizing the feel and look
Support for WooCommerce themes
A page dedicated for site support
Joy has to be theme if you're looking to publish all your content in a simple and quick manner and create the desired attention.
Beautiful WordPress Website Theme For Personal Blogging $39
Bluebird is a great solution for those who are completely in love with blogging. The sweet and elegant theme is designed for providing a sophisticated and beautiful look to your content.
Get tabbed lists of comments and posts
Retina ready responsiveness
Sidebar for bluebird
Works in different format files like css, javascript, html, images, etc
You get optional box for author information
The translation ready theme makes it easier to present content in the most beautiful way irrespective of the niche.
Personal Portfolio WordPress Website Theme $39
Display your most recent beautiful content collection with the responsive design from Sueva. Sueva provides you with the ability to customize heart's content with its awesome features like:
A full options panel for changing sidebars, slides and fonts
A separate masonry layout A section for portfolio
Shortcodes for dynamic page content
Seven custom widgets and Google fonts integration
With the combination of high end features, professional content and a beautiful design, your blogs would surely be a hit among readers.
Multipurpose Personal WordPress Website Theme $44
Kornio theme is a great option for users who would like a classy theme for content presentation. The simple and beautiful design of Kornio ensures that readers explore more by scrolling through your website. Some features are:
A highly responsive layout that is tested on various browsers and devices
You get full width and boxed layout as well
Different options for changing boxed, color layout and background images.
Video support with Youtube and Vimeo extension
Audio support through soundcloud extension
Magazine Blog Personal WordPress Website Theme $49
Being among the most responsive themes for WordPress, clean is simple to use and can be customized the way you want. Create a professional looking theme with these features:
Image, standard, video, links, audio and gallery format included in the theme
Basic and advanced options for SEO optimization
Standard blog page layout with two Column Filter
Custom and Unlimited sidebars
Customizable options for themes
Post your content in an ordered and beautiful way with clean theme and its cool set of features.
Personal Blog WordPress Website Theme $39
Personality is a minimalistic theme that works well with all types of blog content. Whether you're posting diaries, personal blogs or other kinds of blogging websites, you'll love the theme with innovative features like:
Simple customization features with well documentation
Stylish and beautiful logos for theme customization
Works on HTML5 and CSS3
Social icons and contact form for WordPress
Creative Personal Website Template $69
Life Coach is a WordPress theme that provides you the overall look and feel of a highly professional website. Create awesome blog posts and share it in the most unique way through the expert life coach theme for WordPress
The theme works with almost all kinds of devices and OS versions
Includes newsletter subscription, search and contact form
Dropdown Menu with Google fonts and maps integration
Personal Blog Website Theme $39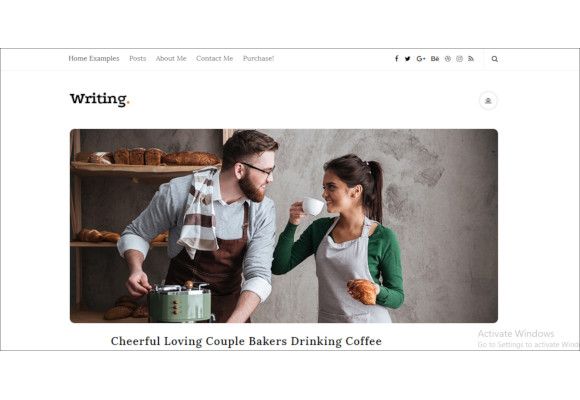 Minimal Personal WordPress Blog Theme $29
With Bluebird theme it's just all about the content! Present your content in a simple and clean manner without much flashiness. Some unique features are:
Change theme without coding with simple to change options
Online documentation
About me widget and contact form
Lookbook page to browse through different categories
Now get your custom blogs featured on the internet. Blogs with a few beautiful pictures, that's what Bluebird is all about.
Photography WordPress Website Personal Blog Theme $39
Being one of the simplest and most creative themes for WordPress, Hologram offers a wide list of features that bloggers love to have. Writers get amazed with benefits like:
Full post Grid layout with 5 layouts for blogs
Newsletter and contact form included
Customize themes with Holo Options Panel without coding
Get unlimited colors with color picker
Additional features included a revolution slider WordPress plugin that can completely change the appearance of presentation of all your blogs.
Personal Page Responsive Website Template $69
With the personal page you get a creative and personal design for portfolios. You get a line of high end designs and creative features that keeps you ahead of the game.
Get free high definition stock pictures for all your theme pages
Works with Sliced PSD, Google maps, tabs and fonts
A huge dropdown menu for navigation
Creative animations with HTML plus JS
Personal page website completely distinguishes itself from others with creative range of features and a highly attractive design layout.
Personal Music WordPress Website Theme $39
Bernate is a highly advanced theme for WordPress that makes a perfect impression on website readers and comes with unique set of blogging features. Build a professional website with features like:
Advanced portfolio with features like audio player, video player and project options.
Translation ready features
Compatible with child theme
Support for more than 600 Google web fonts
The theme can be said as a simple one and comes with documentation support. Post all your blogs in a stylish and systematic manner with Bernate.
Fashion Personal WordPress Website Theme $39
Being a clean and elegant personal WordPress website theme, Nancy is a perfect thing to consider if you're into blogs like instructables, lifestyle, tips, health, food, etc.
Simply customize theme without coding skills
A widget for all your latest posts
Single layout for all your blogs
Works well with contact form 7
Widget for Instagram feed
Make these simple and elegant looking Nancy theme blogs recognized on social networks to get more views and following.
Beautiful Personal Portfolio WordPress Website Theme $49
Arcon online vcard is highly professional, responsive and a creative solution for building your portfolio and showcasing your skills. Additional features with a great support and perfect visual design are:
Built according to the needs of artists and webmasters
Includes a shortcode generator
Options panel for switching fonts for different elements
CSS3 and HTML5 for creation of highly advanced website design
Acron surely has unique and beautiful designs to inspire artists to showcase their best skills on the internet and in turn get a much better following.
Journalist Personal Website Theme
With Personal you get a minimalistic, content oriented theme that suites best for writers, bloggers and journalists. Get a totally different look for all your blogs and articles with astounding features like:
A classic style menu
Custom colors with color picker to select
Header customization options
Sticky posts and infinite scrolling
The WordPress developed theme makes sure that all your articles get featured in the way you want them to.
Sport Personal Website Template $75
While getting a sports oriented template you need to get the right design and features that make reader's experience simpler and much better. With these features you're ensured that you'll get a high end website for all your requirements.
TouchTouch and Isotope gallery scripting
A separate search and contact form
CSS3, HTML5 LESS, JQuery, Semantic Code and other valid coding
Works with Bootstrap framework
Draw more sports fan with true to life theme and its impressive line of features for all your sports articles and blogs.
 Musician Band Website Responsive Muse Template $49
Personal Portfolio WordPress Website Theme $49
Being a truly unique and responsive WordPress vcard theme, Flapp takes all your works to another level by combining it with beautiful designs and creative placement of images. The features truly stand out with this one:
Get a detailed and thorough documentation for WordPress
Get custom background feature per post or page
Work with SEO optimized codes and systematic headings
Get up to 600 Webfonts and 100+ shortcodes for your theme
Free Personal Portfolio WordPress Website Theme
The stunningly designed theme for WordPress is the perfect theme choice for all your artistic works that you're willing to present on the internet. With the blog's simplicity an elegancy you also get the benefits of multiple features like:
Custom codes, backgrounds, colors, menus, images, post formats, etc
Translation ready theme
A full width template
Multiple theme options
Transform your personal portfolio in a whole new way with this amazing theme for WordPress.
Personal Life Coach Website Template $69
The WordPress theme is highly efficient for teaching people on different ways for improving the quality of their life. The pagination is designed for becoming non-standard. Some useful features are:
Browse seamlessly on all kinds of devices
Vertical oriented website theme
Works fine with all browsers and devices
Google Web Fonts and Maps integration
Beginners in the field of website development can surely try the template for creating a professional impact on the audience.
Personal Profession Website Template $15
Singers Personal Portfolio Website Template $69
The music composer based website theme has an impressive music based layout design that catches the attention of music lovers and brings in more visitors. Build the musician's official website with industry standard features like:
Clean and SEO friendly website code for a powerful functioning website
Integration of social links like Twitter, Facebook, Pinterest and Google Plus.
Full width image sections
Sections for musician's discography, event calendar and bio
Keep your audience updated with all your recent works and let the world rejoice your tunes with Music composer portfolio theme.
Are you looking for an eye-catchy and unique design for your personal website? Go for a pre-designed and perfectly framed personal website theme and get a stunning website designed as per your own imagination. Various Personal Website themes available are packed with all the amazing features like custom color scheme, multiple font options, custom gallery, custom widgets, responsive design and many more such features that enhance the overall functionality of a personal website. You may also see Personal Joomla Templates.
Have you got a lot of opinions about a particular topic? Or maybe you want to educate the multitudes about something? Then the best and easiest way to do that is starting a website. You can even start a website if you want to flaunt your creativity and your artistic talents. In simple words, if you want to make your presence felt and you want to be heard, you need to start a website. For that, you can look up personal website templates. You may also see Personal HTML5 Templates.
> Types of Personal Website Templates
There are several types of free personal website templates online. Some of the most commonly used ones are-
Personal education website templates – How to websites are really popular since they serve to teach the readers about something. These can be about different topics, whatever the owner has expertise in.
Opinion personal website templates – If you want to express your opinions about something, like relevant social or political issues, a personal website would be the best way to do so.
Photography personal website templates – Photographers can now create personal websites of their own where they can display their best works in hope of getting some clients.
> Uses of Personal Website Templates
If you do not belong to a particular company or are not endorsing a particular product, you can still create a website for personal reasons. Websites reduce geographical barriers and can help you reach out to a wider audience. If you've decided to create a website of your own, well done. You must try out some sample personal website templates in that case. You can also see Personal Blog Templates.
> Tips While Using Personal Website Templates
While using downloadable personal website templates, there are few things you should keep in mind-
Make sure you keep in mind the purpose while selecting the template. First you must decide the kind of website you want, based on that you can select the template.
Your website should reflect your personality as a whole. That is precisely why you need to pay close attention to the design of the template.
Only choose customizable personal website templates. These templates are really easy to edit and customize, which allows you to get exactly what you wanted.
> We Can Help You Out!
If you've decided to download personal website templates, you must check out the amazing collection we have in store for you at template.net. So come on, give it a try and see for yourself. You can also see Personal Templates.