When it comes to customizing themes for your website, one of the most important factors is how friendly and intuitive the template's interface is. A theme's user-friendly traits are impeccable because they would appeal more to the general public, who are mainly made up of individuals who are not so technically inclined with programming codes and such.
If you do not have any technical background in web designing, but would still like to personalize the theme for the website you plan on making or the site you already manage, then a drag-and-drop WordPress theme would be perfect for you. Go ahead and check out the list we've prepared below.
BeDentist – Dentist and Medical WordPress Theme
BeDentist is a dentist WordPress template that is packed with features for your dentistry-related website. It is equipped with Elementor, considered to be a next generation drag-and-drop frontend page builder that requires absolutely zero coding. You also have numerous layouts for both headers and footers, helping you personalize the template to your liking. It uses the JetElements plugin, which pairs very well with Elementor and, together, you will be able to create a dynamic website that your customers and visitors could enjoy. Worrying about the different types of devices that people use will no longer be a problem, thanks to the theme's responsive design. This makes your website viewable on any device, whether it is a mobile phone, desktop, or tablet since the display will fit into any screen size.
Parker – Neutral and Clean Business WordPress Bundle
If you are looking for a business WordPress template, then you should go ahead and try out Parker. Creating a webpage has been made easy with this theme, thanks to its drag-and-drop page builder. You have a variety of layout options to choose from and over 25 content modules, like audio and call to action, which you can add to your website. These modules will enhance your sites functionality, which will make life easier for both you and your customers. The template is designed by professionals and they have ensured that it has been crafted with care and precision. Of course, a website wouldn't be complete without widgets and with Parker, you can add post carousel, social media, or simple slider widgets, whichever you'd prefer.
PhotoPrint – Print Shop Responsive WordPress Theme
PhotoPrint is a printing WordPress theme that specializes in making your website look amazing. One of its most powerful features is the Drag-and-Drop function, which allows users to build their pages intuitively, rather than actually typing down a series of complex code. Aside from the drag-and-drop page builder, it also has a live customizer, which lets you make changes to the theme and view them in real-time. You won't have to refresh or wait for the page to finish loading and applying the alteration you've performed. Having a website is all about increasing your company's reach online. It also lets you showcase what you have to a bigger audience. This is where SEO, short for Search Engine Optimization, comes in and fortunately, this site is SEO-friendly.
Steven Mosk – Modern Artist Personal Portfolio WordPress Theme
If you are on the lookout for a personal portfolio WordPress theme, then you might want to consider having the Steven Mosk template. The template's strong point is the TM Gallery, a WordPress photo gallery plugin, which allows you to add images and organize them accordingly. Custom widgets like videos and post carousel give users a huge chance to market their products and services even more. This one also has a live customizer, giving individuals the luxury of instantaneously viewing the changes they've made only seconds ago. It is also 100% fully responsive, which will effectively make your website more accessible and viewable to any device of any screen size.
Roadway – Logistics and Transportation Services WordPress Theme
Roadway is a transportation WordPress theme, perfect for those in the business of logistics and delivery. This could also be a good template for airlines, traveling agencies, or those who handle the transportation of personnel and goods. It is equipped with a drag-and-drop page builder, which makes the whole process of theme customization a less stressful experience. You won't have to worry about bugs, or glitches, because the designers have crafted this theme with perfection in mind. In case you were wondering if you could change the template's typography, you certainly can. Roadway has Google Fonts integration, which gives you access to more than 500 Google web fonts and pick out the ones you think would be the best design for your website.
Bronx – Responsive Drag-and-Drop WooCommerce Theme
Bronx is one of the many business WooCommerce WordPress themes that has a drag-and-drop builder in their arsenal. Aside from that, it has an unlimited variety of home page layouts as well, which is good news for users who prefer to personalize their website as much as possible. There are also eight demo sliders that have been pre-built in your template, perfect for giving visitors and customers a feel of what your website looks like and how they could navigate it. It also supports RLT, short for Right to Left, languages and installation only takes a single click to finish.
Engine – Drag-and-Drop News Magazine with Minisites
You may have searched far and wide for a news WordPress theme, but you were unable to find one. Fortunately for you, we have Engine, a drag-and-drop news magazine theme. This template is jam-packed with useful features like smart sidebars, mega menus and minisites, too. You get to use social connect widgets for Facebook, Twitter and Pinterest. Over 650 Google Fonts are available for use, along with a huge array of icons provided by Fontello. You can also translate it into different languages.
Limitless – Multipurpose Drag-and-Drop Theme
Limitless is a multipurpose theme with drag-and-drop capabilities, which is also very easy to use and setup. The one responsible for the drag-and-drop feature is the RAD, short for Rapid Application Development, builder. It is paired up with the Enigma styler, a program that lets you change styling without even using, or touching, any CSS files. This duo lets you create a very dynamic visual aesthetic for your website, while keeping the process as simple and as easy as possible. There are also more than 50 available shortcodes, 12 featured media types, and eight blog templates.
Naturix – Organic Store Theme with Drag-and-Drop Page Builder
If you are looking for an organic WordPress theme, then you should certainly take a look at Naturix. The theme is designed for online food shops, organic stores, and food markets. It is 100% fully responsive and has been tested to be compatible with the latest versions of WordPress. It has an unlimited preset of colors and an unlimited number of Google Fonts, too, which is good news for individuals who are seeking to add as many personal touches to their website as possible. You also get to have over 350 Font Awesome icons to utilize at any time you need them.
Techwise – Drag-and-Drop Magazine with Comparisons
Since Techwise is so mobile-friendly, it's safe to say that it is a mobile WordPress template for websites that showcase gadgets and other technological gear. Like the other theme that has been mentioned above, Techwise also has the capability of creating minisites, which is a feature that you can rarely find on templates. It has the amazing master slider feature, too, which makes image transition and presentation utterly stunning and smooth. Mega menus are also available and it has approximately 50 ad slots. You can also use parallax effects, a side-by-side comparison, and add custom sidebars and signoffs.
PlanusWP – One-Page WordPress Theme
PlanusWP is a one-page WordPress theme with a fully responsive design, meant to be viewable on any type of device. The animations and transitions for this template is very smooth and fluid, thanks to its CSS3 integration. It also has a valid HTML5 assimilation, which complements the CSS3 very well, enhancing the animation quality. Bootstrap 3 is one of the most reliable and high performing frameworks for WordPress and Planus is utilizing it, together with a clean code and flat design. There are also PSDs, short for Photoshop Documents, included in the theme.
Q'tron – Business Portfolio WP Theme
Q'Tron is a responsive WordPress theme that has been designed to fit into the business world. Business people, companies, and corporations would all benefit greatly from this amazing template. The theme lacks shortcodes, sliders, and custom post types, but this is only to prevent bloating, which is one of the main reasons why performance rates drop in some themes. Q'Tron uses the Beaver Page Builder, which supports a drag-and-drop function, making the page-building process less stressful and easier. It is also translation-ready and currently supports only two languages at the moment, which are English and Slovak.
Green WordPress Theme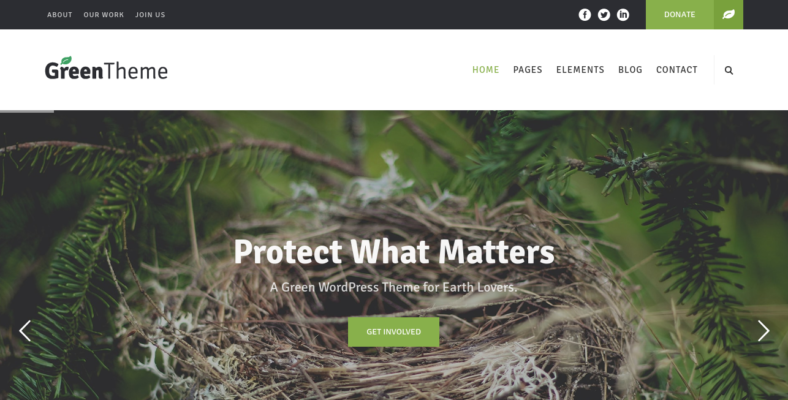 Green, as its name implies, is a green WordPress theme that is most suitable for eco-friendly projects, environment-friendly industries, and environmental organizations. Its page builder is intuitive and it has drag-and-drop capability, too. It also has more than 30 custom widgets, multiple header options, and a couple of parallax backgrounds. If you are looking to change the theme's typography, you have more than 600 Google fonts to choose from until you finally find the one that perfectly suits your website. Unlimited colors and custom sidebars are also at your disposal, along with an amazing support team who will be there for you in case you need technical assistance.
Balance – WordPress Theme and Brand Suite
If you are the type of individual that prefers minimal designs, then Balance may just be the right kind of theme for you. You see, Balance is a minimal WordPress theme that has a ton of useful features to help you create an impressive website. Page structure is quite limited in some templates, but with this one, you get an unlimited amount of page structures, along with a drag-and-drop plugin that has been integrated within the theme's design. You have six layout choices, three footer widget areas, plus an SEO-ready and fully responsive design.
Architekt – WP Business Theme
Architekt is one of the corporate themes for startups and small businesses. Its visual page-builder has a drag-and-drop element, making the process of adding images, slideshows, or videos to the webpage pretty simple and easy. You can transform the site into an online shop at any time, too, thanks to the theme's WooCommerce plugin. Device compatibility will be the least of your worries because the template has a responsive and retina-ready design, which means it can be viewed on any device and can fit into any size of screen. Changing the theme's colors is also easy, thanks to its color palette option.
Inhale – Yoga, Health, and Fitness Theme
Inhale is a fitness WordPress theme that would be ideal for a website that focuses on health-related subjects. It has sections for the team members, the services you have to offer, the contact pages, and the about section. It has distinct templates for the home page, testimonials, and blogs, too. You also get to choose your own colors and fonts, giving you the opportunity to add some of your personal touches to the template's appearance. It uses both the Cherry and Bootstrap framework, making the theme's performance rate something that you shouldn't just shrug off.
Alesia – A Theme for Creatives
If you would like to release all of the creative juices that have been flowing inside of you and build your own website, then Alesia is the template that you are certainly looking for. It is a creative theme that has a bunch of tutorials for adding and changing sidebar widgets, setting up homepage sliders, adding a custom menu, and many more. It is fully responsive, with a drag-and-drop builder, 25 blog styles, and an unlimited pool of colors. The revolution slider is also something you'd get to enjoy with this template, along with the amazing layout and gallery styles.
MagMax Pro – Multi-Blog and Magazine Theme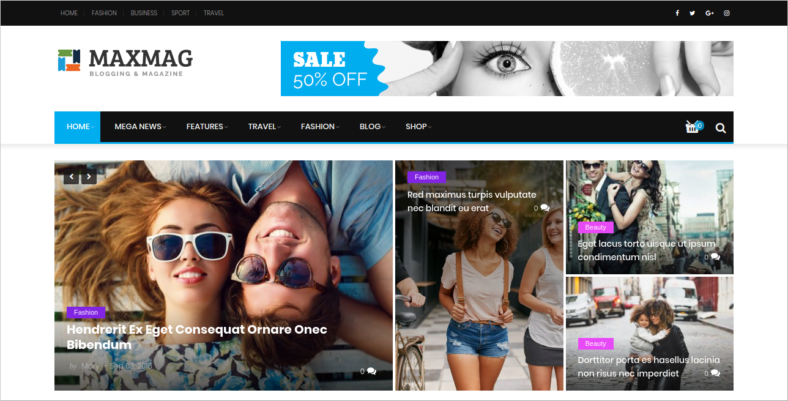 Getting yourself a reliable magazine WordPress theme can be quite a daunting task and you might end up spending a lot of time hunting for it than you'd expect. Fortunately, MagMax, one of the most competent and reliable magazine templates, is here to take on the job. It has a fully responsive design with a drag-and-drop page builder, and its design is specifically fashioned for magazine sites. Some of its features include a two-header design, a classic footer with three to five columns, and a bunch of feeds for Instagram and Flickr. It also has 12 basic layout structures designed for single view or archive on project/post/page items.
Photo World – Photography WordPress Theme
Photo World is a photography WordPress theme that is SEO-friendly and has a full-width page template with no sidebars. Full width allows you to captivate people by displaying the full extent of an elegant background. It is coded with HTML5 and CSS3, and has shortcodes within the theme options that are easy to use. The template's loading speed is also considerably fast and is compatible with Contact Form 7 and WooCommerce. You have the option to add more gallery plugins and, if needed, translate it into other languages. However, the best thing about this theme is that it is totally free and can be yours for the low price of nothing.
Flower Shop – Florist WordPress Theme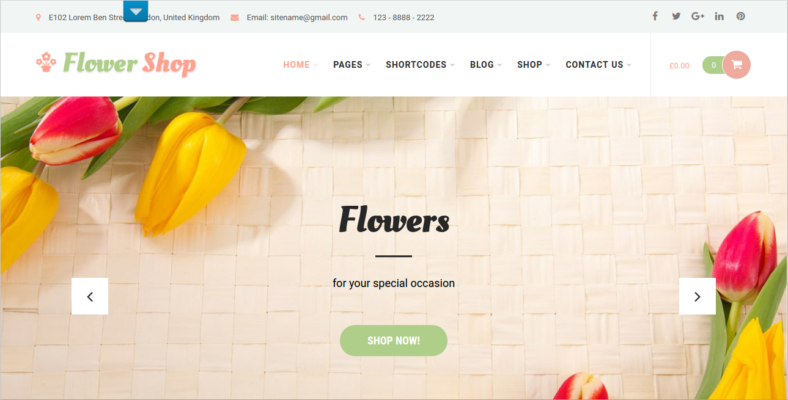 The aptly named Flower Shop is a florist WordPress theme that has not thorns, but features, among its petals. Flower Shop has passed Google's mobile-friendly test and has been proven to be compatible with any size or type of screen. Its drag-and-drop page-builder makes it easier for users to customize and create their webpages, thanks to its intuitive interface. It has default pages like 404, archives, and blog, along with more than 100 shortcodes. Different types of browsers won't be a problem as well because the theme has cross-browser compatibility.
SKT Simple WordPress Theme
Simplicity is sometimes underrated and unfortunately, it gets neglected too often. But with SKT Simple, you will definitely see the benefits and power of a simple WordPress theme. First, the template is very easy to use and is free of complex functionalities. Its page builder is fashioned with an intuitive drag-and-drop interface, allowing you to make changes to the theme without typing in code. It is compatible with the latest versions of WordPress and although it is lacking in colors, it does sport an elegant style and has lots of page and blog template options that you can use.
SKT Food – Food and Recipes WordPress Theme
SKT Food is a recipe WordPress theme that is capable of handling the unique needs of food and recipe websites. For this kind of site, your theme must have a recipe section for the various dishes that you'll be showcasing. You could also use a template that has cross-browser compatibility since your site visitors and customers would be using different browsers. A responsive and mobile-friendly theme would also be good because people use phones more often than they use laptops or desktops. Finally, you would need a theme that has a drag-and-drop page builder, so that you won't have a hard time building your website, all of which are supported by SKT Food.
SKT Gardening – Gardening and Landscaping WordPress Theme
SKT Gardening is one of the best gardening and landscaping WordPress themes for 2017 and there is a good reason for that. Not only is the theme widget-friendly, but it also has five variations for its footer and header. It has SEO plugin compatibility and is also SEO-friendly. Gallery plugins, like Nextgen, have been tested and this template has been proven to be compatible with them as well. You have more than 600 Google fonts to choose from as well as eight distinct types of post and post templates available.
Newser – Drag and Drop News/Magazine WordPress Theme
News is a great source of information and it comes as no surprise that a lot of people tune in to them. If you need a newspaper WordPress theme for your site, then Newser is the one that will take care of the job for you. The template has integrations with numerous plugins like WooCommerce, bbPress, and BuddyPress. It doesn't come short of functionalities as well because RTL, Ajax post loading option, and Mailchimp support are all included in it. Aside from that, it also has 25 custom widgets and more than 24 pre-made demos. Color schemes and Google fonts are both unlimited, making it the perfect news template.
Xinity – Multipurpose Drag-and-Drop Theme
Xinity is a multipurpose WordPress theme that is equipped with an extensive array of plugin support and compatibility. WooCommerce is one of the plugins that this template supports, which lets you transform the website into an online shopping page whenever you want to. It has a child theme, sticky contact, logo, and retina logo support, too—all of which enhance your site's overall functionality and performance. For the featured media, you can a parallax image, a full-width image, or a proportional resized image, with its dimensions maintained. The template has a RAD page builder, which has 38 built-in widgets, six third-party components, and nine layout components.
Humble – Responsive Multipurpose Drag-and-Drop Theme
If you are looking for a Bootstrap WordPress theme, then you have come to the right place because we have Humble, a responsive multipurpose template. Aside from the fact that it runs using the Bootstrap framework, it has advanced background settings, too, which let use a compelling backdrop for your site. If you are also a big fan of shortcodes, then you'll be glad to know that this theme has tons of them, from buttons to typography. Its visual composer has a drag-and-drop feature and, aside from that, this template has a unique slider called Polaroid slider, which is something you should definitely see for yourself.
Visionary – Multipurpose Drag-and-Drop Theme
Visionary can be used as an eCommerce, portfolio, corporate, app presentation, or agency WordPress theme. This template is very flexible in nature and it was designed to have multiple functions, instead of specializing only in one field. It has a wide array of features as well and some of them are the 500+ retina-ready Fontello icons, Ajax portfolios, and powerful page settings. With its advanced title settings, you can also add background colors, add CSS3 gradients, and change font sizes. Its page builder has a drag-and-drop functionality for ease of use, along with two layout components and 38 built-in widgets.
inVogue – WordPress Fashion Shopping Theme
inVogue is specifically designed for fashion-related topics and needs. You can use it as a fashion blog WordPress theme, or you can use to create online fashion shops. WooCommerce plays a vital role for this theme, due to the fact that it was originally designed to be used as a fashion shopping theme. Its page builder has a drag-and-drop function, letting you create high quality webpages without typing in a single line of code. The page layouts have been cleaned and free of clutter, which maximizes the users' experience so they wouldn't have a hard navigating through the theme.
Finding a reliable WordPress builder, or any type of page builder for that matter, is definitely a lot of work. Finding a page builder with a drag-and-drop functionality is even harder. However, there are moments like this where you get to stumble upon a whole list of them.
These templates will certainly be of great help to you and do wonders for your website, too. Any of these themes can enhance your site's functionality and quality. But most importantly, you get to enjoy a stress-free page building experience.