Tools
19+ Best WordPress Theme Builders & Generators 2023
For developing any ecommerce website, use the wordpress theme builders / generators which are loaded with smart and advanced features to make the online presence prominent. The first and foremost feature of these themes is the basic HTML and CSS coding which makes it ideal for supporting content on all major browsers.
Be it for any professional portfolio, online store or for personal blogging, the wordpress generators take care of the rich SEO content so that the search engine ranking remains consistent. The plenty of short codes, custom widgets, plug-ins, slider and header designs guarantee to make the website look ravishing irrespective of the product or art it is displaying. You May also See Best Bootstrap Template Builders.
Themify Builder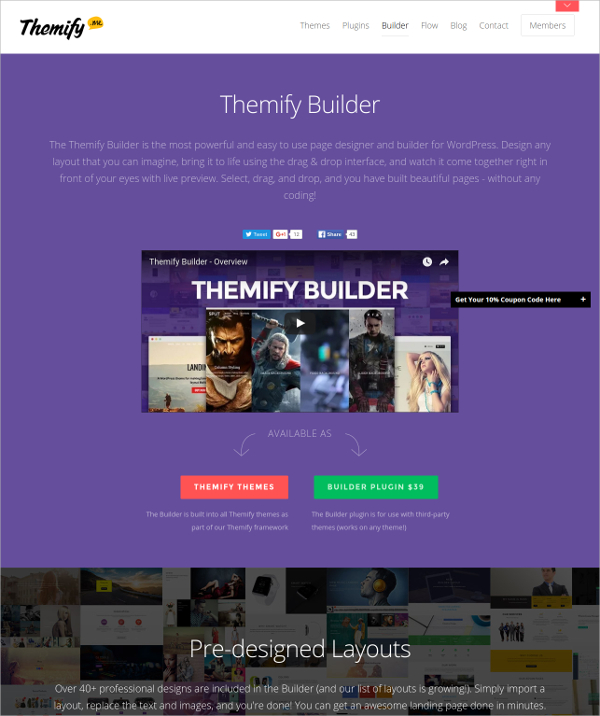 For WordPress page designing and building there can be nothing better than the Themify Builder with Customizable color, background, spacing, border, overall theme color due to its following features: You May also See Best WordPress Templates.
Compact Backend Interface
All Post Types
Builder Column Options
Re-usable Layout Parts
Several Animation Effects
Modular Based Designs
Extendable Add-ons
WPBeaver Builder
You can now create professional WordPress websites within minutes thanks to this intense, comprehensive drag and drop designed Beaver Builder comprising of page builder plug-in and framework theme. Additional features include: You May also See WordPress Templates.
Front end Drag and Drop Interface
Numerous Page Templates
Translation Ready
Shortcode and Widget Support
Settings Presets
WooCommerce Support
Themifyflow Builder
Build stunning pages with any designs and layouts without any CSS coding with the help of this free, user-friendly, drag and drop interface supported framework.
Google Fonts
Color Picker
Endless Templates
Individual Template header, footer, sidebar
The above mentioned features make Themify Flow so desirable among beginners as well as experts.
Thethemefoundry Builder
If you want to create an innovative website without spending too much, this free, open-source theme creator is your perfect solution for connecting with customers. Some of its features are:
Make Layout Engine
Handy Child Theme
Custom HTML ID
Retina-ready Logo
Drop in Gravity Forms
Numerous Google Fonts
Headwaythemes Builder
Headway is a boon to entrepreneurs and web designers because this drag and drop layout builder lets you manage your WordPress Blog Page or E-commerce website completely. Other noteworthy features are:
Templates for immediate Designs
Editable Templates
Responsive Grid Design
Live CSS Editor
Custom Code Blocks
WordPress Hooks
Block API.
Theme.Works Builder
Create custom Portfolio Websites, Corporate Websites or Blogs at lightning speed with feature-rich Theme Works and look out for these features:
Integrated with WooCommerce
Trouble-free Digital Downloads
Numerous grid layouts, slideshows and masonry designs
Editable header images, backgrounds, fonts
Diverse Signup Form Layouts
Editable Logo and Favicon
IThemes Builder
This is one of the best themes available for builders, architects and interior designers. The blocks are designed in a ways as to highlight the specialities of the builder. Its attractions include
Specialised blocked design
100% responsive
User-friendly
Incorporated with theme manager
The theme manager helps you to edit the theme while the responsive design and professional color attract a bunch of customers.
GraphPaperPress Builder
This theme generator is really a boon to the WordPress enthusiasts. This theme generator can be easily manages and the .css files can be easily modified. It can
Generate child themes
Override old CSS files
Create elegant child themes
By using this theme generator, you can avoid the disputes due to theme updations and plug-in updates.
GenerateWP Builder
This is another awesome tool that can help the developers to create their amazing websites without messing with codes. This tool can
Generate WP codes
Can generate JavaScript snippets
Can generate Metabox
Can build Menus
This builder is an amazing tool incorporated even with sidebar generator, widget generator, taxonomy generator and even snippet generator.
Indiegogo Builder
Lubith is an awesome WP theme generator which is highly user friendly and responsive. By using the theme generator, the developers extends you
A pro membership
Thousands of free themes
Free updations
The themes generated with Lubith are exceptionally responsive and attractive at the same time. There is an embedded image editor, gradient tool and much m ore in Lubith!
GeneratePress Builder
GeneratePress is one of the WordPress themes that satisfy the motto 'Simplicity at its best'. The elegant design and choice of colours are mind blowing. Its features include
Cross browser compatibility
Validated codes
Developer friendly UI
Over 600 awesome icons
In this theme, the developer is given the freedom to choose any icon font or design. It is simply a theme, which is the best in the bunch.
JefferyJack Builder
JefferyJack is a popular online WP theme creation tool available in the internet. It allows you to
Create child themes
To generate awesome theme from child themes
To generate responsive themes
By using JefferyJack, you can design a theme that you have never designed. The tutorials associated are also equally amazing.
Theme Builder
Cornerstone is one of the most versatile WordPress page builders across the internet. It is very popular due to the below features
Complete front end codes
Clutter free work space
Easy text edit
Vast element library
The generator is also characterised with an ultimate element inspector and awesome previews, The code will be hassle free and works like a champ.
Underscores Builder
underscores.me is another tool developed by the contributors and developers. It is a brilliant tool to create fresh themes. It can be used to create themes with simple and attractive elements. It is characterised with
A 404 page
Well commented HTML pages
Small tweaks to improve PHP themeing
It is also integrated with sample CSS files and GPL licensing. The ultimate attraction of this generator is its simplicity itself!
Artisteer Builder
Artisteer is another popular award winning WordPress theme generator. It helps in creating awesome
It is characterised by its awesome UI that helps the user to understand and create any sort of web pages that he wish to create. This is a code free tool that enables anyone to try out a hand.
TemplateToaster Builder
Template toaster is an online webpage creator tool that has got a set of really cool features including
Responsive WebPages
CMS page generation
Drag and drop facilities
Minimal codes
The social media integration and the wide range of colour choices just make the builder a unique one. The image cropping and editing facility is as useful like other features.
Unyson Builder
unison is a WordPress theme generator that helps you to create your custom sites using the all new Unison framework. The generator characterised by
Ease of use
100% support and documentation
Free of cost
The extensions and options make the frame work completely useful and worth trying.
LayersWP Builder
Layers is one of the most user friendliest and reliable WordPress theme generator. It generates WordPress themes with the below features
100% responsive pages
SEO friendly pages
Point and click interfaces
By using this generator, you can create a webpage with a very limited coding knowledge. You can see the previews instantly and can have hustle free development.
ElegantThemes Builder
DIVI is another awesome builder that can create elegant times in just a few clicks. Using DIVI, you can create any WebPages with endless possibilities. The features of DIVI includes
The DIVI powered structuring
Drag and drop interfaces
Easier editing
On page preview
The site generated will be completely responsive and will have neat complied codes.
More in Tools