What Are Internet and Technology Documents?
There are numerous internet and technology documents out there. There are contracts, checklists, license agreements, assignment of rights in computer software, assignment of copyright, and others. Internet technology is the capacity to transmit information and data through various servers and systems. If you are running an internet and technology business, you need important documents to track your business and make important transactions as well.
How to Make Internet & Technology Documents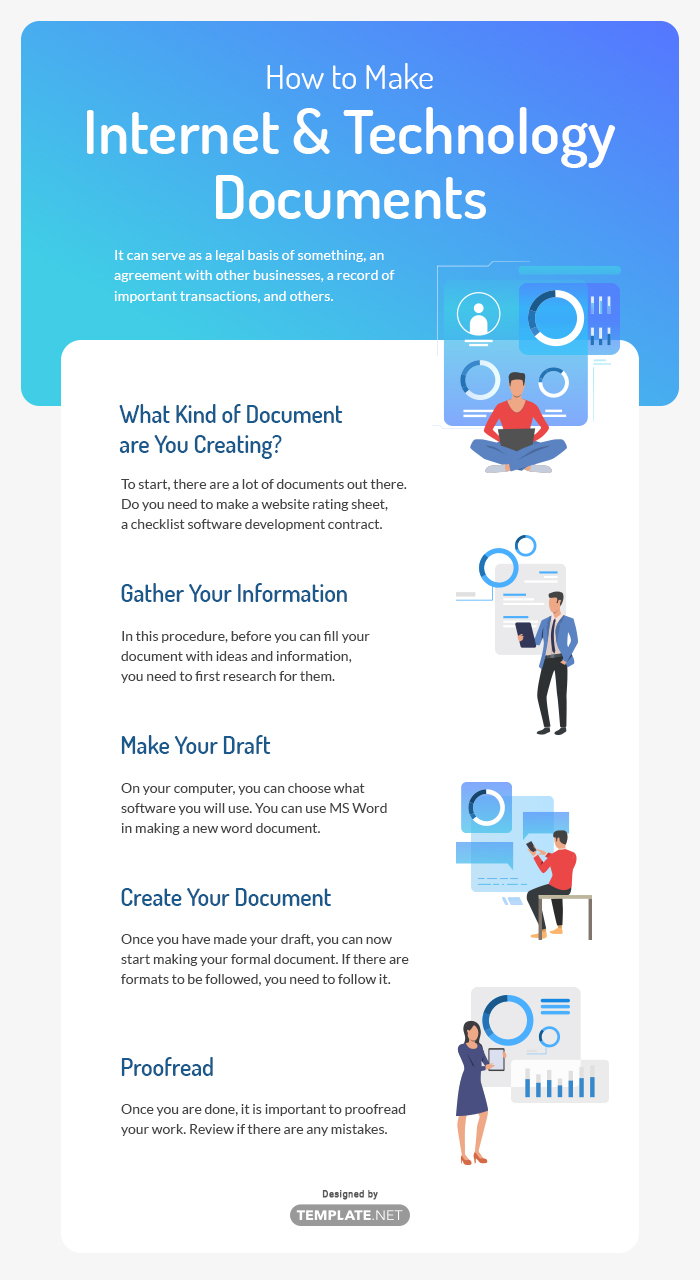 Documents are important in your business. Documents serve different purposes for your business. It can serve as a legal basis of something, an agreement with other businesses, a record of important transactions, and others. Here are some simple steps on how to make internet and technology documents for your company:
1. What Kind of Document are You Creating?
To start, there are a lot of documents out there. Do you need to make a website rating sheet, a checklist software development contract, an anti-spam policy, or a computer virus notice? Given that not all documents follow the same format, it is important to be specific about the kind of document you have to make.
2. Gather Your Information
In this procedure, before you can fill your document with ideas and information, you need to first research for them. You can conduct a study on the information you need to include. For agreements, for example, you need to have information about the parties involved and what have they agreed on. If you were to make checklists, you need to have a background of the things that have to be evaluated to have a quality control with your products. If you were to create a proposal in your technology business, you need to have a thorough research about what you are going to propose.
3. Make Your Draft
On your computer, you can choose what software you will use. You can use MS Word in making a new word document. Then, you can start writing your document. You don't have to be very strict with superficial things like spelling, the usage of grammar, and format since errors in the first trial are acceptable. All you have to do is to get your ideas going. Write down the data and information that you have. In this phase, you can start making an outline of what you will write on your document. This way, it will be easier for you to write.
4. Create Your Document
Once you have made your draft, you can now start making your formal document. If there are formats to be followed, you need to follow it. For instance, you have no clue about the format of your document, then you do some research about a sample online. To make your work easier, you can download templates and just customize them.
5. Proofread
Once you are done, it is important to proofread your work. Review if there are any mistakes. Mistakes can make your documents look unprofessional. When you are done reviewing your work, you can print it.
Is the Internet part of technology?
The Internet is a technology that has internet media as one of the major use cases of the tech. The main intent of the internet is to be a highly advanced system of communication service ( I.e high-speed transfer of information from one place to another) which connects the people globally.
How do you create a website for free?
Follow these 6 simple steps to create a website today:
Sign up for a free website builder. Choose what kind of website you want to create.
Customize a template or get a website made for you.
Drag and drop 100s of design features.
Get ready for business.
Publish your website and go live.
Drive traffic to your site.
Do you need a privacy policy on your website?
Privacy Policies are Legally Required. Privacy laws around the world dictate that if you collect personal information from your website visitors, then you need to have a Privacy Policy posted to your site. Many third-party services used to enhance website performance also require you to have a Privacy Policy.
Do I need a privacy policy on my website in the UK?
Firstly, all UK-based online companies are required to be open with any users about how their personal data will be used. If any personal or sensitive personal data is to be processed, it is mandatory for the website owner to display a privacy policy. This must explain what cookies will be used and for what purpose.
What should I put on my Company website?
10 Things Every Small-Business Website Needs:
A clear description of who you are.
A simple, sensible Web address.
An easily-navigated site map.
Easy-to-find contact information.
Customer testimonials.
An obvious call to action.
Know the basics of SEO.
Fresh, quality content.