Task completion is essential in meeting your company's daily objectives. You need your employees to work fruitfully. And realizing this aspect opens the potential to business success. When you have a daily target, your employees need to follow the right procedure. As IT companies are required to execute a complex workflow structure, organizing the steps and tracking progress remains mandatory. To help you initiate an orderly action, our Ready-Made and High-Quality IT and Software Checklist Templates in your required file formats that aids in this complication. Avoid taking much longer to produce a checklist. Get the benefit of ease and convenience by downloading, customizing, and printing our template today!

How to Make an IT and Software Checklist?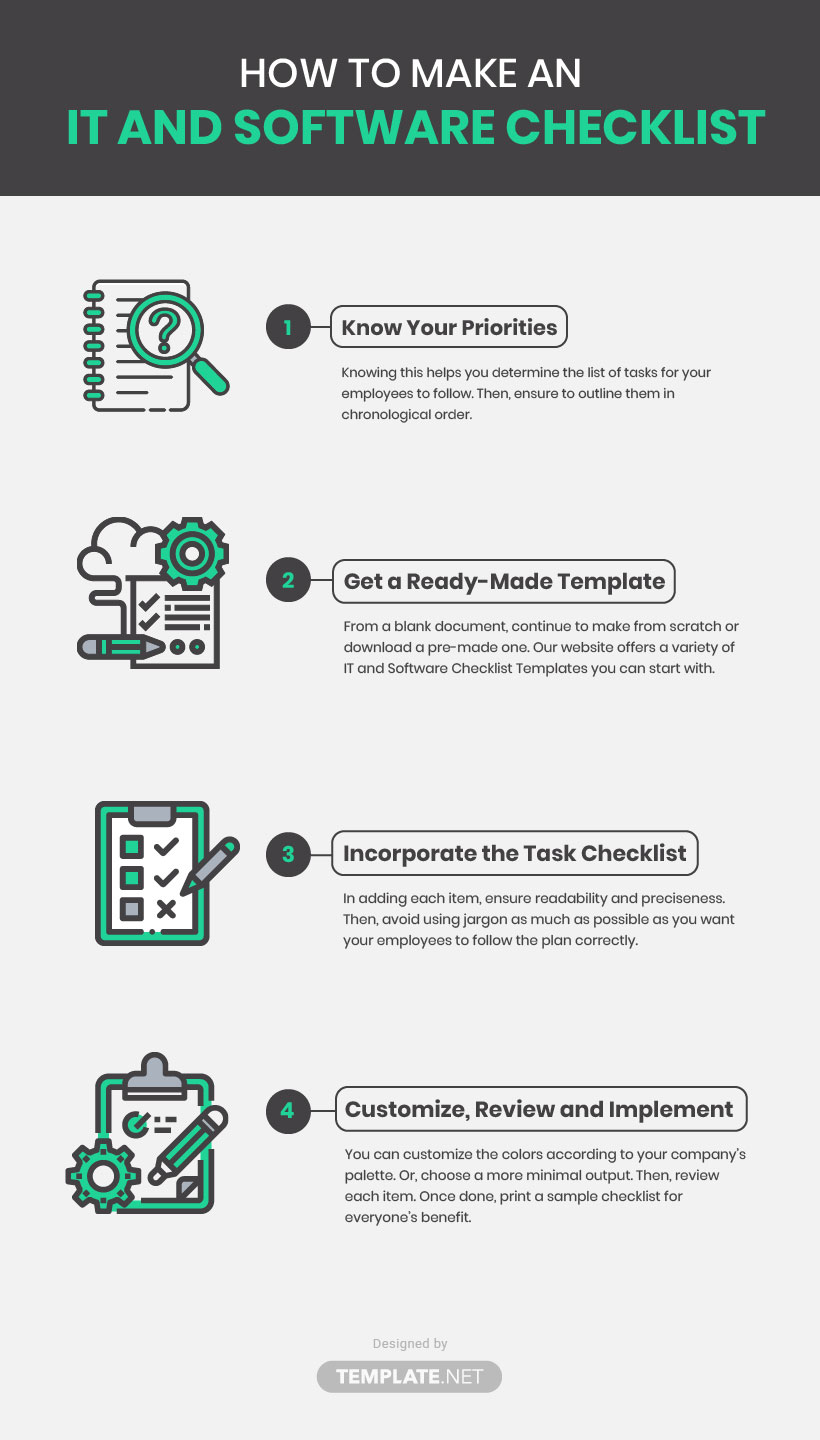 A checklist is a piece of document that holds the list of tasks that need to be done. It serves as a daily reminder for employees to get aware of their assignments on a regular operation that also tracks their progress.
It is not unusual for IT companies to deal with different tasks every day. There is software development, product deployment, and project management software evaluation that requires to be done within the day. But failure could happen. Perhaps, according to ZDNet, 68% of information technology projects face risk. So, if you are facing the same agony in your company, creating an IT and Software Checklist is necessary. So, consider following the steps below.
1. Know Your Priorities
Always start by knowing what's the purpose of making a checklist. Is it for testing? Knowing this helps you determine the list of tasks for your employees to follow. Then, ensure to outline them in chronological order.
2. Get a Ready-Made Template
If you have the details ready, proceed with making things handy. To do this, open the software you are comfortable with. From a blank checklist, continue to make from scratch or download a pre-made one. Our website offers a variety of IT and Software Checklist Templates you can start with. In this manner, you can allot more time prioritizing your needs.
3. Incorporate the Task Checklist
Now, complete a workflow checklist by transferring the tasks and processes. In adding each item, ensure readability and preciseness. Then, avoid using jargon as much as possible as you want your employees to follow the plan correctly.
4. Customize, Review and Implement
Whether it's a testing checklist or update checklist, don't overlook its appearance. You can customize the colors according to your company's palette. Or, choose a more minimal output. Then, review each item. Once done, print a sample checklist for everyone's benefit.
General FAQs
How Do You Describe a Software Testing Checklist?

A software testing checklist contains tasks that help in running a series of tests. It also records the progression of each item in the task list. Moreso, it identifies what succeeded and failed. Depending on the company, the list may contain strict procedures or chosen without conscious decision.


How to Send a Checklist

For businesses, it's not every day that you get to meet your clients and members. The best way to communicate without physical interaction is by sending the workflow checklist. Do this by saving your digital checklist. Click through the options and send them via email, Bluetooth, or any social platforms you wish. Another way to do it is by sharing the link.

Why Do You Need to have a Checklist?

Checklists are used in a variety of ways. Whether for personal or business purposes, it ensures that you track your daily or weekly tasks for a specific project. It keeps you reminded of your deadlines and quota. Other than that, it's a more organized way to check progress within the day.

What are the Advantages of Checklists to Students?

Some advantages of checklists are as follows:

1. To help students track their progress.
2. To provide students the right material in developing the right tasks and procedures.
3. To give students the idea of correct decision making.


What is the Use of Checklist in Research?

Research checklists are used in making sure that the research workflow is done, or currently been working into.

Read More
Earn 20% commission on every sale from your Share
Bloggers: Publish/Mention Template.net products on your website, blog, Social Media or Via Email & Earn affiliate commission of 20% for every sale