Our collection of free jQuery templates is here to redefine the nature of multipurpose templates and themes. The premium responsive themes come with the advantage of flexibility and SEO friendly codes over the paid template designs. They also house a delightfully huge pack of Syntax and help documents in ready to print format.
Responsive Multi Purpose Jquery Business Template – $17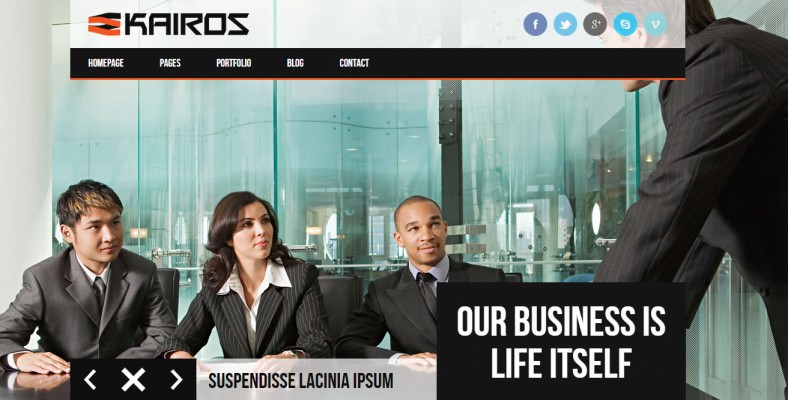 Kairos is the responsive business template for the purpose of creating a website that contains all data about your company, its products and services. It has a responsive design and offer a unique design for your page.
Corporate Multi-Purpose jQuery HTML Template – $10
Vlera is a multipurpose corporate template that allows business heads to create a website on own without too much investment of resources. The template is built on the HTML platform and allows for easy creation and updating data on the web.
Parallax Effect Website Template with jQuery – $69
If you are in to gifting ideas and wish to open a website featuring all your details, then the parallax effect website with jquery template is your best choice. The template is easy to use and allows for easy update of data.
Multi-Purpose HTML5/jQuery One Page Template – $15
As the name suggests, the template makes use of a single page to update information about your business. The entire details can be updated on a single go and can be viewed in a single page. This is by far the best template for small scale companies.
Responsive & Retina ready Multi-purpose jQuery Template – $16
The template is flexible to the requirements of user and comes with numerous options for users to choose. The template is colourful with various designs and helps to develop a website at ease. The panel also allows users to build a new layer based on user choice.
Creative Multi-Purpose HTML5 Template – $15
With multiple pages along with creative page option, EKO template is user friendly and responsive to user needs. The template is easy to use and responsive to requirements of user and can be used to create a list of your recent products and services.
Responsive Multi Purpose jQuery Template – $12
Redpoint is a 100% responsive template that has options to edit and add new products and services related to your business. The template can run on mobile, desktop and tablet devices and is created with twitter bootsrap.
New Trending Multi-Purpose jQuery Template – $17
Aloom offers users with multipage and one page template that can be used according to the current requirement by user. The template is easy to use and allows for editing and customizing the current template to suit user requirement.
Clean Multipurpose Bootstrap 3 Website Template – $25
Wish to open a website that has all details about music and bands in the world. This can be perfectly done with the help of multipurpose bootstrap 3 templates that has options for updating upcoming events, blogs along with a contact form for clients to get in touch with you.
Metro Layout Multi-Purpose jQuery Template – $17
Fresh is a new template that offers both modern and metro layout of pages, along with masonary or standard blog options. The template is compatible with cross browser options and has ready pages with short code on it.
Multi Purpose HTML Template for Companies / Individuals – $18
The multipurpose HTML template Reno is best suited for companies and individuals alike. The template makes use of HTML version and is compatible with mobile and desktop applications. There is option to include sliders and offer to present your complete business detail in a single go.
Responsive Multi-Purpose Website Template – $17
Perfect Multi Purpose Template for Business – $11
Paper plane shares a perfect design that is responsive to user requirements and runs on HTML 5 platform. The template also provides for option to upload high resolution images along with flexible and customizable design that can be altered to requirements.
Fully Responsive Multi Purpose HTML5 Template – $8
The highly responsive multipurpose template PIXMA is built using the latest techniques and allows for SEO optimization at ease. The pages are customizable and let users to make use of 10 different predefined colour schemes.
Super Flexible Multi Purpose Theme – $17
If you wish to open a website for your non charitable organization or government business, then the Kause template can be of use to you. The template is designed on HTML platform and allows for multipage options and helps to concentrate on the content.
Responsive Multi-Purpose Website Template – $16
Along with 13 HTML files and a responsive design, Maximus is the best design available for creating website and home pages at ease. The template also includes valid documentation that allows for easy understanding of the template.
Pamper yourself with the free sample content and huge choice of layout options. The color options and backgrounds range from simple but elegant to stunningly abstract. With these you can create AJAX templates. Use them for blogging, portfolio building or building commercial websites in a jiffy.
>

Conclusion
The above template is multipurpose templates and makes it easier for users to create and run a website on their own with minimal efforts. The template also includes valid documentation to support users.