If someone was born to live, then a day will come when that same someone becomes history. But those who are left behind in the process face inexhaustible and endless pain. During this time, they have to perform certain rituals for their loving one who has just left this mortal world. The free funeral program template has been specially created for this purpose.
How to Create an Obituary Program:
Step 1: Choose a Design
Pick the best design for the program you think will suit the deceased person's personality. Add the needed details of the person in question. It is quite understandable that the person would be in pain, but bidding goodbye to your loved ones one last time is also important. You can see blank obituary templates, download them and edit it the way that suits you the best.
Step 2: Announcement of the Death
Firstly, you start with the name, age, location, date and time of death. Use pleasing sentences when you talk about someone's death. Do not be too direct about it. You can also see death obituary templates for further details of how to make the most suitable one for your loved ones.
Step 3: Biographical Sketch
The next step would be to talk about the person. Tell the others how he/she personally was, what were the qualities he/she possessed, any contributions they've made in their lifetime, etc. Since this is not a legal document, trust your judgment in the details you want to give to others about the deceased. Obituary program templates can be of great help to help you which kind of service do you want to give your loved ones.
Step 4: Family Details
The urge to know more about a person than what we've already known before is a human want for information. Everybody would want to know more about the deceased, whether they were famous or not. So, your duty is to tell them what they need to know. You can use the help of funeral obituary templates to create a speech of what you want to say.
Step 5: Add the Details
Add photos, details of the service, date, time and location of the program, details of who is giving the eulogy, remarks, processional, obituary acknowledgments, etc. In the end, add family photos if required, a thank you note for being a part of the deceased's life and their final goodbye, date of birth and death, etc and take a print. All these details will give the guests an idea of what will be happening in the program. You can also see obituary samples.
Elegant Funeral Obituary Bi-Fold Brochure Template
Elegant Funeral Obituary Tri-Fold Brochure Template
Booklet Funeral Obituary Brochure Template
Funeral Program Bi-Fold Template for Father
Funerals can be a painful ritual for one to perform as he/she needs to say their last goodbyes to their loved ones. Since it is their last, make it a happy send-off. You can do that by using our obituary card templates. This funeral program bi-fold is a beautiful, yet simple brochure card for late father. You may also see obituary template for father for further references.
Obituary Program PSD Brochure Template
Mention the date and time of the funeral service of your loved one in the brochure you make. You can also use PSD obituary templates to get better designs and layouts to create a themed funeral program, a theme that the deceased would have loved. The files in this template are ready to print, well organized and have commercial free fonts and images used. Place the photo of your deceased loved one and make it one of the most beautiful memorial.
PSD Funeral Service Memorial Brochure
Use the above template for a simple, yet memorable memorial service for your loved one. You can also use the obituary template for mother. High resolution, commercial free fonts, images and texts, print-ready files, well-organized layers, and layer groups are available with the above template.
Floral Funeral Program Brochure Template
Floral arrangements are the most used and most common arrangements for any occasion. For funerals, they are even special as the family of the deceased chooses the best for them. There are always stories to tell about the person once they die. You can also use this template to tell your guests the best stories of your loved ones. You can also see newspaper obituary templates.
Obituary Program Invitation Card Template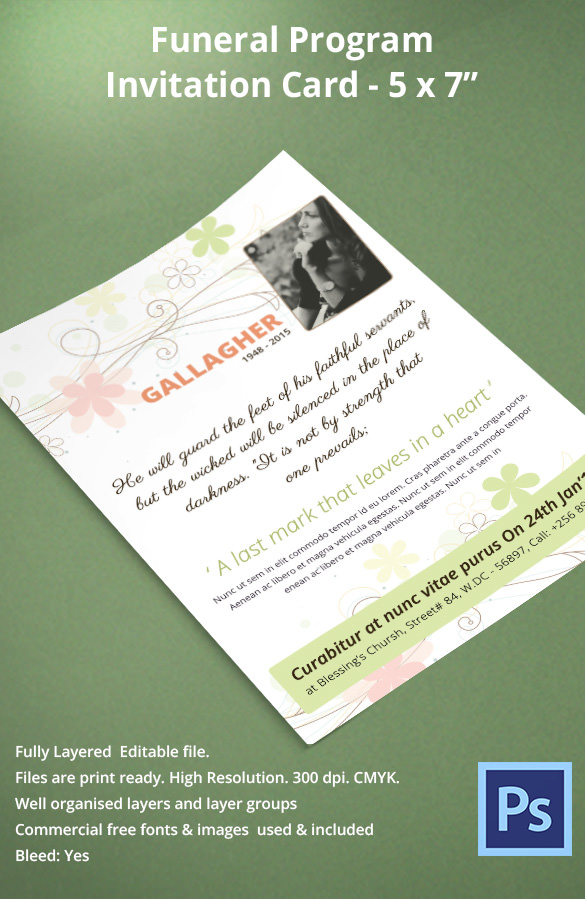 Modern PSD Obituary Program Template
Obituary Service Outline Template Doc
ngvets.org
Memorial Service Template for Obituaries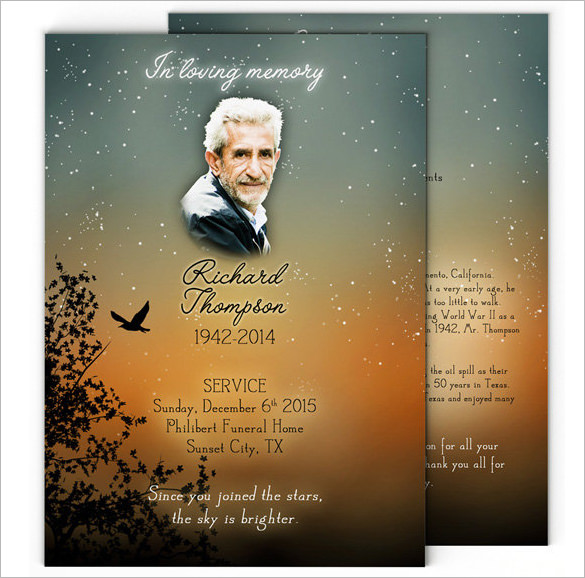 Printable Obituary Program Photoshop Template
BiFold Obituary Program Template Download
Bi-Fold American Obituary Program Design
Download Obituary Program Powerpoint Template
smallpersonalbiz.com
Obituary Funeral Program Full Page Bi-Fold Template
Sample Obituary Program Template PDF Format
stgertrude.org
Sample Obituary Program Template for Celebrity
Printable Funeral Program Template Download
Lavender Obituary Program Template PSD
The obituary templates have been well designed to fit in the purpose of letting the known ones about the soul that has left for a new journey. These free templates will ensure that everyone who wants to join the holy ceremony gets to know the details regarding the funeral program.
Beautiful Blue Background Obituary Program Template
Spring Garden Obituary Program Template

There are always more templates you can use for the funeral service of your loved one. All you have to do is visit our website and there are different types of templates you can use for every occasion. You can also see free obituary templates.
If you have any DMCA issues on this post, please feel free to contact us!