Obituary Templates
6+ Newspaper Obituary Templates – DOC, PDF
If you are in dire need to write an obituary for a newspaper then you can seek help from these free obituary templates. Writing a eulogy for a person closed to your heart is seldom easy. This wide range of templates will help you do this onerous task become easier and perfunctory. You may like Newspaper Front Page Templates.
Sample Newspaper Obituary Template

memorial-obituaries.com | You can follow this sample obituary if you're publishing one in your daily. It has been divided into 5 parts, each containing important information about the deceased. It is a detailed obituary, if that's what you're looking for.
Newspaper Obituary Example

elegantmemorials.com | An example of an obituary has been provided for publishing it in the newspaper. All you have to do is download this sample, edit the details and add whatever is necessary. Once that's done, it is ready for print.
Obituary Template for Newspaper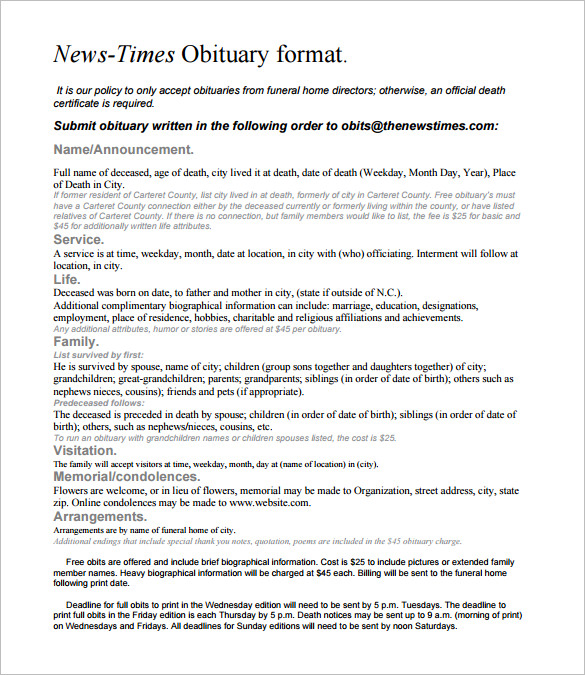 nccoastonline.com | This obituary template for a newspaper has been smartly designed, to include all the essential information under separate subheadings like Service, Life, Family and so on. The information has been provided in a manner that is easy to follow.
Sample Newspaper Obituary for Neighbor

caring.com | With this sample obituary template, you can add a good title which appeals to the heart of those grieving. It resembles an essay, with vivid details about the life of the deceased. It would be a great way to pay a tribute to someone.
How to Write Obituaries for Newspaper

If you have a newspaper them you'll know that obituaries have a fixed, traditional pattern. If you download this template, you could find guidelines as to how to write an obituary. Download
Sample NewsPaper Obituary Template Print

This obituary template for newspapers allows you to include a detailed article on the deceased, along with an image on the side. This template will also help you, if you're not sure as to how to write an obituary.
When a person becomes lifeless and you are to write for that soul, certain things are to be kept in mind, which is very difficult to do in such circumstances. These Free PSD Obituary Templates thus form the basic guideline helping you to write better obit. Print them when required and be dutiful. You may also like Newspaper Templates