We all deal with grief in our own ways. But the best way you can reach out to your loved ones in this time of sorrow is by penning down an obituary. You could use some of our Printable Obituary templates which provide you with perfect designs and layouts for the occasion leaving ample space for you to write about the achievements of the person and also the important news of his upcoming funeral.
Funeral Obituary Invitation Photoshop Template

Download
Funeral Obituary Invitation Card Template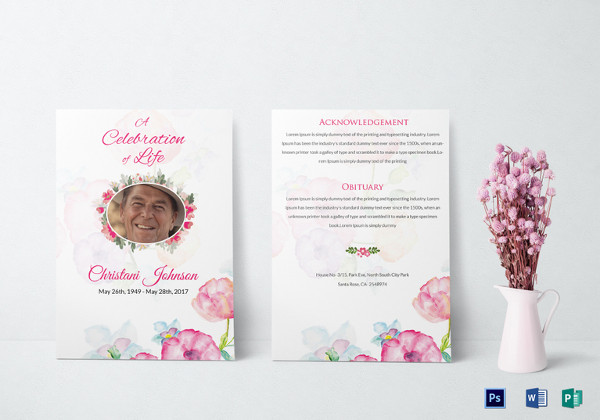 Download
Funeral Invitation Photoshop Template

Download
Funeral Invitation Card Template

Download
Funeral Program Invitation Template

Download
Eulogy Funeral Invitation Card Template

Download
Vintage Funeral Invitation Template

Download
Floral Funeral Invitation Template

Download
Elegant Funeral Program Invitation Template

Download
Classic Funeral Invitation Template

Download
Death Notice Template

Download
Free Obituary Template
The emptiness, the feeling of loss, the difficulty of dealing with life without our loved ones is a terrifying prospect. How much worse is that pain when you try to frame in a few words what they meant to you? With these free obituary templates, however, you will find just the perfect amount of piece to say goodbye. You may also see Microsoft Word Obituary Templates.
Obituary Template Word Doc Download
An obituary presents one with many difficulties: collecting ones thoughts, reliving past memories, feeling a rush of emotions, and then actually writing something worthwhile on paper. With an obituary template available in Word format, however, it becomes so much easier to deal with such a difficult time as the loss of a dear one. You may also see Obituary Writing Template.
Obituary Example
There are such myriad difficulties of dealing with death, particularly when it pertains to your near and dear ones. As tears choke your eyes, how can you even pick up a pen to write? Don't worry, because our sincere, heartfelt obituary template examples are just what you need. You may also check out here Newspaper Obituary Templates.
Sample Obituary Template
When tears are streaming down your eyes, how can one even consider picking up a pen to write? Even if a thousand moments flash before your eyes, it's simply impossible to compose yourself enough. It is here that sample unique obituaries templates can come to your aid, allowing you to say that perfect goodbye. You may also see Funeral Obituary Templates.
Obituary Template Format
There are perhaps a thousand things that you wish to say about your loved ones, but how much of it is even suitable for an obituary? If you're worried about how difficult it might be to say goodbye, just take a look at these somber, beautiful obituary template formats to see you through this difficult time. You may also see Obituary Examples.
Obituary Outline Template
Wondering how to frame your thoughts, and find just the right words for a dearly loved relative or friend who is no more? Take a look at these obituary outline templates which can help you portray your truest emotions, feelings, and do justice to the memory of your loved one. You may also see Obituary Samples.
How to write an obituary
Coping with the sorrow of the death of a loved one will always be difficult. Try penning down your thoughts for the perfect obituary with the help of our templates designed to show you how to write an obituary. You will have the requisite space to put in details as well as information of the funeral and so on.
How to Make a Obituary Template in Mac – See Here
How to Write an Obituary Template – Step by Step
Newspaper Obituary Template
Sometimes you have to let the sad news concerning the dearly departed over the newspaper in order to reach out to the friends, family and employees. You may try using any one of our newspaper obituary templates which will help you write a fitting and heartfelt obituary for the deceased. You may also see Funeral Program Templates.
Obituary Program Template
Bi Fold Obituary Program PSD Template
Multicolour Obituary Program Full Page Bi-Fold Template
The funeral or post-death program has to be organized in the best possible manner in the honor of the deceased. For this reason, you can look into our obituary program templates which will help you frame the proceedings accordingly. They are aesthetically appropriate and come in various backgrounds and textures for you choose from.
Obituary Writing Template
Writing about the death of a near and dearly beloved person may be one of the most emotionally painful experiences. However, with the help of our obituaries writing template you can frame the kind of obituary suitable for the purpose and at the same time save yourself heartache. They come in various formats and with spaces to add your own expressions if needed.
4 Ways to Write an Obituary Template – Easy Guideline
Blank Obituary Templates
If you are looking for the perfect background and texture for an obituary then you might be interested to take a look at our collection of Blank obituary forms templates. They come in colors and textures suitably adjusted for the occasions aesthetics and have a great deal of space to chronicle the person's achievements in life.
Write some words in the memory of the deceased if you want an obituary brimmed with feelings and with a personal touch. Our blank obituary templates give you the outlay of the template and a blank space where you can add your thoughts of admiration in honour of the departed.
Death Obituary Template
Death Obituary Template PSD Download
Vintage Death Funeral Program Template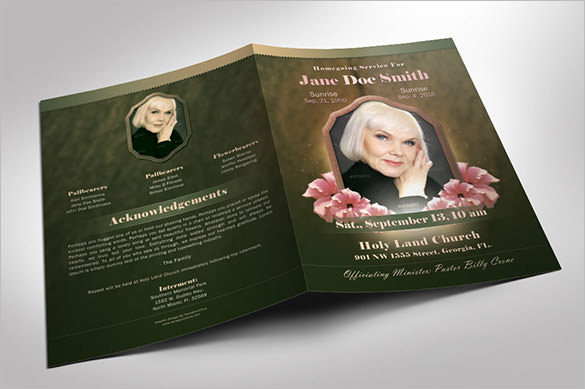 Grief hits everyone in different ways. If you are having trouble sifting through the emotional pain you could try our death obituary templates. These free templates allow you to express your love and admiration for the dearly departed and at the same time has enough space to put in your words of grief. The measured setting and texture of these sample templates make it a suitable option.
Funeral Obituary Templates
Funeral Obituary Template PSD Format
Difficult as the death of a loved one may seem, we need to pay our respects by properly structuring the funeral obituary. Take a look at out our collection of funeral obituary templates which you can use to frame a suitable obituary for the dearly deceased. They come with adequate space to insert whatever personalized messages you would wish to convey.
Sample Obituary Template
If you are looking for making replica newspapers and other magazine articles or merely wish to play an amusing prank on your friends, you could take a look at our collection of sample obituary templates. These templates are completely believable and come in various textures and backgrounds. You can even insert you words to make it more believable.
Obituary Cards Template
The death of a person close to you will nearly always manage to shake you up. Penning an obituary becomes increasingly difficult so at this juncture it would be a good idea to take a look at our obituary cards template. These templates come with the suitable somber backgrounds with carefully phrased texts that are absolutely suited for such an occasion.
Saying goodbyes are always difficult, but it's even more difficult to design cards, compose the perfect messages when your heart is heavy with grief. An obituary card template might just be the solution. With tasteful designs and beautiful compositions, you can expect only the best for your dear departed.
Free Funeral Obituary Card Online Maker
Obituary Service Stationary Maker – Free Online Print
Obituary Template for Mother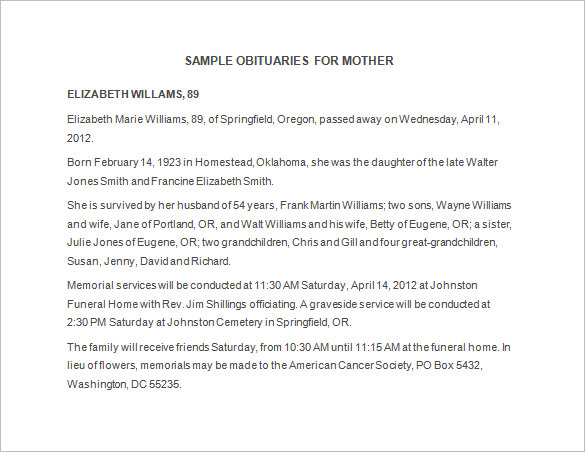 How do you say goodbye to the person who brought you into this world? Who made you who you are today? Writing an obituary for that special woman might almost be impossible. These somber and beautiful obituary templates for mothers can be just what you need to bid her farewell, one last time.
Sample Obituary for Mother – Different Age Samples
Obituary Template for Father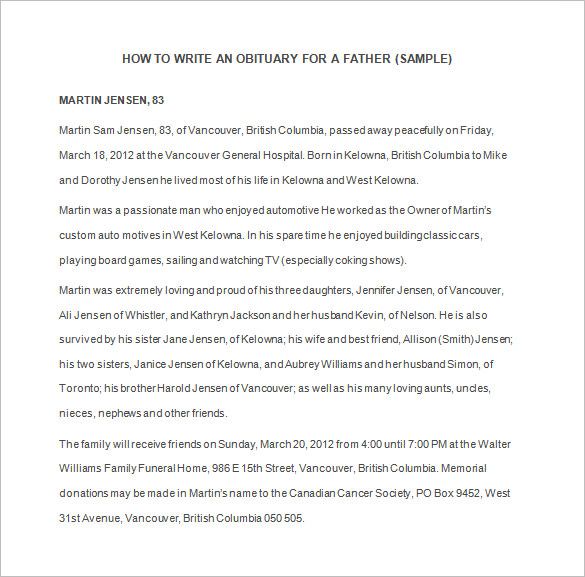 Your father will always be the most special man in your life, and no one can ever take his place. How do you even say goodbye to him? We know how difficult it might be to compose a fitting obituary, which is just why we have a collection of the best obituary templates for fathers as special as yours.
How to Write Obituary for Father – Easy Steps
PSD Obituary Template
Life of Love  PSD Obituary Template
Essence of Love Funeral Program PSD Template
The grief of writing an obituary, choosing designs, even as you perform the final rites, is something beyond compare in this world. To save yourself a little heartache and a lot of trouble, take a look at these beautiful and sober templates available as PSD files and allow you to have the right balance of customization and comfort.
Standard Obituary Form Download
General Obituary Outline Example
Free Printable Obituary Announcement
Obituary Exercise Statement
Obituary Search Request Form
Downloadable Obituary Worksheet
Basic Obituary Planner
Simple Obituary Notice
Obituary Memorandum Form
How to Make an Obituary on Microsoft Word?
An obituary is a record of a deceased person written by a writer. It contains the life history, memorable moments, achievements and defeats of the deceased person. Writing an obituary means dedicating one's time for the research on the person's life. Since Microsoft Word is largely used for documents containing large sum of writing work, one can easily and yet efficiently create an Obituary on someone's life by using the Microsoft Word Obituary Templates application. With just a few steps, you can start writing an obituary using the Funeral Obituary Templates in the Microsoft word with a lot of clarity and advanced features. You may also see Obituary Card Templates.
How to Write a Great Obituary?
Writing an obituary can be quite a challenging task. Whether you are writing one for your friend, relative or even part of assignment in your school. There are some guidelines which you will need to follow in order to write a great obituary. Here are top 10 easy steps for writing a great Funeral Obituary Templates summed up as follows:
1. Plan beforehand all the topics you need to cover in the Obituary
2. Do not just bombard the obituary with basic facts about the birth / death but be sure to include all the special things they did it as a person
3. Emphasize on points that make the reader feel that the deceased person has made valuable contributions to others.
4. Ensure to keep information that the family of the deceased want to keep it private.
5. List out the most unique things the deceased person did in their lifetime
6. Do not just include basic facts but include interesting things the person did during the lifetime
7. Check for additional information from family members of the deceased.
8. Include people who were a special part of the life of the deceased
9. Cross check the time and place of the birth place / funeral
10. Ensure you proofread the entire obituary before you proceed to publish.
Benefits of writing an Obituary
Writing an PSD obituary templates can be beneficial to the writer because it helps him or her develop a broader perspective to life. It helps him / her understand the importance of valuable things that the deceased may or may not have done in their lifetime. A good obituary serves the purpose of beneficial knowledge to the readers. Readers can implement the good and valuable things that the deceased has done in their life. It helps and acts as a motivation for achieving dreams or helping others or whatever the bottom line of a person's obituary is.
An obituary acts as a great source of knowledge and an insight into the life of the deceased. It helps in throwing light on the important aspects of life which may prove to be beneficial to the reader. Readers of an Death Obituary Template may be able to give value to the important things in life.
Beautifully Designed PSD Obituary Templates Download Here Free