Funeral programs are usually distributed to people attending a burial or a memorial service to inform them of what is expected in the ceremony. Additionally a program is considered to be a form of final honor to the deceased and with the program people should easily remember the deceased. To write a good free funeral program template for word, you will require to download the best free & premium funeral program template online to ensure that what you present remains to be the best.
Funeral Tri-fold Brochure Template in Word

Download
Funeral Program Flyer Template

Download
Eulogy Funeral Invitation Word Template

Download
Funereal Templates – The Essential Elements
Be it taking the responsibility on your shoulders or assigning professionals to receive the best of support, the trickiest part of arranging a funeral program is designing on the designing and layout for the invitation notes. However, there are lots of modern day free funeral program templates and memorial templates that may just fit the character perfectly.
Get the right design with some memorable words and quotations to share, wrapped carefully under a subtle theme to make the memorial event truly memorable. There are widest ranges of editable, printable, customizable, and downloadable templates available. Send / email or free download, there are many options to grab them. You may also see Funeral Program Template for a Friend.
Elegant Funeral Program Invitation Template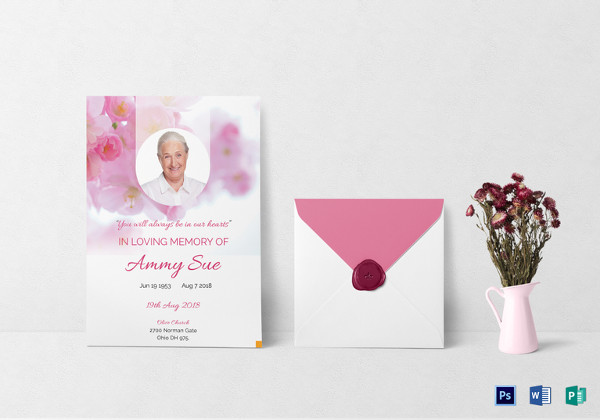 Download
Dark Eulogy Funeral Invitation Card Template

Download
Dark eulogy funeral invitation card template is a fully editable funeral program template that comes with layered files. The color mode used is CMYK. The deep dark contrasting color variation makes this template more engrossing.
Floral Funeral Invitation Word Template

Download
Floral Funeral Invitation Template is a perfect template for funeral events. It is fully editable and features layered PSD files. This customizable template is totally print ready and promises perfect bleed. You may also see Sample Funeral Program Templates
Editable Funeral Program Invitation Template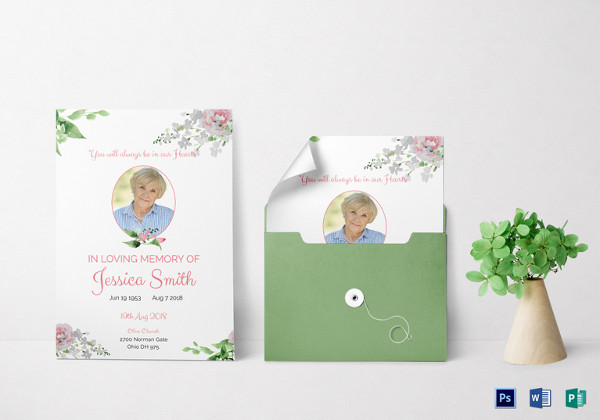 Download
If funeral program invitation template design is your preference, here is a sample which you can customize and use to design the funeral program invitation of your choosing. The sample you see above is a good color template and you can personalize it with fonts, images etc. You may also check out here Funeral Announcement Templates
Elegant Funeral Obituary Invitation Template

Download
This obituary program template which is loaded with an elegant blue background. The template is packed with layers, fonts, and other elements that you can easily edit. You can also see free obituary program template.
Floral Vintage Funeral Invitation Template

Download
If you're searching for a floral design on a funeral program template, this example nails the requirement to the Template. This template features a floral backdrop, great set of fonts, color contrasts and good layout. The template is fully layered with customizable files, and the template is a fully responsive one. you can also see Death Notice Template.
PSD Funeral Invitation Card Template

Download
Classic Funeral Invitation Template

Download
Funeral Invitation Photoshop Template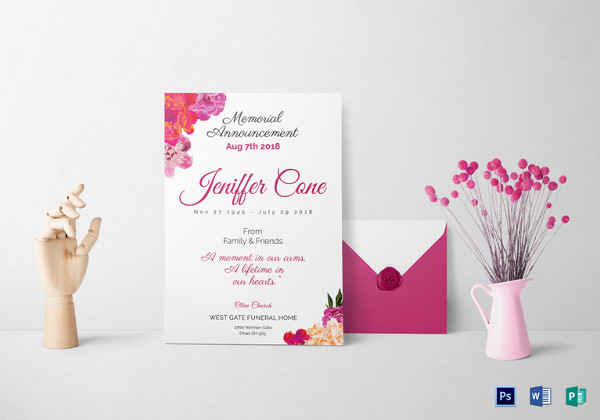 Download
Funeral Obituary Invitation Card Template

Download
Select Right Funeral Program Template
One of the important things to remember when picking a free funeral program template in Microsoft Word, ensure that it carries the favorite colors of the individual for whom the funeral or memorial event is being held in honor of. As the template microsoft word are customizable you can alter the color scheme to match the preferences of the deceased person.
If the person was way too much conservative, then opting for subtle shades like lavender and pink with simple designing should fit the den perfectly. If the person had a vibrant joyous persona, more wild color combination may be availed for like a perfect blend of purple, orange, and red. You may also see Funeral Resolution Templates
This is a bi-foldable template that also has similar designing pattern like the above two. However, it has matted finishing with 300 dpi display resolution that creates a niche and suave appearance. It features well-organized layers and amazing Google fonts. This template is 100% responsive, easily customizable, and features sliced PSD files.
Free Funeral Program Template
Simple Funeral Program Template
Funeral Service Program Template
Free Catholic Funeral Program
Memorial Funeral Program Template Photoshop Design
For fans of floral designs, this specimen is an elegant PSD template you can utilize to design a beautiful funeral program invitation card. The star of the template is obviously the light background with floral finishes. The template has space provided wherein you can insert a picture of the departed.
Essence of Love PSD Funeral Program Template
Check out this very simple yet completely stunning funeral program card template packed with light and dark shades of green. This fully customizable and fully editable template is loaded with layered files with which customization should be very easy to do in Photoshop. You can remove and replace text and images too. You may also see Printable Funeral Program Templates
Ornate Funeral Stationary Template
Here's one more very lovely and decorous PSD template for funeral program. Half of the page has space dedicated for inserting a picture of the deceased whereas the remaining space is provided to accommodate text written in remembrance of the departed soul. The template has a bluish backdrop. You may also see Funeral Program Brochure Templates
Memorial Funeral Event Template
This simple and elegant funeral program template in dark brown background contains photo of the deceased in front and the text is written on white background inside. You may also see Funeral Examples
Memorial Funeral Program Template
If you would like to choose a vintage template for the funeral program card then take a look at this retro sample. It has got a rusty color for the old-school effect and it also features an elegant design wherein text remembering the deceased can be inserted. You may also see Funeral Memorial Card Designs
Free Funeral Program Template Download
Basic funeral template with very nice and descriptive front page makes Free Funeral Program template a popular choice among designers. These sample funeral program templates have semi white background with designs flowing here and there. It is fully customizable and loaded with sliced PSD files. It works perfectly well with laptops, smartphones, and tablets.
Ids Funeral Program Template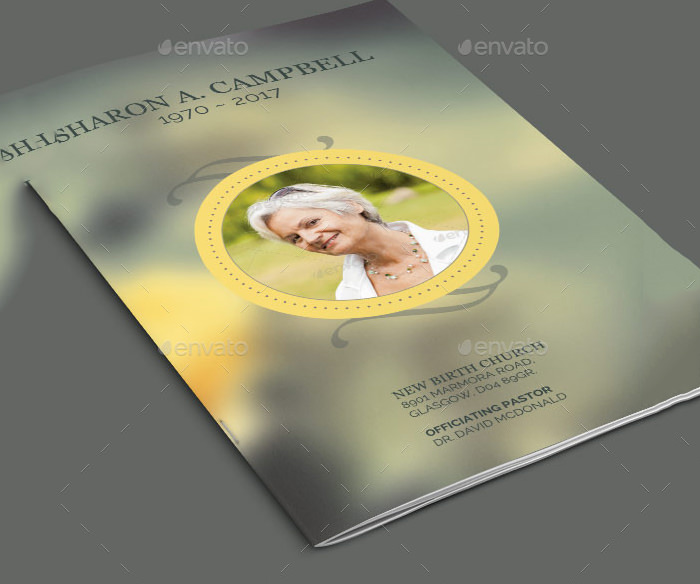 A modern day memorial service program template, Ids funeral program template is bi-foldable and has a matted appearance. It comes with a nice color combination of grey, white, and yellow with round framing at the center. It is fully responsive and cross-browser friendly. The template can be edited any time and it comes with several layered files. You may also see Funeral Order of Service Templates
Printable Funeral Program Template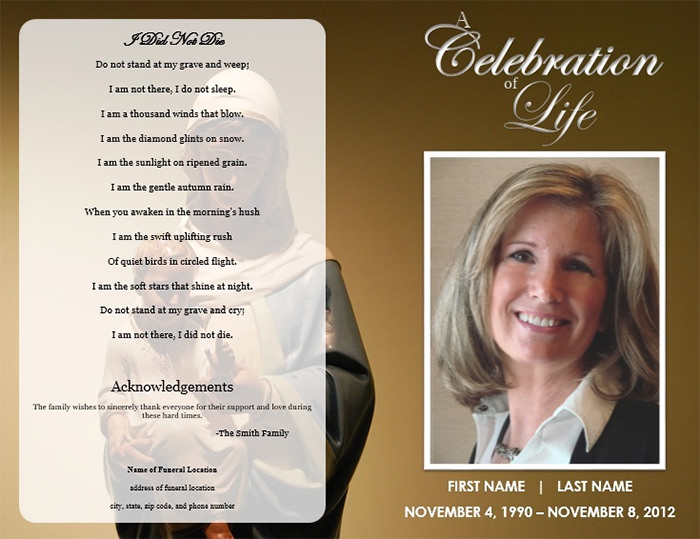 As the name suggests, this template files are totally printable. The template has a brownish shade and creates a niche outlook. It is a single page poster template that can be customized as per requirement. It is responsive, retina ready, and comes with numerous sliced PSD files and several Google web fonts. Download this funeral order of service template free. You may also see Eulogy Funeral Templates
Printable Funeral Program Template PDF
Sky blue layout makes this funeral program template creates a cool and tranquil appearance. The design of this template depicts a peaceful layout. It is responsive and fully editable. The template has a very apt layout and design structure for developing funeral invitation cards and emails. It features printable files and sliced PSD layers.
Elegant Leather Funeral Program Design
Elegant leather funeral program design is probably the best looking memorial service template in this list. It is bi-folded and has an awesome layout with dark brown shade. Rich leather tone makes this template extremely unique. This funeral pamphlet is printable, editable and promises to be retina ready with 300 dpi resolution. This template is also cross-browser compatible.
Tips
When trying to zero in on the best design for your funeral program invitation cards, it is advisable that you stick to choosing colors which were a favorite of the deceased. If you're unsure, you can consider their other likes which can be incorporated in the design of the invitation. You can also see funeral program design for the invitation cards.
Next, consider a memorial service program template design that features some flower and landscape scenery as cover art. It will help in creating a niche and sober effect on the template cover. You may also see Funeral Templates for Celebrities
Will there be any cover photo for the person. If so, then design the framing properly. You can include photo collages or single image but make sure that the right layout is selected. It must have enough room to accommodate the pictures properly.
Once decided on the design or them, you need to plan on the content. The right type of wording is essential to make for an effective and heart-warming funeral program. There are many free printable funeral program templates available online.
Wording on the Title
Another aspect which you need to give due attention is how you word the funeral program invitation template. This is important because you need to be mindful while composing the title for the card. Ensure the words you use express gratitude and respect to the deceased person. The card can also contain the overall program itinerary as well. You may also see Funeral Planner Templates
Wording on the Order
When creating funeral order, there is again an important role to be played by the correct wordings. The funeral order of service template free will feature brochure, booklet, or program. This will highlight the details of the event, everything that will take place at the memorial and funeral day. Henceforth, the right type of wording is essential. In general, wordings will mostly include events like scriptures and prayers, obituary readings, tributes, eulogy, musical preludes, etc. You can also highlight the names of participating members just beside each of these events.
Wording on the Obituary
Funeral tribute or obituary is definitely a very crucial part of the event. It is the obituary that provides deep insight about the deceased person's life as well the accomplishments he/she achieved. Therefore, the wordings should be carefully chosen when forming the obituary. It needs to be detailed, precise, as well properly formed. It should depend greatly on the circumstances of life and death of the deceased. There are quite a few styles and types of obituary, mostly depending on how perfectly you plan to use it. There are a few different types and styles of free obituary program template download, depending on how you intend to use it.
Wording on the Thank You Note or Acknowledgement Letter
Letter of acknowledgement or expressing gratitude notes or funeral pamphlet are part of every funeral program. Thank you notes are mostly written in a precise and compact manner. A short paragraph, comprising of five to six lines forms the part that shows gratitude and thanks to family and friends for their presence, gifts, cards, and acts of kindness. This section can also be used to thank the medical staffs, hospitality services, as well other services providers who have been there during the time of emergency and have offered selfless services and helping hands.
How to Present the Funeral Program:
You should write down the name of the deceased double-checking to prevent the misspelling the names. Include a photo of him/her in a more familiar way or in way that describes how he/she used to behave.
Include the date of birth and customize the information to properly suite the deceased. At times songs are included in the program, but you should consider their importance at that time. Include the actual date and time of the sample funeral program template followed by a word from a member of the family. You may also see Funeral Obituary Templates
The Program Flow
The first page starts with "in the loving memory of" followed by a photo.
Below the photo, you should include the date of birth and the day the deceased passed on.
In the second page, include a simplified biography of the deceased highlighting all the considerable aspects.
In the third page, you should write the service order in an understandable format.
On the last page of the funeral program brochure, make sure you don't miss out thanking family and friends for attending the congregation and participating in prayer for the departed soul. Furthermore, if you want the last page of the funeral service brochure to be more memorable, insert a popular quote the deceased use to say, or a generic quote would also work.